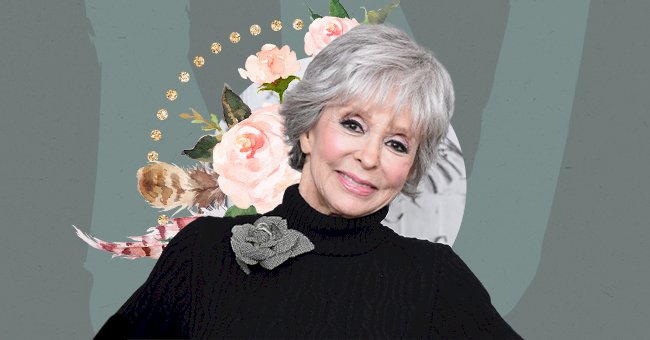 Exploring Rita Moreno's Best Style Moments
Rita Moreno, whose real name is Rosita Dolores Alverío, is a Puerto Rican actress with US citizenship, active in the theater, film, and television fields. She is one of the twelve people to have achieved the "EGOT" title. This means she has at least one of all four of the most prestigious awards in show-business.
Rita Moreno's iconic and eclectic career is the essence of Hollywood legends. Even though she feels stereotyped in the industry, Rita had always had a great sense of style right from the onset when she had her big break in the movie 'West Side Story' at 26.
Her mother being a seamstress may have influenced her love for fashion, but we can't help but appreciate the legend's style, Rita Moreno.
Reinvention Of Style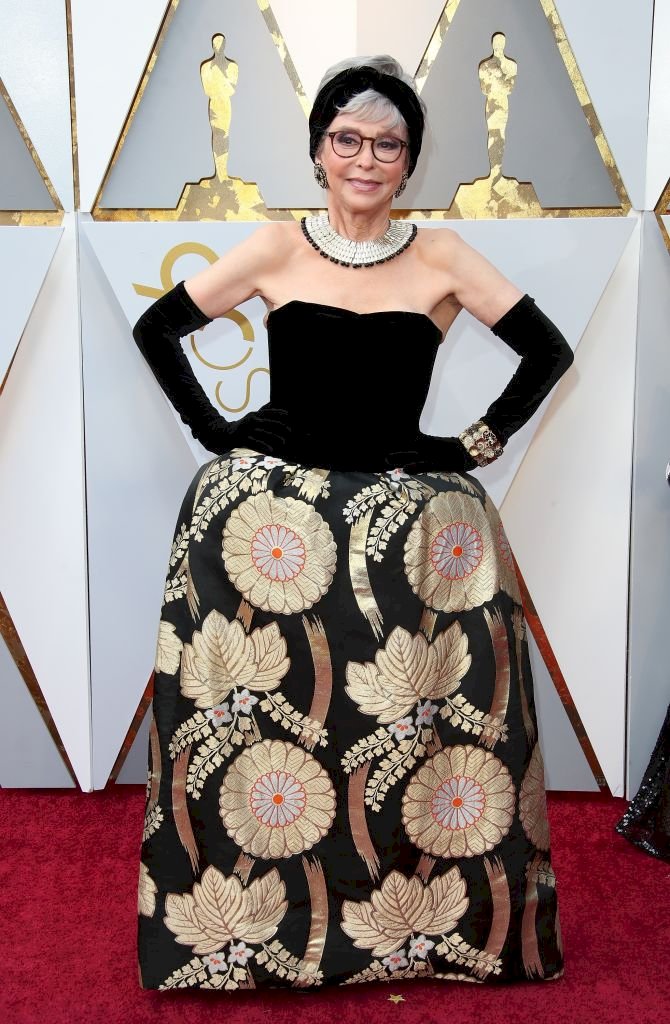 Getty Images
Some of us wear a wedding dress or even a ball gown in the back of our closet in the possibility that we may have a chance to wear it again. Actress Rita Moreno hit the 2018 red carpet at the Academy Awards in the same dress she wore at the 1962 Oscars.
"It's been hanging in my closet, and I go and stroke it now and then. I just love — it was an amazing night. They didn't have a red carpet then; it was so different."
She modified the 56-year-old dress into a strapless dress and paired it with long black gloves. It was the same dress Rita wore when she won the Academy Award for Best Supporting Actress for her "West Side Story" performance in 1962.
When She Received Her Ellis Island Medals of Honor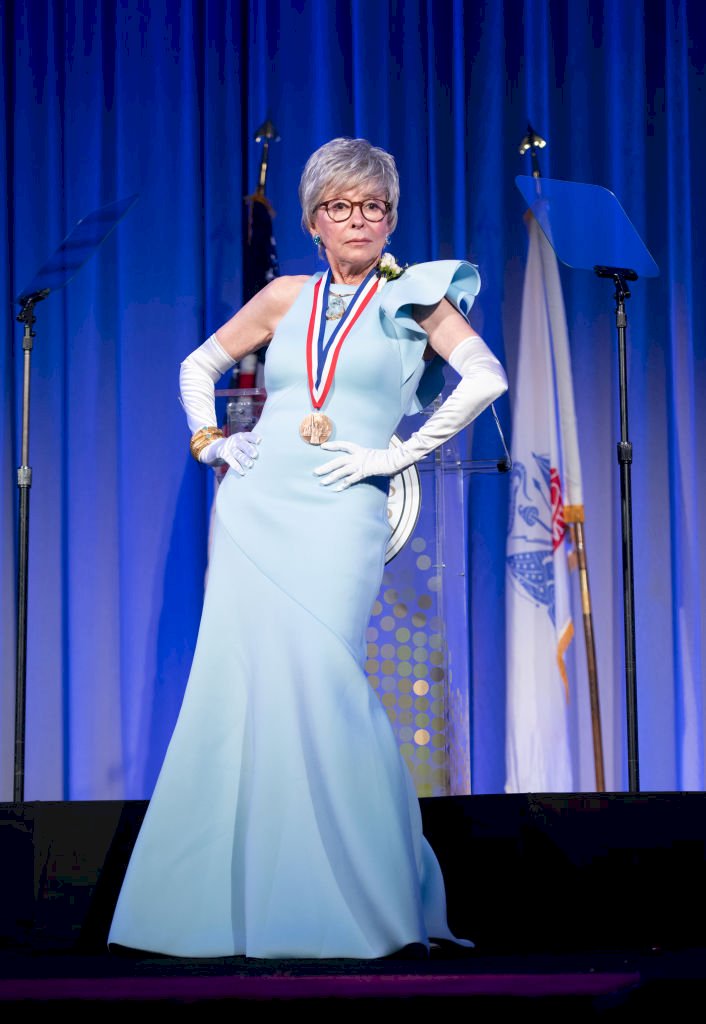 Getty Images
Rita chose a pastel blue sleeveless dress that featured layered ruffles on one of its sleeves to receive her awards. She paired the mermaid-style gown with a pair of white gloves, which showed off her gold bangles featuring blue stones that matched her earrings.
At The Late Show with Stephen Colbert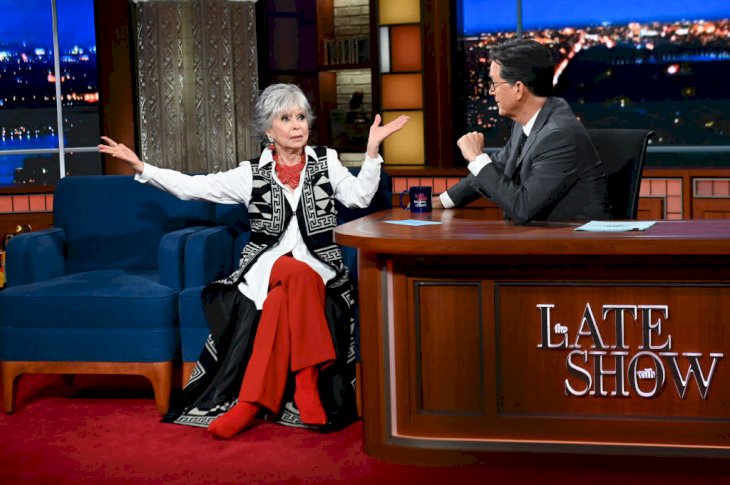 Getty Images
Grandma or not, we can't ignore the fact that Rita Moreno is quite stylish. As a guest at the late show with Stephen Colbert, she wore a combination of black, white, and red outfits.
She wore a white long-sleeve short with a sleeveless black and white jacket, which she paired with red flared pants and a pair of red pointy boots.
Attending The 2021 Puerto Rican Day Parade Celebration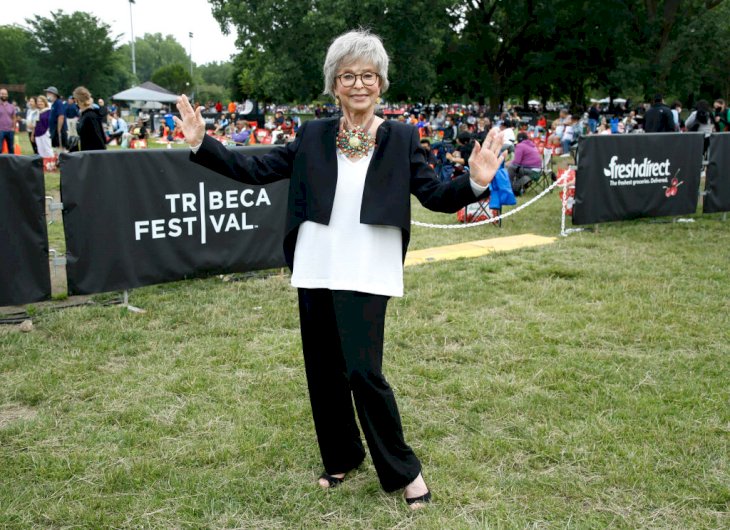 Getty Images
Rita attended the 2021 Tribeca Film Festival to celebrate the Puerto Rican Day Parade, ahead of her documentary, 'Just A Girl Who Decided to Go For It.'
Rita opted for a black jacket and matching pants for the parade. Also, she paired it with a flowing white shirt for contrast. For color, she opted for oversized accessories — an eye-catching necklace and a pair of gold earrings.
At The 2021 Oscars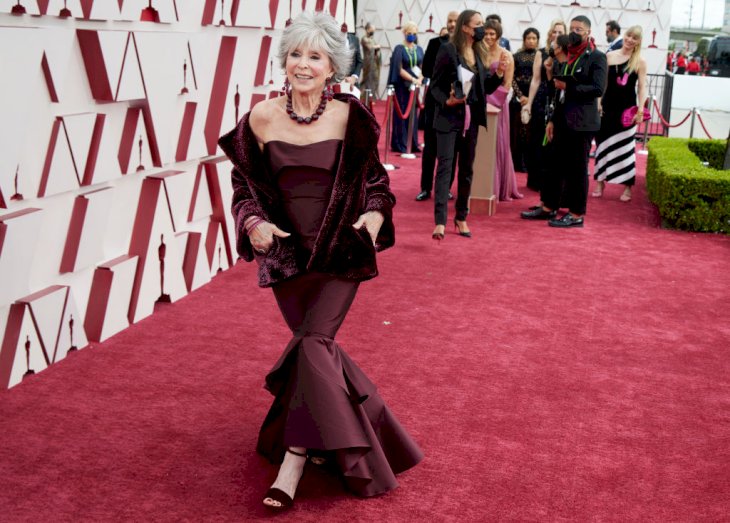 Getty Images
Stepping on the red carpet, Rita Moreno looked chic and stunning in a strapless burgundy gown. This was paired with a matching velvet coat. Her monochrome look was made complete with encrusted burgundy jewels.