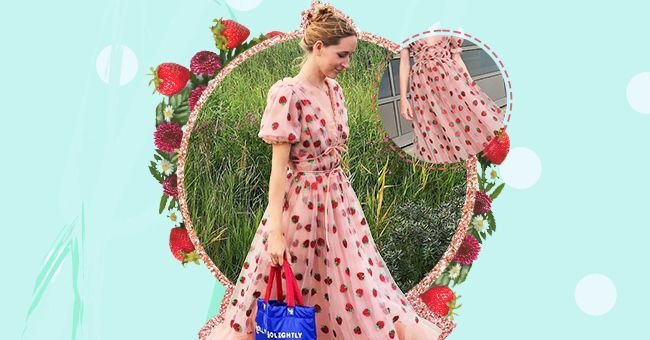 Exploring The Appeal Of The Trending Lirika Matoshi Strawberry Dress
Have you seen the dreamy pink enchanting frock that has taken the internet by storm, making rounds on Instagram, Twitter and TikTok? Thanks to Tess Holiday donning the strawberry-embellished midi dress to the Grammys, it has now become a bonafide head turner everywhere.
The world of fashion has been presenting us with numerous fads and trends over time, and the new hype in town is Lirika Matoshi's strawberry dress. Everyone is talking about it, be it posting pictures on social media of the dress dupes, art pieces or even real-time images capturing the real dress (it's pretty expensive).
If you haven't come across any picture, video or meme related to this pink midi dress by now, chances are you need to be updated on this talk of the town. Let's dive into the details of how this rather costly pink tulle fabric became so popular amidst the pandemic and lockdown regime.
The Hype
It all started when Tess Holiday decided to walk the red carpet on Grammys looking like a sweet strawberry dream. Matoshi was quick to share the picture on her Instagram, which garnered sheer love and praise from the fans.
In very little time, the New York based designer saw the sales skyrocketing, and all of this happened amidst the global pandemic season. The pink dress started making rounds everywhere, earning a viral status on every social media platform.
The Strawberry Dress
This pink-colored midi dress is covered in sequined strawberry embellishments with puff sleeves and a deep V-neckline. It's made of pastel pink tulle, comes in nearly all sizes (starting with 18) and is a perfect showstopper for formal events, indoor parties, weddings and even lounging around your house.
This magical pink frock has been designed by a young NY-based designer Lirika Matoshi. It costs a whopping $490, and has been endorsed by NY Times as Marie Antoinette's go-to dress, had she been an influencer in modern times. Vogue has also declared it as "a dress that Cinderella, a toddler, and an A-list celebrity would all happily wear."
The Strawberry Dress Diaries
Matoshi's masterpiece is appealing to the global audience because of its ethereal, floral touch and size inclusiveness. Some are even calling it an update to the "cottagecore" trend, centered around the carefree, natural rural living. It's no surprise this pink dress could find its place in the woody aesthetics.
Many people have shared their interesting pink dress stories, and Avery Mayeur happens to be one of them. A content creator and student at the Ryerson University in Toronto, Mayeur drew an anime character dressed in Matoshi's signature pink tulle, and her fans donated to her KO-Fi account so she could buy the rather costly dress for herself.
People are associating Matoshi's bestseller dress to pre-pandemic times when all was rosy, serene and normal. The sheer factor of nostalgia and the yearning for finding peace and happiness in times of trouble are making people turn to the midi pink dress more than usual.
For all we know, strawberry shirts for men, matching masks, scarfs and even pink sequin fabric pieces like bow ties for cats and dogs have become a thing online. There's even a strawberry dress in black now. No wonder the world continues to resonate with this not-so-practical fancy trend.
Strawberry Dress Dupes
Everyone loves the strawberry dress and everyone is talking about it, but let's be real for a second - not everyone can afford it. And for the folks who want to pretty in pink while remaining in their budget constraints, the good news is that there are brilliant dupes available online to satisfy your style needs.