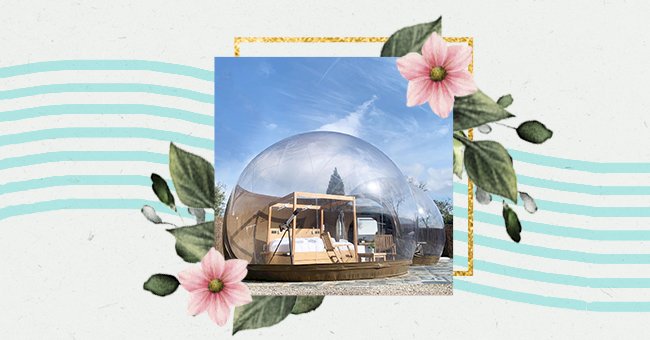 Exploring The Most Unique AirBnBs Around The World
Airbnb changed the way we approach travel accommodation, and it hasn't stopped breaking bounds since. The holiday rental app has some unique properties for users to enjoy.
The summer period is on its way, which means it is time to go on vacation soon. More people feel restless and adventurous after being locked up during the pandemic, which calls for unique holiday destinations.
Airbnb is one of the best places to look if you want a unique experience anywhere in the world. Scroll down to explore some of the unique Airbnbs that you can find on the app for your future travels.
Mexican Bubble Suites
These state-of-the-art bubble suites contain a full-sized bed, private bathroom, and other luxury amenities like a telescope. There's no better way to enjoy Mexico's wine country than from these suites 360-degree views.
Bali Bamboo House
An eco-friendly bamboo cottage in Bali sounds like just the perfect getaway to recharge after a tough year. This open-air loft is made entirely out of bamboo and is fitted with a modern bathroom and outdoor area.
Riad Shiraz In Morocco
Experience indoor and outdoor living in this gorgeous eclectic four-bed, five-bath home in Morocco. The home has a mosaic swimming pool and a panoramic rooftop perfect for lounging around in the summertime.
Wyoming Sheep Wagon
If you are more of a camper, then this fully restored 1920's sheep wagon is just the option for you. The wagon is located on a family-owned 30 000 acre ranch and is fully equipped with a wood-burning stove and full-sized bed.
Atlanta Treehouse
This fantastical treehouse, a few minutes from downtown Atlanta is perfect for a quiet getaway. The treehouse is furnished with gorgeous antiques, a hammock and is romantically lit by meters of string lights.
Joshua Tree Airstream
This mid-century modern and Morrocan hybrid airstream is one of the most unique stays in California. The space has a hot tub, outdoor shower, outdoor kitchen, and fireplace for all your comfort needs.
Windmill In Amsterdam
Seeing a windmill in Amsterdam is not an unlikely occurrence, but getting to stay in one is. The windmill has three bedrooms, a bathroom, a living room and bicycles to explore the countryside while you are there.