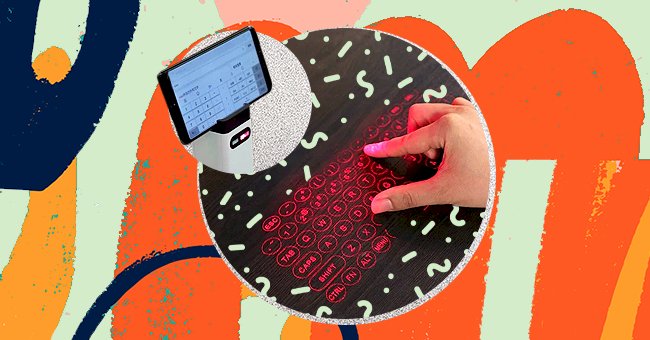 Exploring The Trendy & Compact New Laser Keyboards
Laser keyboards are here to provide a practical solution to your typing needs whenever you're on the move. Here are five of the best.
Laser keyboards generally work on any flat, opaque surface and are compatible with virtually any device, including smartphones, tablets, notebooks, or PCs. Best of all, they can fit in the palm of your hand.
Before you get swept up by how cool and futuristic these look and go rushing to make a purchase, there are three main factors that you want to keep in mind as you do your research: battery capacity, compatibility, and versatility.
LAMASTON Mini Laser Keyboard Projector
One of the most practical out there, the Lamaston Mini Laser Keyboard Projector, is not only compactly designed, but it's also wireless and ultra-portable as well. This is exactly what someone would want from a laser keyboard - portability and convenience.
Ideal for at home or business use, the Lamston keyboard is also compatible with virtually any up to date operating system including Windows VISTA, ios (if you've got an iPhone 5 or more recent and anything between Android 3.1 going up.
Serafim Laser Keyboard
While most other laser keyboards imitate the traditional keyboard with a rigid and square key layout, the Serafim Keybo comes with a round key design. This improves the keystroke accuracy making typing so much simpler.
This keyboard has an impressive battery life, and you can expect at least ten hours of typing. And get this, it also doubles up as a power bank due to its reverse charge feature.
Brookstone Laser Projection Virtual Keyboard
Not only is the Brookstone virtual keyboard sleek and amazingly compac, its portable design makes being on the move a breeze without having to park your business. The keys of this particular keyboard are very sensitive and responsive, but they also allow you to type faster than you would with the use of a traditional keyboard.
It's well-designed for one to get easily accustomed to using a virtual keyboard, if you haven't before. It has an auto-correct feature and the keyboard is red bright making for more distinct and visible keys.
Gangxun Laser Keyboard
The Gangxun keyboard is well rated and includes an additional nifty feature. The Bluetooth keyboard also doubles as a Bluetooth Mini Speaker.
It's a great budget-friendly option if you're looking to get a keyboard. However, there have been some concerns about iOS support.
ShowMe Virtual Laser Projection Keyboard
The ShowMe keyboard operates in a similarly to a standard keyboard in that it offers similar sensitivity so tranistioning into the alternative way of typing will be a little less jarring.
The projection keyboard links to a variety of devices such as Laptops and iPads using its Bluetooth feature.