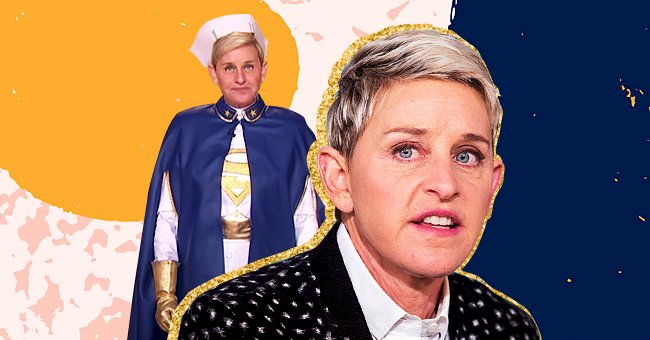 Fans Have Mixed Reactions To Ellen DeGeneres' Halloween Costume
2020 hasn't been the best year for all of us, and it certainly hasn't been great for Ellen DeGeneres. The daytime TV show host has had a criticism filled year that also boiled over onto Halloween.
Halloween is a fun time where everyone can dress up as their favorite or most inspiring characters. Sometimes people take this day to recreate looks out of bad taste, and it seems Ellen was one of them.
The famous comedian's Halloween costume did not impress the public this year. Critics and Twitter users were quick to call out Ellen for being a hypocrite with her latest costume choice.
Ellen's Past Halloween Costumes
Ellen DeGeneres usually chooses a light-hearted pop-culture reference Halloween costume each year. The high earning TV talk show host is known for adding a comedic element to her outfits.
In previous years Ellen has dressed as her alter ego and fourth Kardashian sister, Karla Kardashian. She has also dressed as famous rapper Cardi B's lookalike, Cardi E and the 'E' stood for Ellen.
A More Serious Note To Halloween
This year has been filled with tension and excessively strenuous for healthcare workers. Nurses and doctors put their lives on the line every day, trying to treat coronavirus infected patients.
Ellen thought to bring light to healthcare workers and their bravery with her costume this year. Her 'favorite superhero' outfit was in honor of all the nurses that have worked since the start of the pandemic.
"I think all nurses are superheroes. Their superpower is going 48 hours with no sleep. Now, more than ever, we are realizing who the true superheroes are — people like nurses, teachers. They're all essential workers. They're true celebrities."

Says Ellen DeGeneres
Negative Audience Reactions
Fans did not take well to Ellen's superhero costume. The public pointed out the irony and hypocrisy of her outfit since she's been named one of the year's biggest villains for her employees' alleged treatment.
Ellen shared an 8-second clip of her costume on Twitter, and people rushed to comment against the post. The clip she shared does not contextualize her outfit choice, so fans had free reign to interpret the garments.
Her short clip was captioned 'My costume this year is inspired by the real superheroes of 2020'. This information alone resulted in comments calling her out for being the complete opposite of a hero this year.