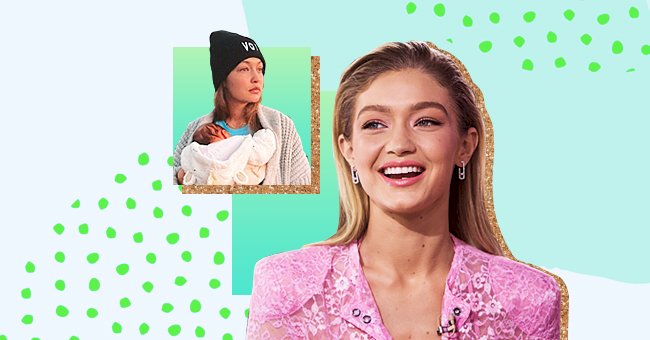 Fans Treated To Glimpses Of Gigi Hadid & Zayn Malik's Daughter
The celebrity baby boom has us keeping an eye out for all the new celebrity babies. Gigi Hadid and Zayn Malik have kindly given fans the tiniest glimpses of their baby girl over the past month.
Gigi Hadid and Zayn Malik welcomed their baby girl in September but have kept her at home since. Baby Hadid-Malik's name and appearance have been a mystery, but we've had small glimpses lately.
The first time mother is understandably private and protective over her little one. Although she's yet to reveal the baby's name, Gigi has shared more small glimpses of her firstborn in the past two months.
Thanksgiving Weekend Cuteness
Gigi, Zayn, and their baby daughter celebrated their first thanksgiving weekend with the entire family. The trio and the rest of the Hadid family reportedly spent the weekend at their family farm.
Proud grandmother Yolanda Hadid took to her Instagram story to share an adorable snap of the new mom. Gigi cradles and kisses her daughter in the Instagram story captioned 'You are my sunshine.'
Fans do not see the baby's face in the snaps but know the back of her tiny little head and top half of her body. This sighting of baby Hadid-Malik was the second since her birth in September.
Tired And Busy
Gigi is a supermodel who is used to being booked and busy all year round. Of course, this year was a little different for her because of coronavirus and because she's a mother to a newborn baby.
It turns out that supermodel life isn't too different from new mom life, though, since it consists of the same thing. According to Gigi's post of her holding her baby in a leopard print carrier, she's still pretty held up.
The post captioned 'A whole new kind of busy & tired' proves that her life is still action-packed. Gigi's new life consists of nappies, bottles, and putting together Christmas decorations while the baby rests.
Gigi also recently shared a selfie of herself snuggled close to her baby's head. This sweet image gives us hope that she is receiving some restful moments with her blonde haired baby girl.
Out In The City
Gigi took a stroll out in New York with her baby for the first time this Tuesday, and fans are excited. Up until now, we've only seen her photographed from the comfort of her home, understandably so.
The baby and mother stepped out with new aunt Bella Hadid. Gigi covered her baby with an extended shield in her stroller, but it is great to see them enjoy the crisp New York air just as the year comes to an end.