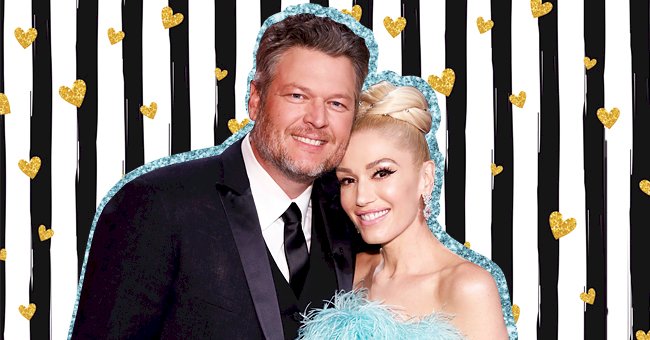 From Meeting To Engagement: A Complete Timeline Of Gwen Stefani & Blake Shelton's Relationship
People love to watch love stories unfold and wonder how couples ended up together forever. Some people say when they know, they know, but for many, it's the most unlikely person.
From colleagues and fellow divorcees to flirty friends turned fiancé's, this love story is one for the books. Blake and Gwen's five-year romance has been so sweet to witness on TV shows and social media.
The world was not surprised at the recent engagement news but was ecstatic for the couple. In honor of their lovely new, let's go down memory lane and walk through the pair's relationship until this big step.
In Comes A New Face
Gwen Stefani joined Blake Shelton, Adam Levine, and Pharell as a judge on the reality TV show The Voice. The No Doubt vocalist joined the three men after Christina Aguilera's exit from the show in 2014.
Stefani's appointment was the year before both she and Blake filed for divorce from their partners. Although the pair was merely friendly at this point, they shared a selfie that November on Instagram.
Single And Ready To Mingle
In 2015, both Gwen and Blake divorced from their spouses. The newly singles were still colleagues, but let a flirty look slip here and there and even flirted while singing Hotline Bling on Jimmy Fallon.
The pair tried to fight romance rumors for the rest of 2015, but unfortunately for them, the jig was up. Soon the lovebirds were spotted getting intimate at a Maroon 5 Studio City Halloween party.
Red Carpet Official
This dynamic duo has walked almost every red carpet together after their first official appearance in 2016. The pair posed together for the press at the Vanity Fair Oscars after-party and made history.
Later that year, the hot couple wrote and released a song on Blake's new album. Blake gushed about Gwen's input on the music and the life-changing impact she made on his life when they met.
PDA And Pregnancy Rumors
By 2017 Blake and Gwen were undoubtedly in love and continuously gushed about each other in public. Gwen lit up like a teenager while talking about her lover during an appearance on The Tonight Show.
This couple grew so close and were linked to each other in all media conversations. In 2018, the duo even had to deal with rumors that they wanted to have a baby together via a surrogate.
Strides Towards Making A Commitment
Four years, two collaborations, and a million appearances together, the pair seems tighter than ever. The couple appeared as a blended family on the red carpet premiere for UglyDolls in 2019.
At this point, there was nothing that could separate the pair, so engagement rumors started to swirl. Ellen Degeneres even encouraged Blake to finally pop the question when he appeared as a guest on her show.
Marriage Suspicions To A Surprise Engagement
Marriage rumors heated up earlier this year after Blake released a new duet with Gwen. The song's lyrics sent fans down a spiral of speculations that the country crooner seemed to take well to.
"Those rumors are great. Anybody that thinks that I'm married to Gwen already, I love it. My God. Who wouldn't want to be married to Gwen Stefani?"

Says Blake Shelton
The pair finally got engaged this week after a whirlwind romance that unfolded in front of our eyes. Both parties posted the same engagement picture on their Instagram pages to announce the news.