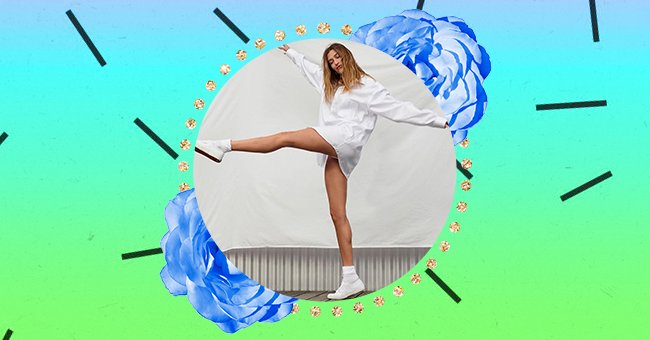 Hailey Bieber Is The New Superga Global Ambassador
Superga, the Italian brand of iconic sneakers, offers itself a new muse of choice. The muse is Hailey Bieber, the queen of relaxed chic street style. Back on the catwalks creating her beauty brand, Hailey Bieber is making strides in fashion and beauty.
Revealed on Friday, Hailey Bieber is kicking off Superga's spring 2021 campaign. She is also showcasing the Italian shoe company's staple sneaker styles, as well as new silhouettes. This global partnership is not surprising given Bieber's international reputation for impeccable street style.
Besides, the brand's backstory has a personal connection to the model. The pairs modeled are already available on the brand's website. Will you be adding these essential sneakers to your spring collection?
Hailey Bieber: Streetwear Ambassador For Superga
Known for her streetwear looks and wearing pairs of cotton Superga several times, Hailey Bieber was naturally appointed ambassador of this iconic sneaker brand. The model announced the exciting news on Instagram on Saturday, March 13. She did this by sharing several photos of herself wearing the brand's stylish sneakers.
"Superga is synonymous with Italy, so when I was asked to become the brand's new ambassador, I immediately thought about how it's one of my favorite countries — I spent a part of my honeymoon there."
Shot on a rooftop in New York, the campaign shows the Hailey in minimalist and elegant outfits. She was dressed just like the Italian label models. Timeless and durable shoe par excellence, the cotton Superga seems to have been created for her!
Superga: Legendary Sneakers
Founded in 1911 in Turin, Superga was successful thanks to its model 2750, created in 1925. Made with canvas, as well as, vulcanized rubber, this pair will be available in all colors. It was a huge commercial success.
The new Spring / Summer 2021 campaign rides on the authentic and vintage spirit of the brand of Italian people's shoes that have been handcrafted for a century. Also, this wardrobe essential is available on the brand's website.
Working On A Women's Only Campaign
Hailey thinks that supporting women is extremely important. There is no reason to be competitive; it is so exhausting. Besides, she believes it's much more rewarding to encourage others and support their dreams and goals.
For the campaign, Hailey, who worked with an all-women team, says she has learned a lot in recent years. She has, however, learned about what supporting other women mean. Also, she will continue to grow and find different ways to support her friends and peers.
Superga On Choosing Hailey
The company noted that Hailey Bieber — also an environmental activist — was the ideal choice to embody the brand's shoes, crafted from cotton, rubber, and aluminum.
Superga has also recently introduced the Organic Collection. A redux of signature styles crafted from eco-friendly materials, including organic cotton, hemp, recycled rubber, and cork.