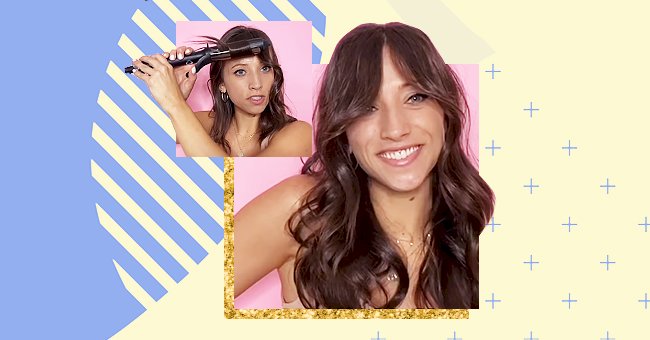 Hair Guide: How To Fake Curtain Bangs Without Cutting Your Hair
Forget the "should? Shouldn't I?" You can easily get the bangs you're contemplating, without the commitment or potential regret of cutting your hair.
Have you ever had a bad experiencing cutting your bangs and end up haiting the final look? Well if you haven't you don't have to experience it.
You can fake the cutain bang look that you've been itching for without having to cut your hair. This may help you decide if you actually want to take the plunge or if you're only "here for a good time , not a long time."
Start With A Middle Part
Curtain bangs are particularly face-framing and while you can opt for a side part, a part down the middle of the hair is the most common parting.
If you've got wavy or straight hair, the next step will require a culring iron. If you've go curly or coily hair, you can do without the iron.
Straight Hair
The process is really quick and easy. While you've arlready parted the hair. Section of the hair that ypu want to use for your bangs.
Grab your curling iron and twirl your hair around the barrel of your curling iron. Hold for a few seconds before releasing the curled hair into your hand.
Wavy Hair
"The key is to create the illusion of a length difference from the center to the sides, which is the hallmark of all curtain bangs."

says Amy Abramite, creative director and stylist at Maxine Salon in Chicago to "Glamor:.
Use a similar technique as above starting with your curling iron at the base of your hair, curling away from the roots to give a swooshy, volumous effect,
Curly Hair
When it comes to curly or coily hair, the trick is not so much about curling the hair, but more about manipulating your shrinkage to work for you.
Keep the rest of the hair stretched while using a curling cream (and gel for more curl definition) on the section in front for your bangs. Follow with a blow dryer with the diffuser attachment for a fuller effect.
Clip Ins
Here today, gone tommorow. You could always opt for bang clip-in extensions for a quick, easy perfect bang every single time.
Getting bangs without the commiting to a haircut has never been easier! Perhaps after trying these techniques, you may even feel ready to go all in for real curtain bangs.