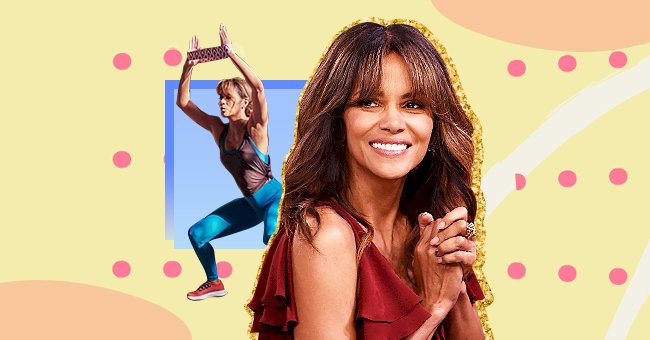 Halle Berry's Favorite Workout Equipment Pieces From Respin
Halle Berry is spilling all of the beans about how she's able to maintain her vitality. This time around, she's letting us in on her favorite workout equipment.
Halle Berry has always been open in sharing her wellness journey with the world, from how she maintains her skin to how she gets her toned physique. The holistic beauty secrets are all over her Instagram; they're hardly secrets.
Earlier this year, Berry and her long time trainer Peter Lee Thomas, launched a workout gear line named Respin. The line includes rarnge of gear from resitance bands, ankle weights and waist trainers. Well Berry share her favorite five with Popsugar, and their all under $35! Check them out.
Re-Spin Yoga Wheel
"Bringing that much-needed attention to my body with something like a yoga wheel helps manage my stress levels and releases the negative energy that can often take over when I feel overwhelmed"

Berry to Popsugar.
If you are into yoga and enjoy adding blocks and balls and all the additional tools to your practice, you may benefit from the Re-Spin Yoga Wheel.
Re-Spin Skipping Rope
Get your daily dose of cardio with Re-Spin Weighted Skipping Rope and not to mention the added benefit from the additional weight that will help tone.
"A little extra weight to tone-up at the same time!"

reads he Respin site.
And of course, if Berry's Instagram feed is anything to by, it's no wonder the booty band would make it onto this list of her favorite workout equipment pieces.
"... you can take your workout just about anywhere and let your bodyweight take that booty to the next level."

Berry said .
Re-Spin Full-Body Resistance Loop
This nifty resistance loop happens to have also been voted the best resistance band by Women's Health Magazizine, according to Berry's caption.
The fitness fanatic told Popsugar that she uses this band in nearly all of her workout to assist in build some "serious strength."
Last but certainly not least on the faves list, is the speed skipping rope. Berry revealed to Popsugar that she does about five hundred skips during her warmups.
"One of the best parts of my workout is jumping rope. I love going for speed and nothing beats a dope cardio burst."

reads the site.