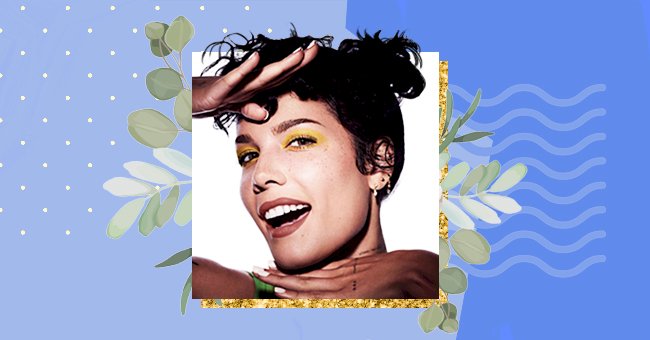 Halsey Creates Makeup Brand 'About-Face' to Help Break Beauty Rules
Halsey is one of the most creative and endearing pop stars in the industry right now. Her talents span beyond music, with poetry, art, and even makeup being some of her extraordinary gifts.
At 26 years old, Halsey has several accolades to her name for her diverse creative practices. The gifted star uses her projects to regularly present her many abilities, including painting and makeup artistry.
The stunning singer often experiments with makeup, and it seems her passion turned into a venture. To find out more, read further and explore the details of Halsey's new makeup brand 'About- Face.'
About-Face
Halsey recently announced the launch of her new makeup brand, 'About-Face,' in an Instagram post. The 'You And I' singer shared an animated campaign video that featured herself and models in bold makeup looks.
Halsey fans got a glimpse of the brand's vibrant offerings, which Halsey curated to promote creativity. The 'Bad At Love' belter reveals that she intends to break perfectionism barriers with her brand.
"It is one of my greatest loves, but I have always stood firm in the belief that makeup is about feeling cool — not looking perfect,"

Halsey wrote in the video's caption.
Her intention is evident with the avant-garde looks featured in the first campaign. About-Face also reflects some of Halsey's social and environmental beliefs as the range only has vegan and cruelty-free products.
More About Halsey's Inspiration
Halsey fans know that the artist does her makeup for a majority of her shows and editorials. The creative genius recently told Byrdie that her love for makeup stems from her passion for art and painting.
"I was an art student, so I paint and I still paint. Makeup has always been something I've just been naturally drawn to because I'm very dextrous with a brush and I know a lot about color,"

Says Halsey
Her admiration of color and art is evident in the range of products offered in her first collection. The star focuses on artsy products like lip crayons and fluid eye paints instead of foundations and concealers.
About-Face makeup products encourage makeup lovers to approach their faces as canvases. The range perfectly encapsulates Halsey's vibrant, unique and creative spirit, which she wants to share with the world.
The Product List
About-Face launched with ten products and now has 40 available in the range. Products include various items such as highlighters, lipsticks, eyeshadows, glosses, liners, cosmetics tools, and beauty bags.
Some of the stand-out products from this range include the more bold items on the list. The matte fluid eye paints, shadow sticks, and paint-it matte lip colors are fan favorites for their unique colors and uses.
The playful products are far from intimidating despite their vast color ranges and bold payoff. Each product is easy to use, and the formulas allow for the best application for beginners and experts alike.
In true Halsey fashion, the products are accessible to people of most living standards thanks to affordable pricing. Makeup lovers can enjoy top-quality products for as little as $17 to a maximum product price of $32.