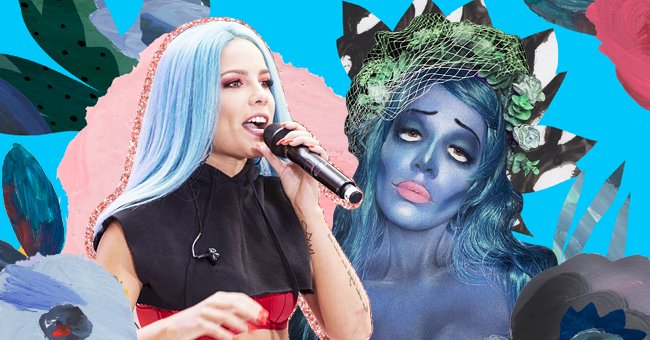 Halsey's Corpse Bride Halloween Costume Is Perfection
This is art! Halsey's Halloween makeup look is ridiculously impressive. Best of all, the singer, songwriter, and activist did it all by herself.
Should any horror-film makeup artist ever need an extra hand, Halsey and her beauty blenders seem up for the task and prepared to wow.
Halsey is no stranger to executing shockingly impressive makeup looks that stun us all repeatedly. This time around, in her recent Instagram post, she has utterly blown us away with her standout Halloween makeup look.
Halsey's Halloween Look
Halsey perfectly recreated the bride's blue skin, with masterful detail to texture and proportion. She completed the look with blue hair, a flower crown, and a decayed-looking bridal veil.
Using her own skillful hands, Halsey transformed herself into Emily from Tim Burton's Corpse Bride and a Manic-themed monster. And if Halsey ever decides to start a YouTube channel, I'd subscribe quicker than you can say "coolest Corpse Bride ever".
How Did Halsey Get So Good?
Since the lockdown, Halsey has spent some of her time experimenting with her look. She recently showed off her newly-shaved head and a brand new scalp tattoo. With this year's Halloween turning out to be a mixed bag, we love to see a consistent queen.
The artist gives credits to Face-Off, a SyFy network prosthetics makeup competition show, for the lessons in costume makeup, along with YouTube videos. There's of course the little fact that she's a global star who frequently gets their make-up done by professionals.
People's Thoughts
Best of all, Halsey shared with Twitter that she didn't even leave the house in this look, no dressing up for a Halloween party, no trick-or-treating. Just basking in the joy of doing makeup for herself and the socials. Thank you, Halsey. We're aptly and pleasantly stunned by this treat.