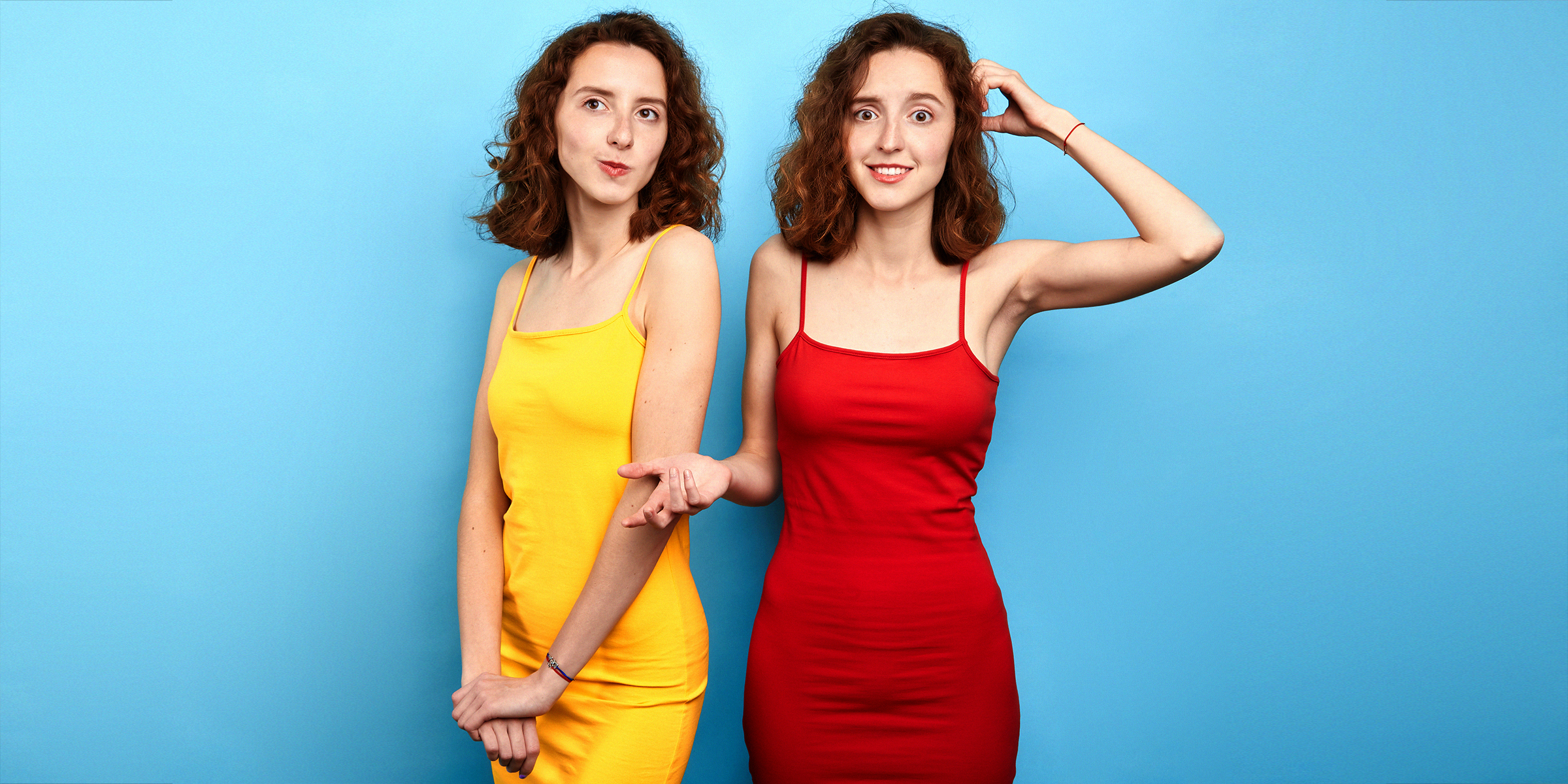 Two women wearing dresses cinched at the waist | Source: Shutterstock
Here's How to Cinch a Dress at the Waist with No Sewing Needed

Some women want to know how to cinch a dress at the waist. If you are looking for a quick and easy way to give your dress a new look, cinching it can create a flattering silhouette and add some extra style to your outfit. And the best part is, you don't even need to sew anything!
Sometimes, the fit of a dress may be too loose at the waist, which can be an issue if you want a more fitted look or if it is uncomfortable to wear. This can happen due to weight loss, buying the dress online without trying it on, or simply changing your mind about the fit you want.
However, you can cinch the dress at the waist to achieve the desired look without sewing. Cinching a dress is a common fashion technique that helps create a more defined silhouette, accentuating the body's natural curves.
Photo of a woman wearing a belted dress | Source: Shutterstock
It can also be used to alter the fit of a garment, making it more snug or comfortable, depending on the desired look. It can also help the dress look more polished and put together.
Additionally, cinching can add a stylish touch to a dress by incorporating a belt or other accessory that complements the outfit. It is, however, essential to note that these tips may only work for some types of dresses and fabrics and may not provide a perfect fit.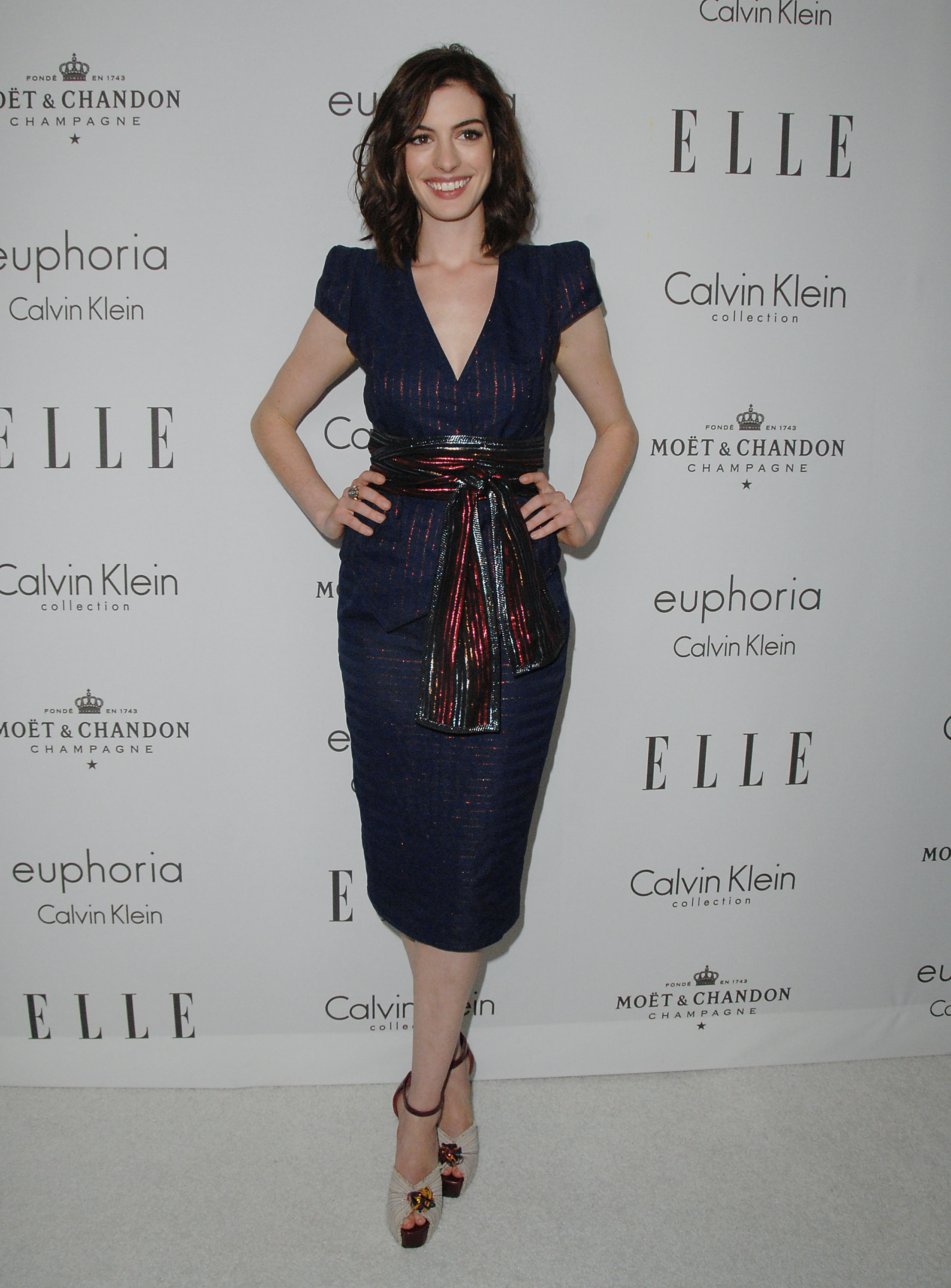 Anne Hathaway at the "Elle Magazine's 15th Annual Women in Hollywood Tribute" on October 6, 2008, in Beverly Hills | Source: Getty Images
Belts, Corsets, and Scarves to Cinch a Dress
Belts, corsets, and scarves are some of the most popular and easy ways to cinch a dress at the waist without sewing. Belts are a classic way to add definition to your waistline.
Choose a belt that complements the dress and experiment with different widths and styles. A thick belt can create a dramatic cinched waist look, while a thin belt can be more subtle.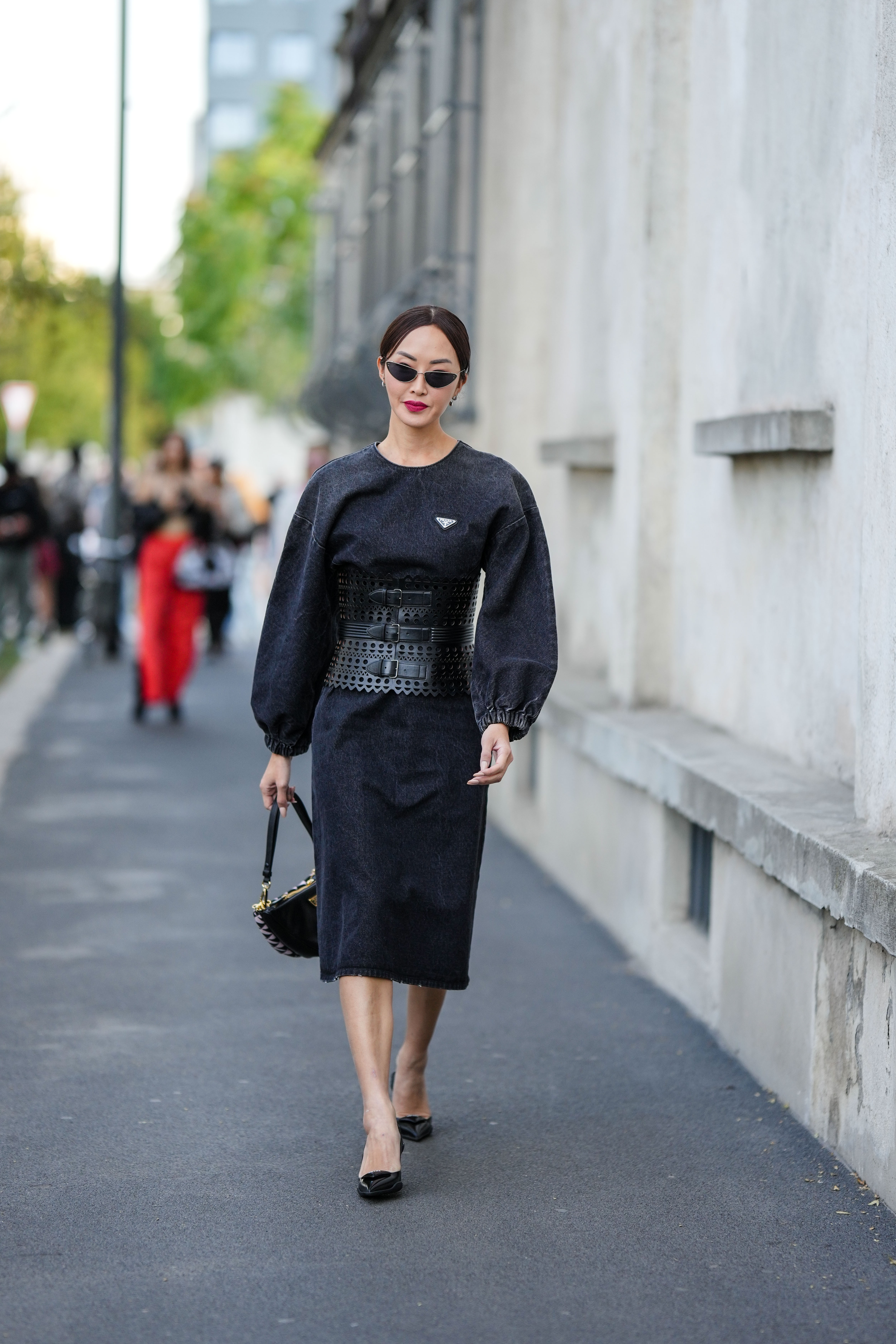 Chriselle Lim wearing a black corset on a black denim long sleeves dress during the Milan Fashion Week on September 22, 2022, in Milan | Source: Getty Images
Corsets are another option, and they come in various styles and materials. You can wear them over or under a dress, and they can create a very structured and defined hourglass silhouette.
Scarves are versatile accessories that can be tied in different ways to cinch a dress at the waist. Simply wrap the scarf around your waist and tie it in a knot or bow.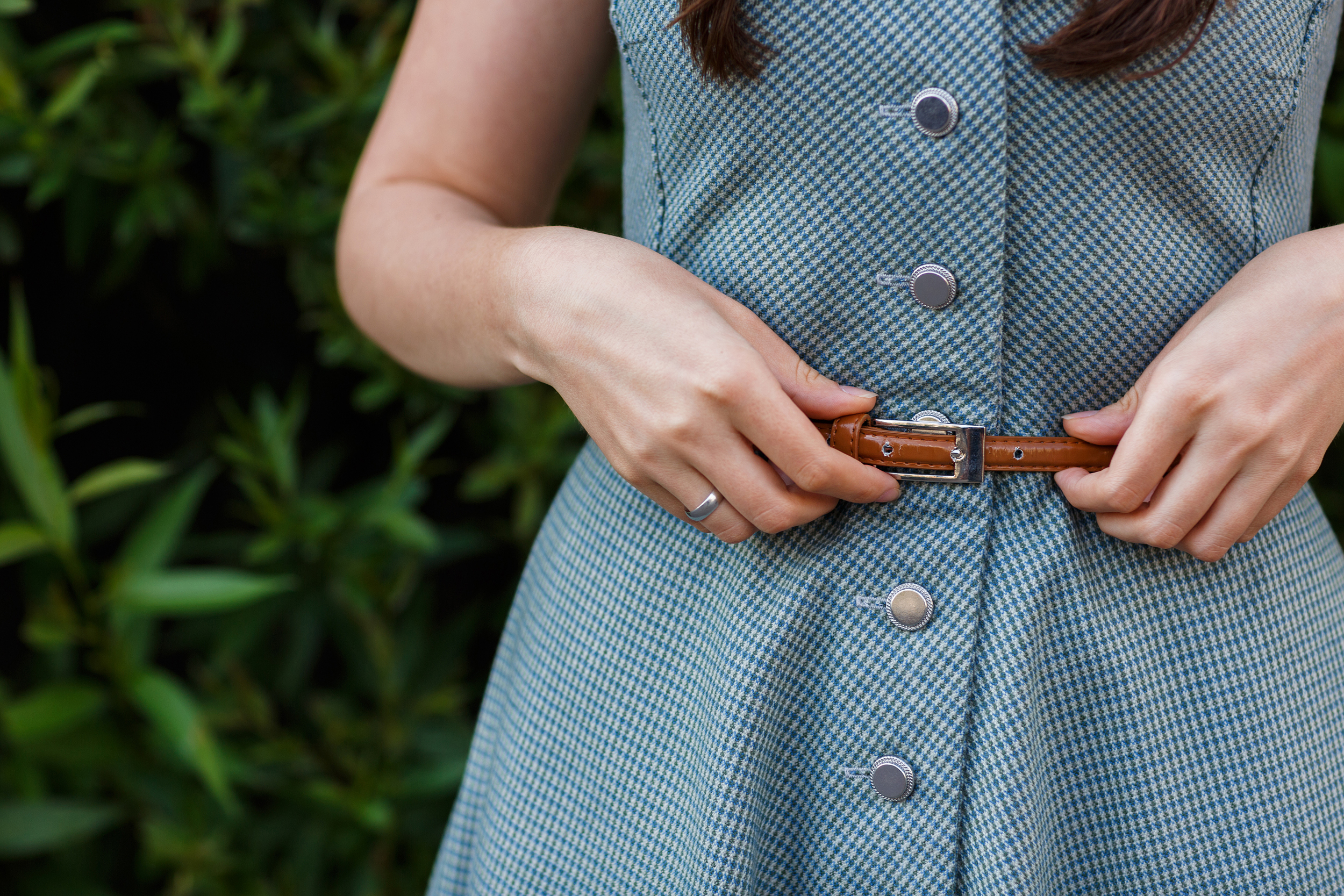 Photo of a woman adjusting her belt | Source: Shutterstock
You can also use accessories like sashes, belt bags, ribbons, and jewelry to cinch a dress at the waist. The key is experimenting and finding what works best for you and your outfit.
Cinch a Dress with a Bangle and a Hair Tie
Cinching a dress with a bangle and a hair tie is easy once you follow the instructions. Put the dress on and identify where you want to cinch it at the waist. Take a round and sturdy bangle and place it outside the dress at the waist area.
Hold the bangle in one hand while you lift the dress from the inside. Take a hair tie and loop it around the bangle and the lifted fabric from the inside of the dress. Adjust the bangle and hair tie to create the desired cinched effect. Once you're happy with the result, you're all set!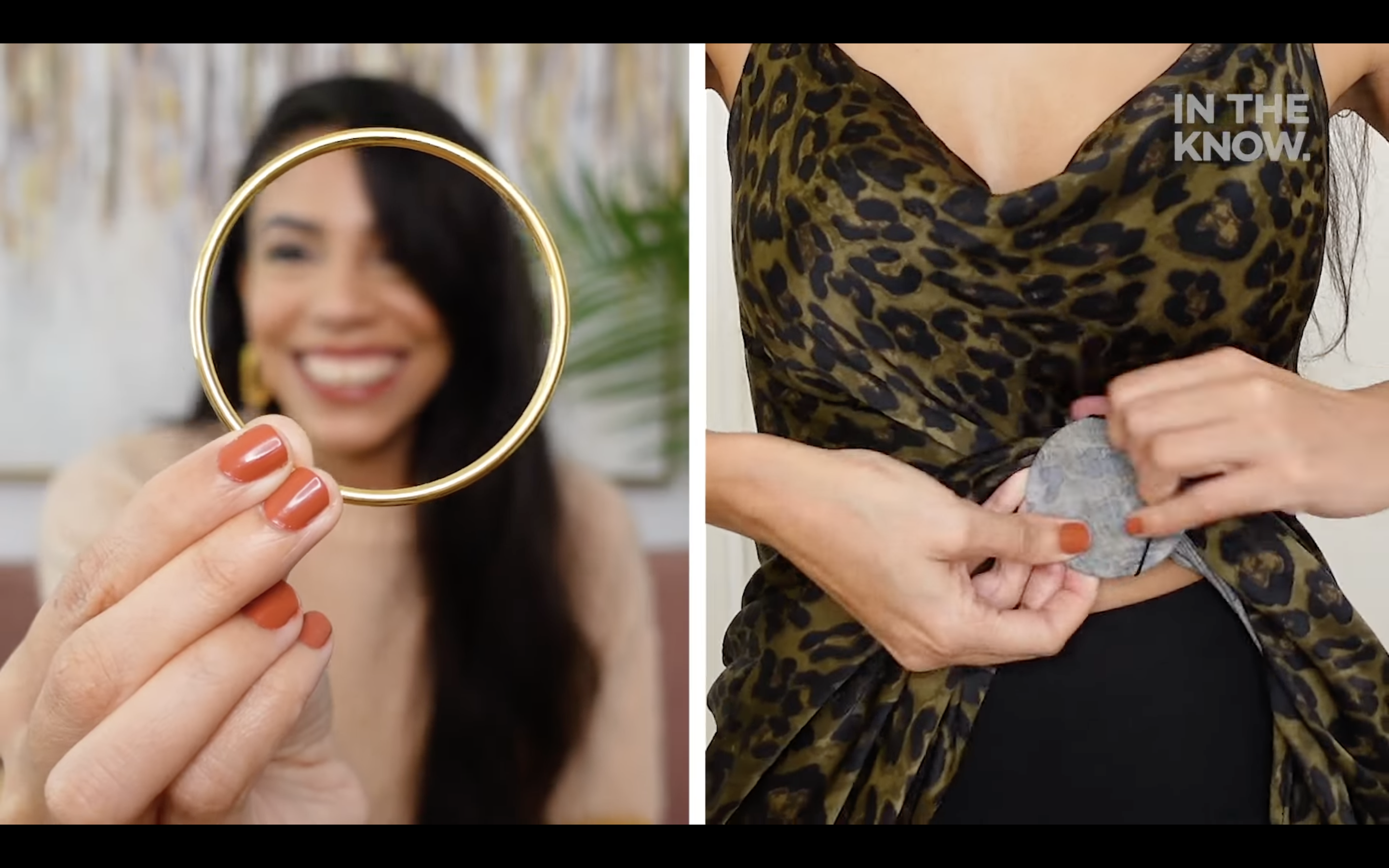 Photo of a woman with a bangle | Photo of a woman cinching her dress with a bangle | Source: Youtube.com/@InTheKnowByYahoo
Cinch the Dress with 2 Safety Pins and a Piece of Ribbon
Cinching your dress with this method is relatively more detailed and takes a bit more time, but it still gives you the desired result. For this to work, you need two small safety pins and a piece of ribbon, shoelace, or string.
One way to get this done is by wearing your dress on the wrong side with the back in front. Attach the safety pins neatly along the back seams and pull a string or ribbon through the closed loops. Tie the string or ribbon as tight as you want, and wear your dress correctly.
This method ensures the ribbon or string stays hidden. However, if you bought a slip dress and are not worried about the ribbon showing on the outside, there is another method you can employ.
The second method will require you to have two matching strings or ribbons. These will be attached to the side seams of the dress to look like a belt. Once firmly attached, you can tie it at the back and have a fitted outfit to boost your confidence.