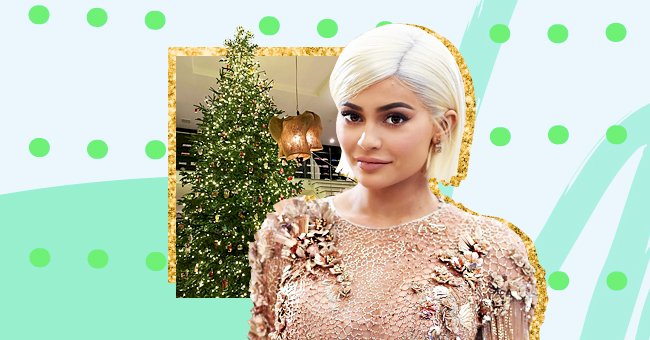 Hollywood Glamour: The Best Celeb Christmas Tree Decorations Of 2020
We are well into December, and most of our homes have transformed into Christmas exhibitions. Whether it's a simply decorated tree or a sparkling light spectacular, the jolly spirit thrives at this time.
Although many of us cannot afford large scale decorations, our favorite stars hold nothing back this season. Sculptures, ice skating rinks, fake snow, and full home transformations are in the cards for them.
Thankfully we can enjoy their lovely decorations on social media to feel the holiday spirit from their spaces. See some of the best celebrity home Christmas tree decorations we've seen this year.
Kylie Jenner's Huge Display
So far, Kylie Jenner has shared images of not one, not two, but four Christmas trees from her home. The young billionaire even set up her toddler Stormi with a small pink tree in her bedroom.
Kylie celebrates the season like a real Kardashian-Jenner with a larger than life tree in her foyer. Recently ariel images of her home showed off her spectacular Christmas light set up that must've cost a fortune.
Pretty In Pink With Ashley Tisdale
Ashley Tisdale channels her famous High School Musical character with her pink Christmas tree. The rose lover may have to pass on the pink wine this season since she is expecting, so why not add it to her decor?
The Situation's Gender Reveal Situation
Jersey Shore's Mike Sorrentino and his partner Lauren Pesce took Christmas to a whole new level. The expecting parents beam with pride in their Christmas tree post that also serves as gender reveal.
The beautifully decorated blue tree reveals that the couple is having a baby boy! Lauren and Mike look just as radiant as the Christmas lights in their background, and there are two cute white stockings too!
Kelly Ripa's Traditional Decor
It feels like it has been ages since we've seen a big bright star at the top of a Christmas tree. Kelly Ripa keeps it traditional by adding this classic symbol on her large Christmas color decorated the tree this year.
Jennifer Lopez's Luminous Glow
Jennifer Lopez recently revealed that she has been working on a skincare line for years. The products offer many benefits, including a luminous glow similar to Jennifer's famous radiance.
Jennifer decorated her home and tree in a bright white and silver color scheme to stay on theme. Her Christmas decor matched her skin's brilliance, and it portrays a luxury winter wonderland vibe.