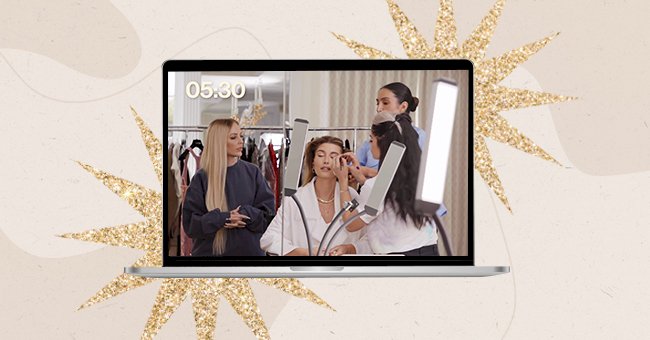 Inside Hailey Bieber's Glam Routine
One's expectations for putting together a full glamorous red carpet look might look like long hours of preparation and endless products, and the ultimate glam squad.
While model Hailey Bieber may have the makeup and styling dream team, getting ready for the red carpet takes thirty minutes. While surprising, when you're a booked and busy model like Bieber, getting an event look together sometimes needs to happen in a short time.
But in a recent YouTube video, Bieber challenged her team to get her ready in only thirty minutes. And her glam squad featuring the legendary hairstylist Jen Atkin, wardrobe stylist Maeve Reilly, and makeup artist Denika Bedrossian were on board to oblige.
Her Glam Squad
Bieber starts the video by introducing her beauty team, who she mentions have been with her for a while, including her wedding.
Her glam squad, evidently working efficiently and with the utmost coordination, share how they usually go about creating a look.
Reilly reveals that typically, Bieber explains what she'd like for an event. The stylist then returns with some outfits and lets the stylish model decide.
Makeup
But when the unexpected occurs, such as a "dress emergency," they're prepared to work on the fly. And as soon as Reilley pulls out the chosen Versace gown, star makeup artist Bedrossian is all ideas.
For the look, Bedrossian suggests going for a monochromatic look, incorporating the tone of the dazzling gown throughout the face.
Once the trio figures that out, Atkin mentions how they're mindful of letting each other have their "moments." This helps them avoid a "busy" final look. After that, they start to execute their game plan to get Bieber red carpet glam on the clock.
The Process
To start the look, Atkin spritzes Bieber's hair with a sugar-water mixture. A 1950s hair trick to help the hair set as it dries.
As Atkin continues to prepare Bieber's hair using a curling iron and rollers, Bedrossian executes the agreed simple look with a winged eye to match the pink, leg-baring dress.
Bieber admits that the whole getting ready process, often involving being surrounded by multiple people touching her in a small space, can make her anxious. Eventually, they add finishing touches, shining cuticles, and fixing lips; they have the look together.
"And we have literally nowhere to go to, so we're gonna go to...take all of this off."

Bieber ends the video.