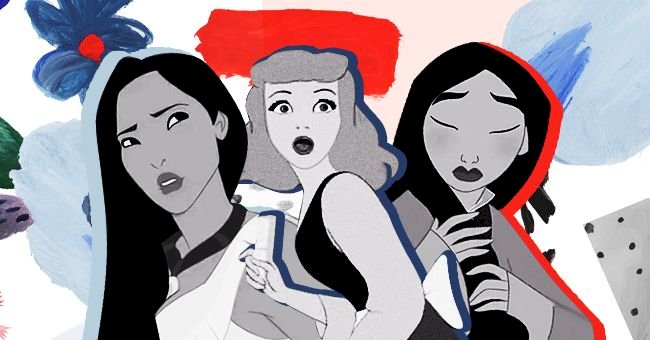 Intriguing Facts About Disney Princesses Fans Should Know
Disney Princesses have inspired generations of little girls to dream about their happily ever afters. From stunning to badass, there's a princess to appeal to every type of child. For adults, the princesses mysterious backstories is cause for great intrigue.
The official Disney princess lineup includes Snow White, Cinderella, Aurora, Ariel, Belle, Jasmine, Mulan, Tiana, Rapunzel, Merida, and Moana. Surprisingly, Elsa and Anna from the hit movie "Frozen" are not part of the official line up.
This isn't the only fact fans may not know about the princesses. Here are some facts that left us a little shocked and intrigued.
1. Cinderella was Walt Disney's Favorite
"You're my favorite heroine, you know." She said, "You mean Cinderella?" "Yes," he said, "there's something about that story I associate with."
2. Pocahontas Was A Real Person
You may be surprised to know that Pocahontas is the only princess based on a real person. The real Pocahontas was reportedly born in the 1500s.
3. Snow White Is The Youngest Princess
The princesses are all just teenagers. 14-year-old Snow White is the youngest of the group and Jasmin is only a year older than her.
Ariel, Aurora, Merida, and Mulan are 16 years old, while Pocahontas is 17 years old, Rapunzel is 18 years old, and Cinderella and Tiana are 19 years old.
4. Tiana's Character Was Loosely Inspired By A Chef
We all know that Princess Tiana's character in "The Princess and the Frog" is reportedly loosely inspired by the main character from the novel "The Frog Princess." She was also inspired by the princess from the Grimm fairy tale "The Frog Prince."
However, fans may be surprised to notice that inspiration for Tiana was also drawn from Leah Chase who is also known as the Queen of Creole Cuisine. Chase was the executive chef and co-owner of the legendary Dooky Chase's Restaurant before she passed away in June 2019.
5. Mulan Is Technically Not A Princess
Mulan may be included in the official line up of Disney Princesses but she is not technically a princess. She was not born into a royal family and did not marry a prince.
Is she a badass? Absolutely. She is actually a warrior and war hero, so either way, we think she's pretty amazing.
6. Moana's Costume Design Is Loaded With History
"With Moana, we did so much research with the Pacific Islands as far as what materials they had at that time. This is supposed to be taking place 2,000 years ago, so we didn't really have any photo reference of what they were at the time, but we did get some material reference from our Oceanic Trust."
7. Mulan Is Based On An Ancient Chinese Legend
As established earlier, Mulan was a badass. However, did you know the character was actually based on an equally impressive ancient Chinese legend of Hua Mulan?
Legend has it she was a female warrior who secretly took her father's place in the war. The poem "The Ballad of Mulan" tells the original story.
8. Sweet Inspiration Behind Rapunzel
Glen Keane, the creator of Rapunzel, revealed that he drew inspiration for Rapunzel from his daughter, Claire. The little girl reportedly used to paint the walls and ceiling in her bedroom.
The doting father referred to her as "an uncontainable little ball of creative energy." He later hired her to create the look of Rapunzel's room.
9. Ariel Became First Disney Princess To Debut In 30 Years
Princess Aurora debuted in was released in 1959 in the story "Sleeping Beauty." After this, Disney took a 30-year break before introducing a new princess.
Thus when "The Little Mermaid" was released in 1989, Ariel became the first Disney princess to debut in 30 years. Boy, are we glad they decided to give us the charming red-haired mermaid.
10. Pocahontas Is One Of Two Disney Princesses To Have Tattoos
Lastly, but probably not the final Disney fact we'll discover, is that Pocahontas was one of only two Disney princesses with a tattoo. She spots a red band around her right arm.
The only other princess with a tattoo is Kida from "Atlantis: The Lost Empire." She has tattoos under her left eye.