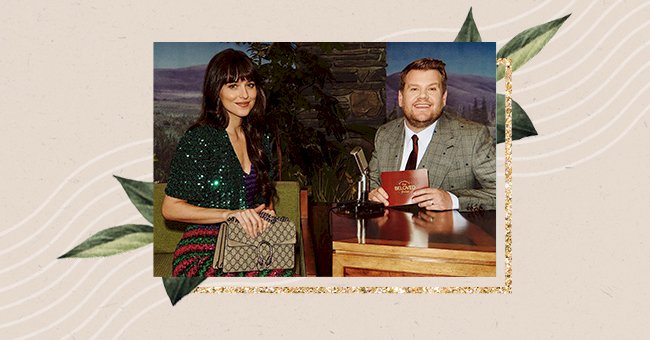 James Corden Hosts Star Studded Gucci Late Night Talk Show
Alessandro Michele has done it again with his innovative star-studded Gucci campaign. The clever concept features stars such as James Corden, Harry Styles, Awkwafina, and Serena Williams.
Gucci does not seem to be slowing down with creative concepts for campaigns under Michele's direction. The design house gave us a beautiful Youtube production last year and has been pushing bounds ever since.
Gucci recently celebrated their 100th collection with a spectacular Balenciaga twist. Now Michele is treating us to an even more exciting showcase with the 'Gucci Beloved' late-night talk show.
Gucci Beloved
Picture your traditional late-night talk show, except everyone, is stylishly dressed in head-to-toe Gucci garments. The host is the hilarious James Corden, and he brings his comedic timing and wits to every interview.
Guests vary from notable actors, musicians, athletes, and a collection of Gucci's beloved handbags. One would expect to see the classic set design on a popular 90s talk show which fit Michele's vision perfectly.
Alessandro Michele recently conceptualized a seven-episode series for the fashion house's Guccifest last year. The series, which is available to watch on Youtube, featured stars like Billie Eilish and Florence Welsh.
The creative director uses the practice of film once again through the Gucci Beloved talk show. Michele's concept forefronts a selection of Gucci bags which are accessories to the talk show's illustrious guests.
Gucci Beloved Concept Ideation
Alessandro Michele chose to present his Gucci bag campaign in a late-night show format that's the first of its kind. Michele explains the reasoning for his concept in a statement that reveals the significance of bags to him.
"We went back in time to the original TV talk shows, where the protagonist is the bag itself, the big star. Very often, these creations are named after influential women who conditioned the habits and customs of many,"

Says Alessandro Michele
The bags included in the Gucci Beloved campaign are some of Gucci's more prominent accessory styles. Michele gushes about his admiration for the bags and explains that it's the reason he named them his 'beloved'.
"I truly love and adore my handbags. Perhaps they will always be my greatest love, my favorite accessory; it was, therefore, natural for me to call some of the ones I created 'Beloved.' The name comes from my own personal experience and my love for them."

Says Alessandro Michele
The Talent
The 'Gucci Beloved' talk show maybe a few days old, but it has some of the world's most famous guests. Alessandro also made sure to make the handbags personalities of their own for this campaign's videos.
"It is precisely because they have great personalities that in the industry we gave them these powerful names; and now we have them in a show and twisted with the idea that there were two stars: the bag and the actual talent. A game of cross-references between the two great protagonists."

Says Alessandro Michele
Talent featured in the campaign includes the Jackie 1961 shoulder bag carried by Harry Styles. Dakota Johnson has the sequinned Dionysus bag influenced by the Greek god of wine, pleasure, and festivity.
Sienna Miller dons the GG Supreme canvas Jackie 1961 bag, and Dianne Keaton carries a Horsebit 1955 bag. Lastly, Serena Williams and Awkwafina both hold GG Marmont bags which perfectly contrast their florals.