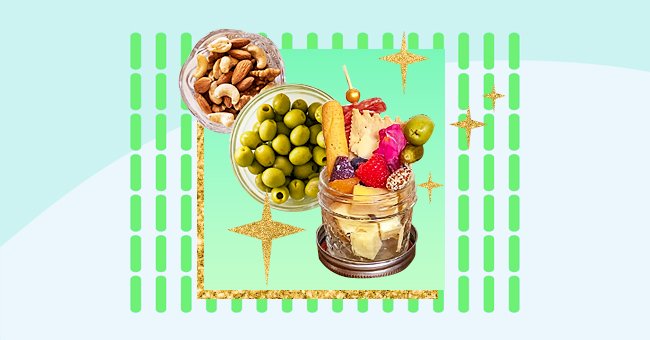 'Jarcuterie' Adds Modern Pandemic Safe Twist To Classic Charcuterie Boards
Party hosting has changed forever since the coronavirus outbreak. Event planners and regular hosts have had to rethink how they approach several elements for safer and smaller gatherings.
Gathering in tiny groups may be an option for some this holiday season as long as they're safe. This means that many event planning elements must change to fit coronavirus, friendly safety regulations.
Communal eating has been a big trend in event catering for the past few years, but things have to change. See this cute adaptation of a much loved communal eating trend that we cannot get enough of.
Classic Charcuterie Boards
We cannot think of a single person who does not love snacking on a classic charcuterie board. These great snack filled boards have received a lot of hype for easy go-to party snack preparation.
Charcuterie boards usually have a selection of cold cuts, cheeses, fruits, preserves, and nuts on one platter. Party guests with all dietary needs help themselves to these tasty snacks all from a single board.
These easy to share boards have also risen in popularity thanks to social media. Influencers and pros share images of their delectable board snacks online, making them an appealing option for their followers.
Unfortunately, with coronavirus on the rise, it isn't safe to have multiple people sharing a single food plate. Although charcuterie boards are tasty and convenient, too many hands-on crackers pose a risk.
The Clever Alternative
Christmas is coming up very soon, and people will have family over to feed on the day. Although Christmas lunches are quite large and filling, it is always ideal to have party snacks available.
People have identified that platters and sharing boards are not very ideal during this time. No matter how much hand washing you can facilitate, it is better to be safe than sorry when it comes to this virus.
Thankfully, seasoned party hosts never run out of creative ideas to offer a great time under any circumstance. Charcuterie boards now have a cute single-serving alternative that we love.
Jarcuterie Boards
A small business in Arkansas first came up with this single-serving board option this summer. Suzzane Billings, who owns 'Noble Graze,' saw a demand for single-serving grazing boards from her business.
"I came up with the jarcuterie concept when the demands for single-serve options just keep increasing as Covid cases [keeps] increasing. Customers wanted the charcuterie board details but in individual servings for social distancing best practices,"

Says Suzanne Billings
Billings reveals that her business, which specializes in grazing boards, had made single serving boards before. The previous boards were made from cones, but they never entirely stuck as the jars have now.
Jarcuterie boards have become so popular that Billings offers a sweet treat version now as well. These cute single-serving offerings consist of the same finger food concept on a board, just separated for safety.