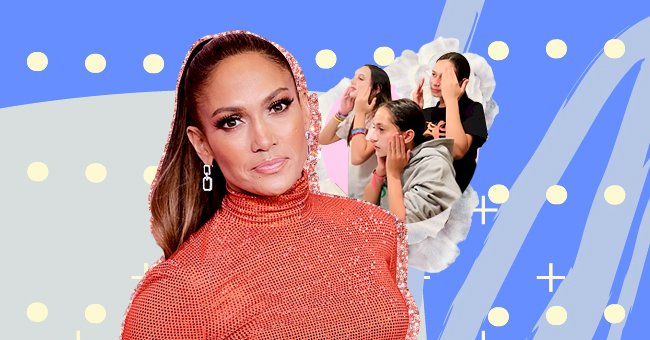 JLO Teaches Her Daughters About Skincare In Instagram Video
Jennifer Lopez shares cute moments teaching her and Alex Rodriquez's daughters about skincare in a video she shared on Instagram.
Her beauty line's launch has caused much excitement by fans looking to tap into the star's beauty secrets. Not just that, but it has provided the opportunity for Jennifer Lopez to do a little bonding with her and her fiancé Alex Rodriguez's daughters in a very special way.
In an Instagram video shared with the star's one hundred and thirty-four million followers, Lopez's twelve-year-old daughter, Emme, and her fiancé's daughters, Ella and Natasha, can be seen using the products from the new JLo Beauty, with Lopez guiding them.
JLo's Instagram Post
Jennifer Lopez is getting her kids into skincare early. The multitalented star recently took a step into the beauty industry with a kine of line of products named JLo Beauty.
And who better to test out the JLo Beauty creams and cleansers than Emme, Ella, and Natasha? And what a fun bonding time it was for parties involved.
In The Instagram Video
Lopez shared a video of them on Instagram of the group using a selection of the products. These "little helpers" (as Lopez called them) appeared to thoroughly enjoy lathering up face soap and takeing directions from Lopez.
"It makes you look very glowy," Ella said to the camera after cleansing. Lopez also helped them apply moisturizers and eye cream, among other products, and imparted her invaluable knowledge of skincare to help the young one establish a lifelong habit.
JLo Beauty
The Hustlers actor initially announced her beauty brand in August. She has since been hinting at what it would offer through a series of social media posts.
The products in the JLo Beauty line include: Jlo Glow Multitasking Serum, That Limitless Glow Multitasking Mask, That Big Screen Broad Spectrum Spf 30 Moisturizer, That Blockbuster Wonder Cream, That Hit Single Gel-Creme Cleanser, That Fresh Take Eye Cream, That Star Filter Complexion Booster. The star is also releasing dietary supplements made from olive leaf extract, vitamin E, plus manganese and copper.
Availability
While the highly anticipated launch is set to take place on January 1, 2021, eager fans and skincare enthusiasts could get early access by signing up on the brand's website on December 8.