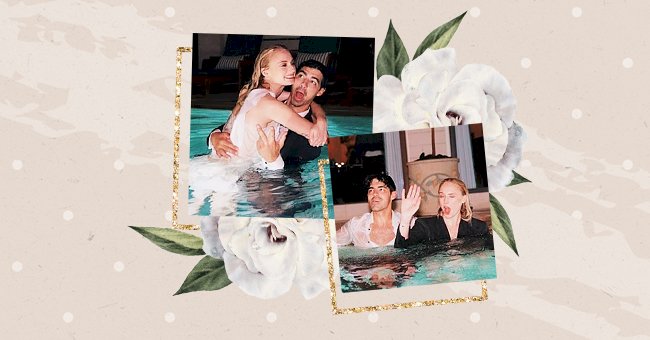 Joe Jonas & Sophie Turner Release New Pictures From Their Las Vegas Wedding
Sophie Turner decided to show everyone the unedited photos of her first wedding in Las Vegas to her husband Joe Jonas as they celebrate their second anniversary.
The marriage between Joe and Sophie was just like a wedding in the movies. They got married in Las Vegas, celebrated by a priest dressed as Elvis Presley.
The couple got married by surprise in the middle of the night at the Chapel L'Amour hours after the Billboard Music Awards.
How They Got Married The First Time
Joe and Sophie attended the Billboard Music Awards ceremony in 2019, where Joe's band performed. Shortly after - surprisingly and without any official announcement - they went to a wedding in the middle of the night in Las Vegas. The wedding was broadcast live on Diplo's stories on Instagram.
To officiate the wedding at Chapel L'Amour inside A Little White Wedding Chapel was an Elvis impersonator. The wedding was a legal affair as they had applied for a marriage license to the State of Nevada a few days earlier.
Sophie's Outfit And More
At the start of the ceremony, Sophie Turner walked down the aisle wearing a white silk top, matching trousers, and a wedding veil, to the notes of Speechless.
Waiting for her at the altar was Joe, with his brothers Nick and Kevin, as his witnesses and groomsmen. Priyanka Chopra, on the other hand, was her bridesmaid.
The exchange of promises was also live on Instagram: They promised never to leave each other, love and trust each other every day of their lives. In health and sickness until forever.
Their getaway car was a pink Cadillac from the 1950s. They went off to have a dip in the hotel's jacuzzi, still in their wedding clothes.
Photos From Their First Wedding
The two decided to celebrate their union with an intimate but compelling ceremony. The guests in attendance were few, and the wedding was not a great media event.
That way, they have been able to keep a lot of their photos secret until now. For their second anniversary, Sansa Stark of Games of Thrones decided to share these very intimate moments with us.
Among the unpublished shots, we see the two in the pool, their first kiss as a married couple, the two playing some music from the DJ console. In short, they are shots of a simple but beautiful ceremony.
A mutual friend introduced Joe Jonas and Sophie Turner, and they began dating in 2016. They currently have a daughter named Willa.