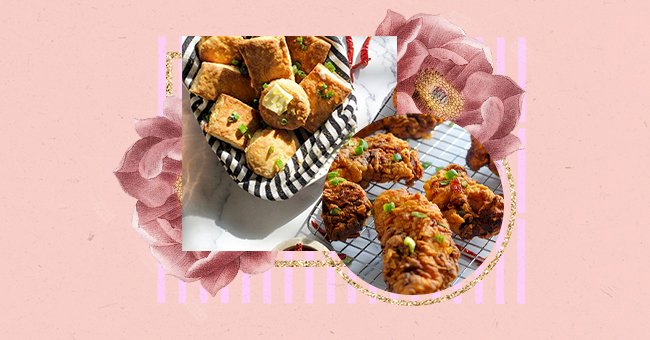 Juneteenth Recipes From Black Creators Worth Trying
Juneteenth this year might seem quieter than the rest due to the current pandemic. However, even as celebrations are scaled-down, we can still celebrate African American culinary roots through cuisine.
June 19th is a day recognized as the end of enslavement in the USA. To commemorate this auspicious event, one way to honor those who came before us is through food. Cookouts are a deep dive into Soul Food and its African, Caribbean, and Southern American roots.
There are so many recipes to choose from, but we love that Black creators are turning classic cookout staples into dishes that will jazz up any potluck, any season. So grab a notebook and stay hungry and try out these Juneteenth recipes you cannot afford to miss out on.
Blackened Catfish
Catfish is major comfort food, and this low-carb recipe from A Girl Called Adri is a perfect healthy addition to your cookout. It includes a savory blackened seasoning instead of breading, thus the low-carb tag. Moreover, the result of this summery dish is tender catfish, with the right amount of flake and spice.
Spiced Grilled Peaches
Hey peach lovers, this recipe is a unique twist on one of summer's favorite fruits. Load up your spice and grill with olive oil and sugar. For a chilled dessert, make sure you serve it with a side of ice cream or Greek yogurt.
Brown Butter Sweet Potato Cake
Sweet potatoes are the ultimate African American holiday go-to. This recipe delivers on flavor by creating a spice cake with a sweet potato twist. Serve it as dessert and get ready for a moist cake that will soon become your ultimate crowd-pleaser.
Buttermilk Fried Chicken With Sour Cream And Honey Sauce
Make your own crispy fried chicken with this fantastic recipe that you're bound to keep returning to time and time again. This spiced chicken, coupled with the sour cream and honey sauce, will release an explosion of flavors set to define your summer cuisine.
Watermelon Hibiscus Whiskey Smash
Watermelon is the summer fruit. However, instead of serving it straight, how about you cut up chunks, throw them into a blender along with some herbs? Then, get some lemon, ice, and whiskey into the mix for a perfectly chilled summer cocktail.
Honey And Butter Cornbread
What is Soul Food without cornbread? Homebaked cornbread is cozy and warm, and this recipe draws its flavor from honey and buttermilk guaranteed to lift your senses.
Blackberry Ginger Soda
Here is another summery drink sure to cool off the heat at the cookout. This soda mix is a crisp blend of ginger ale, blackberry syrup, club soda, and festive blackberry ice cubes in an ode to the Juneteenth Red Soda Water staple.
Lemon Icebox Pie
Lemon Iced Pie is a classic Southern go-to. Try out this recipe from creator Chenée Lewis passed down from her grandmother. It's so simple all you need is eggs lemon juice, and condensed milk some pre-made graham cracker pie crust and your done.
Grilled Pork Chops with Burst Blueberry Sauce
Summer berries tend to be the sweetest, which is why this recipe is so appropriate for all your Juneteenth celebrations. First, blend the berries with shallots, thyme, and chipotles in adobo for your sticky sauce. Then, add some red wine and balsamic vinegar and pair this sensual sauce with juicy grilled pork rib chops.
Hibiscus Snow Cones
Next is this super creative take on the usual Kool-Aid staple, which uses dried hibiscus blossoms to make a sweet syrup to add on shaved ice. Top it off with whipped cream and crushed pink peppercorns toppings for a snack bound to delight your senses.