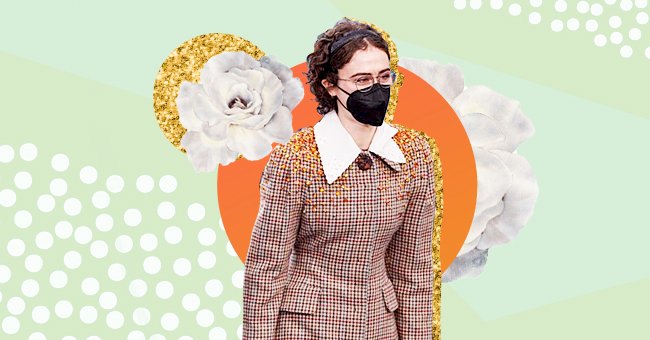 Kamala Harris's Stepdaughter Ella Emhoff Turned Heads In Stunning Sparkly Coat On Inauguration Day
Vice President Kamala Harris' stepdaughter, Ella Emhoff, turns heads in a fabulous, bedazzled coat on Inauguration Day.
Inauguration Day was certainly filled with stylish and meaningful fashion statements. Emerging in some of the most notable outfits of the occasion is Vice President Kamala Harris's stepdaughter, Ella Emhoff.
The twenty-two-year-old Emhoff made a sparkly splash with her Inauguration Day ensemble. She donned a brown, check-patterned Miu Miu coat, embellished with orange sparkles on the shoulders.
Emhoff's Inauguration Day Outift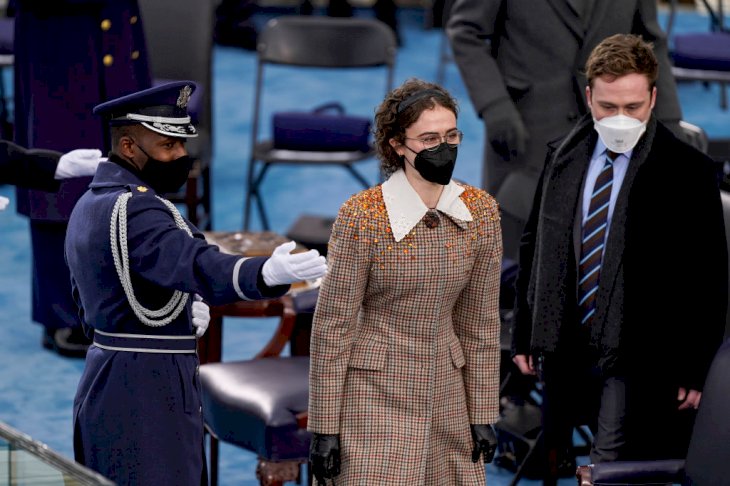 (Kent Nishimura / Los Angeles Times via Getty Images)
Harris' fashion-forward stepdaughter wore a bedazzled, cinched-waist long coat by Miu Miu. She paired the brown coat with a Batsheva collared dress.
She accessorized the stunning designer dress coat with a black face mask, black leather glove, and a black headband. Emhoff may be garnering a reputation for her style, having also turned heads in Washington for the week's events wearing fashion brands like Thom Browne and Batsheva.
Emhoff's Inauguration Day Stylist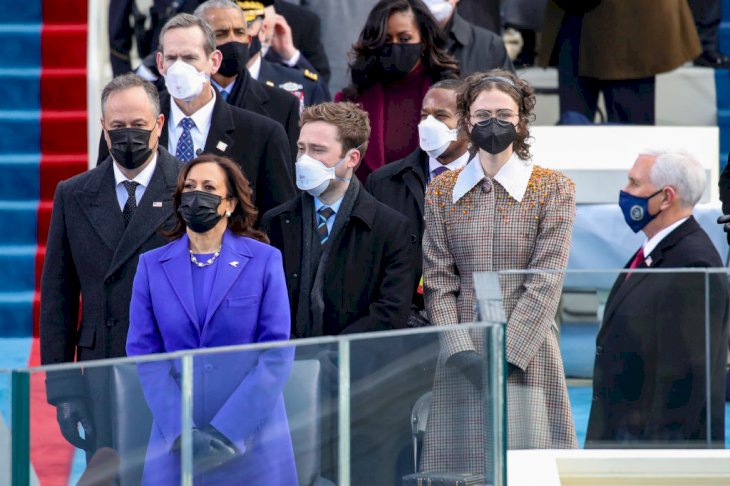 (Photo by Win McNamee/Getty Images)
WWD reports that both Emhoff and stepmother were styled by Jill Lincoln and Jordan Johnson, who work as celebrity stylist duo Jill and Jordan.
Lincoln and Johnson dressed Harris was in head-to-toe purple, in a look designed by Christopher John Rogers. The style duo have also dressed the likes of Margaret Qualley and Rachel Brosnahan in the past.
About Ella Emhoff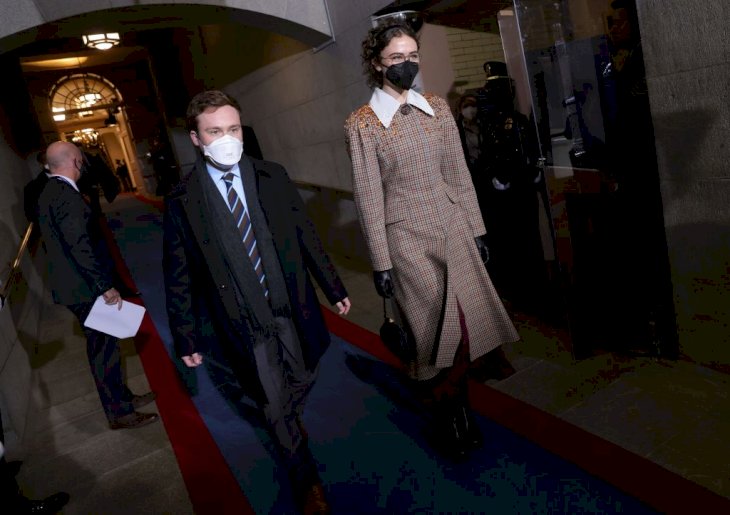 (Photo by Win McNamee / POOL / AFP) (Photo by WIN MCNAMEE/POOL/AFP via Getty Images)
Given her recent looks, it may not come as much of a surprise that Emhoff is a textile design student at the Parsons School of Design in New York City.
Furthermore, she is also an emerging knitwear designer. One can easily find her colorful and quirky pieces shared on her Instagram or her website.
The Other Attendees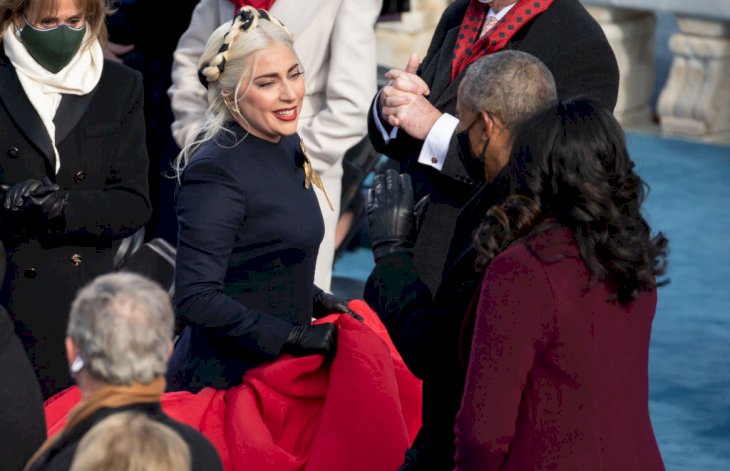 (Photo by SAUL LOEB/POOL/AFP via Getty Images)
The stylish college student attended the inauguration ceremony with Cole Emhoff, her brother. Her father, Doug Emhoff, stood by Harris' side during her swearing into office as the first black Vice President of the United States on Wednesday.
Among the most notably fashionable attendees of the inauguration are the Former First Lady of the United States, Michelle Obama, Lady Gaga, and Jennifer Lopez.