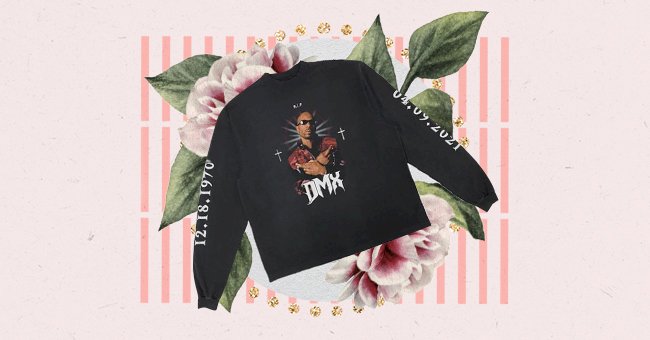 Kanye West Raises $1 Million For DMX's Family Through Tribute Shirt Sales
On April 9, legendary New York rapper Earl Simmons known as DMX passed away at age 50. His legacy is continued by his 15 children from nine women, which include his ex-wife and fiance.
It has been a heartbreaking month for hip hop since rapper DMX was hospitalized after suffering a heart attack. DMX passed away just after spending a little over a week in the hospital, leaving behind his friends and family.
Kanye West, a close friend to the late rapper, collaborated with Balenciaga to provide for the family. Read more to explore how Kanye West raised $1 million in a day for DMX's remaining family members.
Rest In Peace DMX
Earl Simmons, also known as DMX passed away after suffering a heart attack earlier this month. DMX was a prolific rapper with a unique tone, relentless spirit, and unshakable faith despite his troubles.
The public celebrated DMX's life this past Saturday through a memorial service inside the Barclays Center. Friends and family of the rapper attended the memorial and shared loving memories of the late legend.
"This is so hard y'all. What I pray, what I hope, I pray to God, I pray to our angels, our ancestors, that his journey was smooth. I know that he will rest in power. Rest in love, but most of all, he feel rest in peace."

Says Friend And Fellow Rudd Ryder's Member Eve
Swizz Beatz handled the memorial's production, and Kanye West created the stage with Akeem Smith. In addition to helping out with the presentation, Kanye enlisted his Sunday Service choir for the service.
The Tribute Shirt
In addition to his contributions at DMX's celebration of life, Kanye West commissioned a $200 shirt in his honor. The Yeezy creator collaborated with Balenciaga to create a shirt that honors DMX's legacy.
The long sleeve shirt features an image of DMX on the front. Also on the front of the shirt are the words' RIP DMX' printed in his standard album cover font, and his birth and death dates are printed on the sleeves.
Yeezy and Balenciaga created the shirt in commemoration of the rapper's life and for his remaining family. The $200 shirts sold out in 24 hours, making $1 million for DMX's family members as per West's request.
Remembering DMX
DMX's children and fiance were among the people who stood on the stage during his memorial. The late rapper's eldest son Xavier Simmons shared some touching words about his father in an emotional tribute.
"I am so honored to have a father like we have. This man deepened my ability to love."

Says Xavier
DMX's twelve-year-old daughter Sonovah also performed a rendition of his song 'Slippin' during the service. The touching tributes prove that DMX always led with love for the people around him despite his issues.