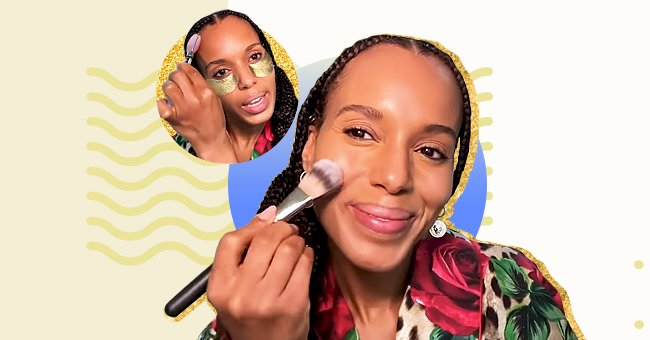 Kerry Washington Shares Her Best Skincare And Makeup Tips In 'Vogue' Video
Actress Kerry Washington just dropped some self-care gems, including some golden tips on maintaining her hair and skin in a new video.
The theme of beauty this year has been all about self-care. More and more people are finding that the secrets to healthy hair and skin start from within. It's the whole premise of Alicia Key's new beauty line and also the secret to Kerry Washington's beauty regimen.
In a recent video for Vogue, Washington goes through her hair, skin, and makeup routine, including some of her favorite products.
Kerry's Skincare
Washington begins the skincare part of her beauty routine by lighting a candle from Alicia Keys' new beauty collection to set the mood. She starts by washing her face using Neutrogena Ultra Gentle Daily Foaming Facial Cleanser. Because of her eczema, she says that she has always had to be cognizant of what she puts on her skin to avoid exacerbating the itchiness or cracking.
After that, the "Scandal" actress goes in with a refreshing rosewater mist by Serena Loves. She spritzes the products luxuriously all over her face and says that it smells good and cleanses the aura.
Moisture
She then applies an SPF serum - Neutrogena Invisible Daily Defense Face Serum SPF 60+. Then, she sticks on some Twenty-four-karat gold eye patches by Wander Beauty Baggage Claim Eye Masks.
Lastly, what would a skin enthusiast be without their favorite nifty gadget, whatever it may be. Washington finishes off her skincare routine with a facial massager to get some extra circulation in her skin and then moisturize with Neutrogena Hydro Boost Water Gel and a lip balm, both including a favorite component of hers, hyaluronic acid.
Kerry Makeup Routine
Washington begins her makeup with two shades of Neutrogena Healthy Skin Radiant Cream Concealer underneath her eyes because she likes to layer. However, she adds that Neutrogena didn't initially have her shade of concealer or foundation when she started working on them. Still, she promptly worked with the brand to expand the range so more people can "benefit from the amazing science" of the product.
After blending the concealer, she applies on to the Neutrogena Healthy Skin Liquid Makeup Broad Spectrum SPF 20 foundation. She brushes her eyebrows before going in with the Anastasia Beverly Hills Brow Wiz.
Highlights And Eyes
Kerry moves on to the eyes, applying Neutrogena Hydro Boost Plumping Mascara and Neutrogena Cosmetics Smokey Kohl Eyeliner. Lastly, she adds a red lip by black-owned beauty company Mented.
Kerry On Self-Love
"I do think of my skincare routine as self-love because our skin is our largest organ, and it's important to take care of our skin to take care of our overall health."

Says Washington.