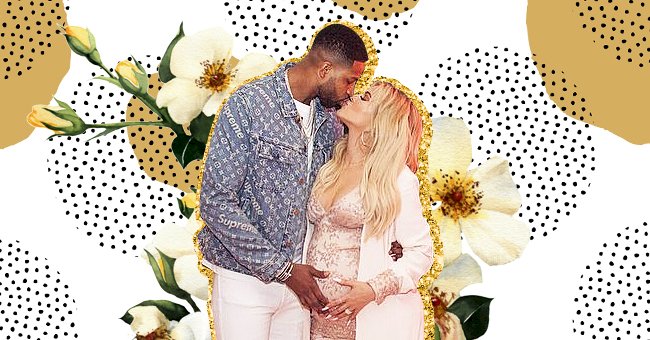 Khloé Kardashian & Tristan Thompson's Love Story May Be Back On Track
The youngest Kardashian sister's love story is onto a brand new happy beginning. The Good American co-founder and her NBA lover are back on after their briefly sour chapter last year.
Khloe Kardashian and Tristan Thompson have had a tumultuous relationship for the past two years. The couple's fairytale is full of plot twists and almost suffered an unhappy ending due to infidelity.
Khloe has forgiven her baby's father's actions for the sake of her family before. This time, the couple is starting over for real, and we have the events leading up to their latest romantic reconciliation.
Hot New Couple
Tristan Thompson and Khloe Kardashian first linked as a romantic couple in 2016. The pair was spotted leaving a nightclub together at the end of that year's summer and hit it off immediately.
Tristan planned the first dinner with Khloe and pursued the relationship consistently until they were a pair. The couple's affair heated up quickly, and there was an Instagram official just in time for the holidays.
The Sweet Honeymoon Phase
This happy couple was so in love and almost inseparable in 2017. Khloe even admitted to wanting to start a family with Tristan later that year. She even wrote a blog about how in love the couple was at the time.
"It's such a great feeling that I have my happy back! It's from a genuine place and the most peaceful place I've been in for longer than I can even remember,"

Says Khloe Kardashian
The relationship blossomed so quickly that pregnancy rumors followed that September. Confirmations only came that December, but soon things would take a turn for the worst.
Caught On Camera
Surveillance footage of Tristan kissing two other women surfaced in April 2018. The footage was dated October 2017, suggesting that Tristan had been cheating on Khloe for several months.
Blowout news of Tristan's infidelity took the world by storm two days before Khloe's due date. The NBA player ignited a massive scandal after footage of him cheating leaked. True was born two days later.
Rocky Relationship
Khloe and Tristan tried to mend their relationship after their daughter was born. Kardashian explained the effort it took to make things work between the pair for their family's sake.
Their relationship was more strained as time passed, and soon there were reports of a split in early 2019. A few days later, Tristan kissed Kylie's ex-best friend Jordyn Woods at an intimate house party in his LA home.
Tabloid Turmoil
Everything that followed this cheating drama filled the tabloids for the rest of the year. Jordyn infamously stood up for herself on Red Table Talk, and Khloe responded to the episode with a heated Twitter rant.
The family cut ties with both Jordyn and Tristan. Khloe didn't interact with him on True's first birthday, and the couple closed the chapter and co-parented their child as separated individuals for the rest of the year.
Coming Back Together in 2020
The Kardashian family warmed up to Tristan again early this year. The coronavirus pandemic hit, and Tristan stepped up to be with his family for lockdown even though the pair were still broken up.
Reconciliation rumors followed after Scott left a clue comment under Khloe's bikini Instagram post. Although the pair is yet to confirm, sources say they're in a good space, and Khloe appreciates his effort.