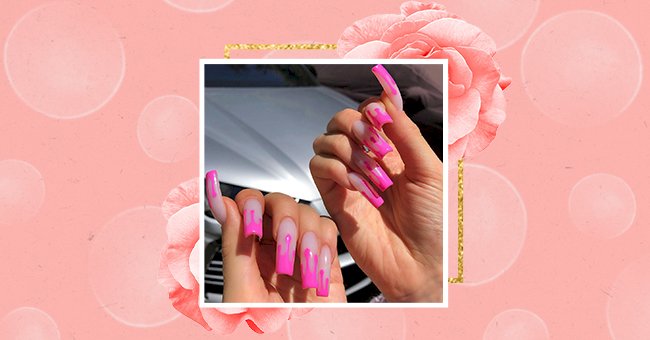 Kylie Jenner's Best Nail Art Looks
Kylie does it again, making her nails trend this time! The most influential Instagrammer is making us jealous of her cute nail sets this time!
Kylie has always been influential; the youngest of the Kardashian-Jenner clan has always been a trendsetter. People around the world copy everything she does, from her hair and now down to her nails!
Every week she gets a new set, and she keeps us updated with a fresh take on old trends. Here are some of her best nail art looks.
A Kylie Signature French Drip
Kylie puts a twist on the classic French tip by adding a neon pink drip similar to the signature drip on her lip-kits. It's identical to a set she did back in 2016 in black and white, but the neon pink is perfect for summer.
Mismatched Pastels
Pastels, the colors of spring! Even though the colors are different, we have to assume that Kylie wanted it that way. If you can't pick one color, get both! So the next time you hit the nail salon, do something a little different.
Pastel Tie-Dye
Her pastel tie-dye set the trend for Easter; stars like Gigi Hadid were rocking these candy-colored nails because of Kylie. Tie-dye t-shirts are all the hype right now because the process is so satisfying, but these tie-dye nails are so pretty you could stare at them all day!
Chrome Nails
These pink chrome metallic nails Kylie had in 2018 are still so cute. This effect can be created using a powder to give it that extra shine to distract everyone around! It's a shame you can't see your reflection in them.
Stars On Your Nails
You might get stars in your eyes every time Jenner posts a new set, but when she posted her set with neon stars. Neon trends around the summertime and this creative take on a clear base make you want this work of art even more!
Leopard French
Leopard print is making a comeback, and Kylie is showing it off in a cute French tip! Reviving it with this matted print and making it look so stylish, I'm sure many went rushing to their nail tech to try this one out!