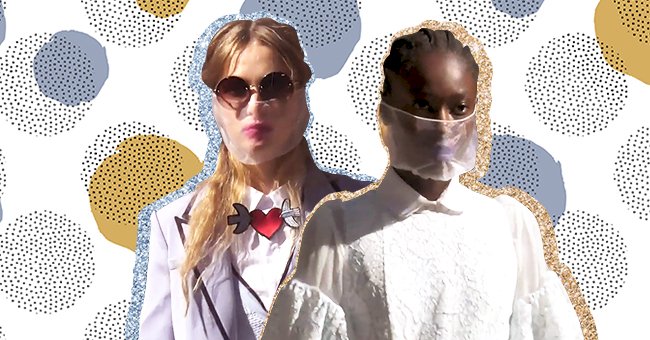 London Fashion Week Moments That Were Incredibly Iconic
London Fashion Week followed New York's exhibitions with a bang both physically and virtually. The show continued with the intention to impress during one of fashion's most coveted weeks.
We didn't expect much from Fashion Week events this year since coronavirus turned everything around. Little did we know that designers and their teams had other plans for us and weren't going to back down.
London Fashion Week brought several memorable moments to be digital and real-life displays. Take a look at five of our favorite stunning moments from London's 2020 fashion week lineup.
Nineteenth-Century Rewind
The Simone Rocha show reimagined fashion and beauty looks from the 19th-century regency era. Models had their hair styled in soft paper curls, tight ringlets, and some donned crystal headpieces.
Hairstylist Cyndia Harvey expressed that she looked to create these looks with a more modern touch. Models were given pale complexions with washes of color on their cheeks to elevate the era's look.
The Versatile Hair Accessory
If there is one thing to expect from an Erdem show, it's gorgeous hair accessories. The fashion house layered several white ribbon headbands on models this season.
Hairstylist Anthony Turner beautifully knotted, wrapped, and laced the accessory on all hair textures. This hair accessory adds the perfect sophisticated touch to every outfit and hairdo.
Bedazzled Body Art
Shimmering body art may be a trend from the '90s, but it looks incredible as a fashion statement today. The Charlotte Knowles show brought fearless boldness into their fashion week exhibition.
Artists adorned Models in blinged-out embellishments in butterfly shapes and abstract lines on bare torsos. The body jewelry accessory is sure to make a comeback after this exciting showcase.
All About The Lips
No bold lip was left unseen at the Bora Aksu show in London. Sheer face masks were the order of the day with a bright pink pout to seal off every look.
Janeen Witherspoon achieved an imperfect, lived in lipstick look by blurring the edges of the color. The makeup artist intended to advocate for imperfection, especially during this chaotic period.
Bare Skin Is In
The likes of Burberry and Victoria Beckham agree that natural, fresh looking skin is in this season. These shows had models rocking minimal to no makeup on their faces for a dewy, untouched finish.
Burberry's global beauty director ensured that the foundation makeup only covered spots. A light contour and highlight finished off the sculpted, natural look and a touch of gloss enhanced the dewy effect.