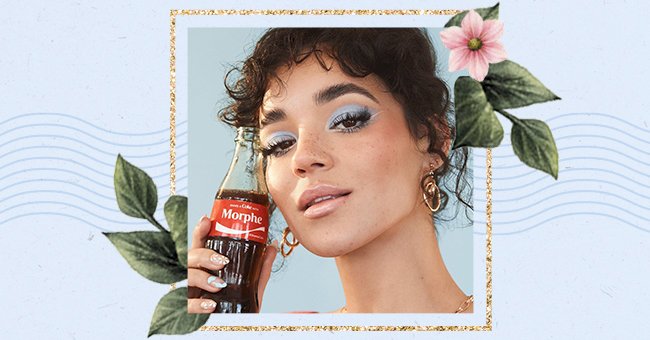 Morphe Announces Another Sparkly Collection With Coca-Cola
Morphe is back with another collaboration on the decks. This time the influencer-loved brand has joined forces with Coca-Cola for the second time to launch a sparkly collection inspired by the iconic 1971 ad, "I'd Like to Buy the World a Coke."
Morphe leaned in heavy with the 70s nostalgia just as Coke celebrates the 50th anniversary of the ad. The collection named 1971 Unity Collection includes several summer-themed eyeshadows, makeup brushes, lip glosses, and mascara.
The products have super fun names like Poptimistic, 1971, and Total Unity, ranging from $12 to $16. Moreover, it includes both shimmery and matte finishes for those who prefer either. See the product offerings below.
When Does The Morphe x Coca Cola 1971 Unity Collection Drop?
Note that this collaboration is only a limited edition, so for those looking to cop the entire collection, you can sign up for updates on Morphe's site before the collection drops on May 11, 2021. Once available, you can shop it at Morphe stores or online at Morphe.com.
What Is Included In The Morphe x Coca Cola 1971 Unity Collection?
For this second collaboration, The 1971 Unity Collection includes an 18-shade eyeshadow palette, a volumizing mascara, four lip glosses, and a five-piece brush set. The Coke motif is printed on the top.
Those looking for a summery shade can play with 'Total Unity,' is coral orange, "Hilltop Hope' a light green, and 'Loved Up,' a blush pink. 'Commercial Break' is much darker. There are only five makeup brushes on offer, and the lip gloss comes in varying shades of retro pink.
The First Morphe x Coca Cola Collection
As previously mentioned, this is the second collaboration between the two major companies. Last year, Coke joined forces with the brand in July to launch an equally sparkly collection. However, it was the first time the company ventured into high-end cosmetics. The only exception was a small 2018 collaboration with The Face Shop that was only available in South Korea.
How Has The First Morphe x Coca Cola Collaboration Evolved?
Unlike the first collection, the 1971 Unity Collection has five brushes, whereas the previous one had seven. Moreover, it had an 18 pan eyeshadow palette, high-pigment lip colors, Morphe's signature makeup brushes, highlighters, and beauty sponges. Back then, the sparkly collection was cased in the iconic red Coca-Cola branding, unlike the sky blue of the 1971 Unity Collection.