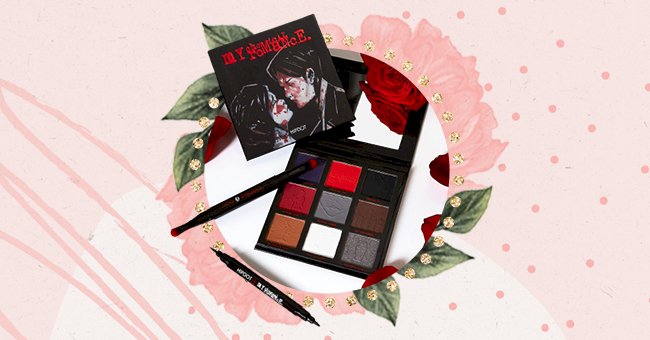 My Chemical Romance Collaborates With HipDot To Launch Makeup Line
Get excited for another star-studded makeup line with My Chemical Romance's latest release. The band partnered up with HipDot to create a makeup collection that our preteen selves would die over.
My Chemical Romance created the soundtrack for every mid-2000s girl's emo phase effortlessly. The rock band proved that their talent goes way beyond music and angst with their latest unexpected offering.
Makeup and beauty have been a massive interest for many celebrities, and My Chemical Romance joined the boat. Read more to explore the details behind the band's makeup collection collaboration with HipDot.
The Collection's Inspiration
My Chemical Romance has made music that has inspired men and women of varying ages since 2001. The rock band's angsty lyrics and rockstar style influenced the emo style and makeup trends of the 2000s.
Their 2004 album, 'Three Cheers To Sweet Revenge', was a hit when it came out. As a result, this album's merchandise is highly recognizable, and the band thought to use its designs for this collection.
The package designs from their makeup collection include a vintage red logo the band used in the 2000s. Out of all three items in the collection, the eyeshadow palette inspired by the 'Three Cheers' album art is the showstopper.
The Eyeshadow Palette's Details
As mentioned above, the My Chemical Romance eyeshadow palette is the star of the makeup collection. The palette includes nine colors inspired by their 'Three Cheers To Sweet Revenge' album art's color scheme.
The most exciting elements about the eyeshadow palette are the two red hues in it. Many MCR fans will remember that singer Gerard Way wore a flush of red eyeshadow on his lids during this album's era.
The red shadows are not only the perfect homage but also give fans a chance to recreate Gerard's look. Those who aren't fans of red have plenty of playing room with the rest of the palette's shades.
More About The Products
The other two products in the MCR and HipDot collaboration collection are an eyeshadow brush and eyeliner. These two products are perfectly in line with the emo look's staple heavy eye makeup vibe.
The eyeshadow brush has dual endings with red bristles to match the packaging and logo. This retractable brush's sides have different uses, one is for packing on pigment, and the other is for blending.
The other product included in the makeup collection is a double-sided liquid eyeliner pen. Each applicator tip on the eyeliner pen has a different shape for different outcomes of a rocker's essential makeup item.
Both the double-ended liquid eyeliner pen and dual-sided eyeshadow brush are available at $12. The iconic eyeshadow palette is available for $24, and all items are sold online at hipdot.com, so get clicking!