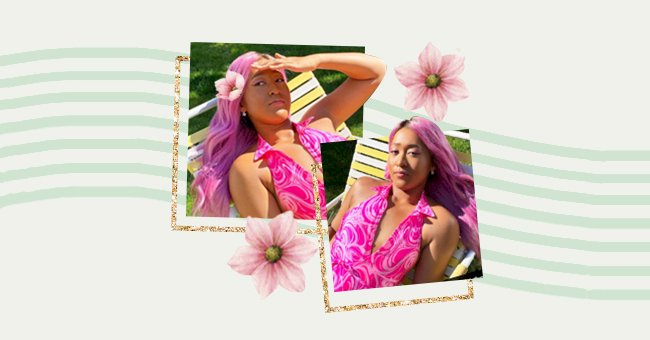 Naomi Osaka Collaborates With Frankies Bikinis On A Swimsuit Line
Naomi Osaka is welcoming summer in style. The 23-year-old tennis pro collaborated with swimwear brand Frankie's Bikinis for an inclusive and empowering swimwear collection launching May 10 and May 19.
The bikinis are a reflection of Osaka's sporty and feminine style. They feature brights colors, daring cuts, and fun and range from sizes XS to XL. However, there will be a select style that will feature a 2X sizing.
The swimwear features some sexy string bikinis made of satin-inspired fabric and some one-pieces that offer more coverage. Furthermore, the price range for the swimwear is set at $80 to $190. Osaka modeled the pieces herself and revealed the thoughtful reason she chose to work with Frankie's Bikini's.
Why Naomi Osaka Chose to Work With Frankie's Bikinis
The Grand Slam champion is no stranger to the fashion world. However, Osaka detailed why she collaborated with Frankie's bikinis to create the collection in a press release. Osaka says,
"For me, it's important to align myself with brands that make inclusivity a priority."
The swimsuits are designed to make everyone feel comfortable. Osaka was without her usual honey curls as she modeled the pieces. She had sneakily previewed her hair on her Instagram page. Instead, she turned heads with brightly colored pink and green hair. This collaboration is, however, not the last fashion collaboration we shall see from Osaka.
Naomi Osaka The Fashion Designer
As previously mentioned, Osaka is not green at the fashion collaboration game. In previous years the tennis star has worked with big-time brands like Nike and Adeam and Louis Vuitton as a brand ambassador and model for Levi's and TAG Huer campaigns.
However, Osaka is leaning into her enthusiasm for fashion and collaborated with Strathberry to design a collection of handbags. Moreover, she developed a custom sneaker for Comme des Garçons. As such, the star has expressed that she intends to create even more in the future.
Praise For Naomi Osaka's Dedication
Frankie's Bikinis founder Francesca Aiello had nothing but praise for the tennis star. The brands, press statement like Osaka's reiterated that the collection was designed to help women celebrate their bodies. However, Aiello had more personal words for Osaka, saying,
"Naomi is extremely creative and has an amazing sense of style that she has made her own."
Aiello continued in her interview with Nylon that she was inspired by Osakas's commitment to using her platform to educate and raise awareness about social injustices. Osaka intends to work with more designers and teased that the swimwear collaboration is one of the many of her 2021 partnerships.
Best Pieces From The Collection
There is a slew of high-waisted bikinis on offer, as well as a swim skirt and a matching sarong. The collection also includes daring satin-inspired pastel green and deep blue string bikinis, but the stand-out piece is the Osaka one-piece.
It perfectly marries her sporty side and feminine side as it is designed to be extraordinarily high-waisted and crafted with a polo-style collar. Moreso, the line includes a strappy floral print halter neck and a striped bandeau top and bottoms.
Naomi Osaka The Tennis Pro
Osaka made history when she was only 18 after beating mega athlete Serena Williams at the 2018 US Open. Furthermore, this also made her the first Japanese player to win a Grand Slam title.
Last month Maria Sakkari defeated Osaka in the quarterfinals of the Miami Open after a straight-sets loss that ended Naomi's 23-match winning streak. This was her first defeat since February 2020. She won her fourth Grand Slam title at the Australian Open in February 2021.