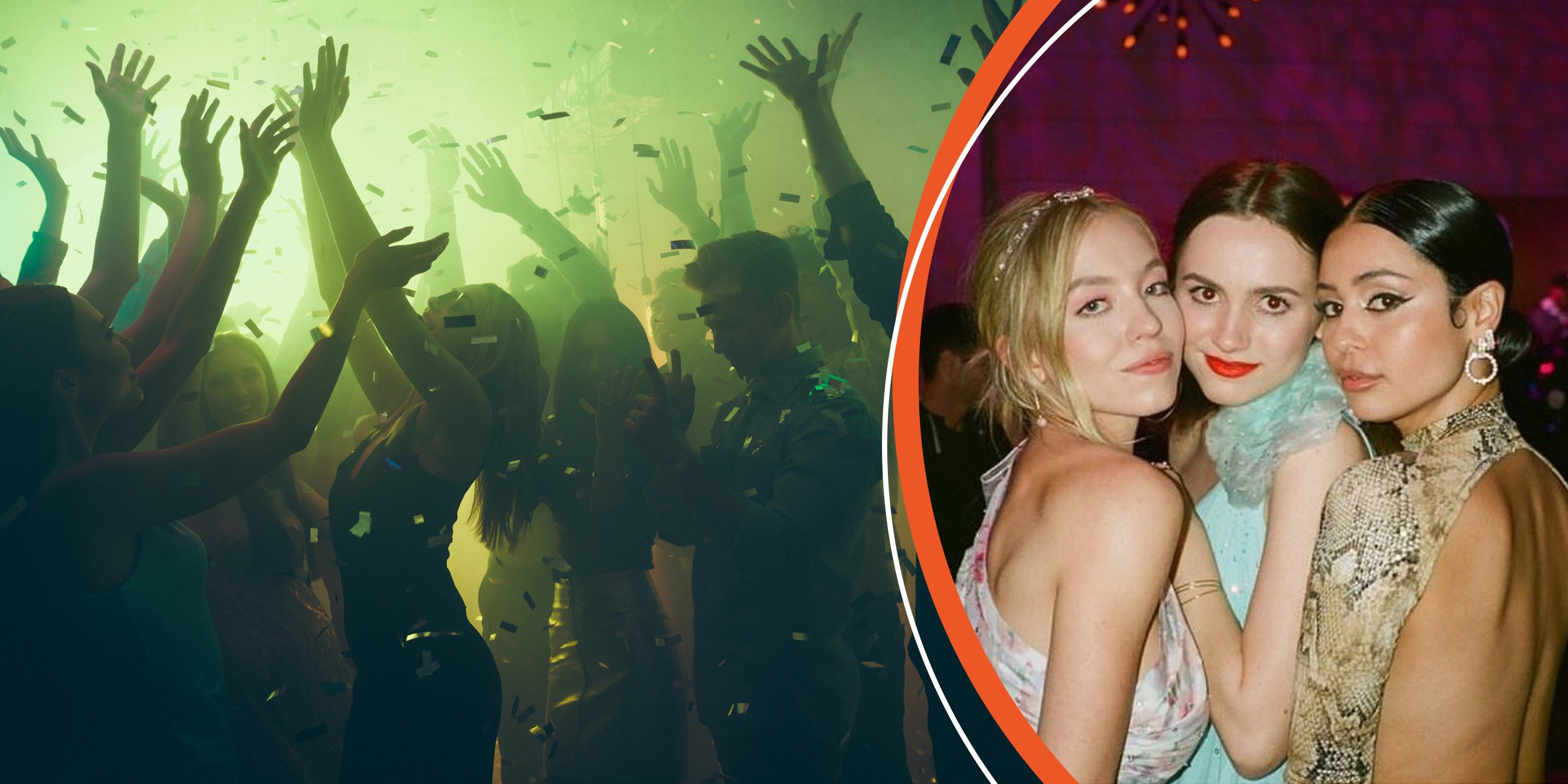 Party scene | Sydney Sweeney, Maude Apatow, and Alexa Demie | Source: Shutterstock | Instagram.com/euphoria
Nuances of Creating a 'Euphoria'-Themed Party: From Home Decoration to Nail Design

Since its debut in 2019, the series "Euphoria" has captivated audiences globally. Today, fans are recreating various parts of the series, and "Euphoria"-themed parties have become the order of the day.
The series had become popular not only because of its plot but because of its characters' stylish looks, colorful makeup, and trendy hairstyles. When the second season premiered in 2022, search terms relating to the series skyrocketed.
"Euphoria" is a teen drama focusing on Rue Bennett, played by Zendaya Coleman. Written by Sam Levinson, it also stars Maude Apatow, Alexa Demie, Storm Reid, Jacob Elordi, Alexa Demie, Sydney Sweeney, Barbie Ferreira, and more.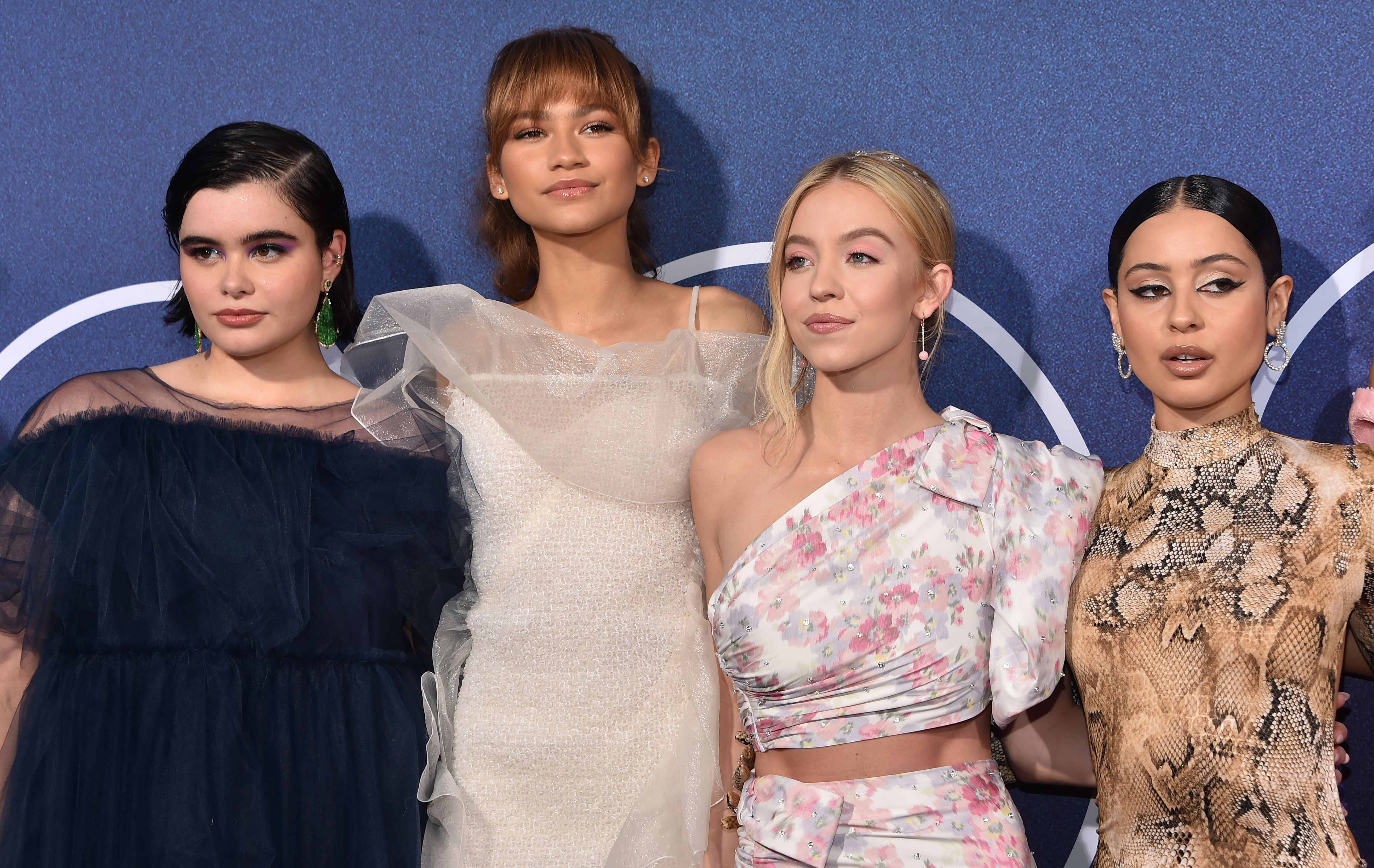 Barbie Ferreira, Zendaya Coleman, Sydney Sweeney, and Alexa Demie at the premiere of "Euphoria" on June 4, 2019, in Los Angeles | Source: Getty Images
The series shows the life of a group of high school-age friends navigating their various problems, and fans have fallen in love with some of the party scenes.
These parties have inspired the recreation of "Euphoria"-themed parties. From recreating the makeup looks, fashion takes, glam hairstyles, party decorations, and more, here's how you can also be a part of the "Euphoria" world.
Create the Atmosphere for a 'Euphoria'-Themed Party
The atmosphere is one of the first things you need to get right for your "Euphoria"-themed party. The party scenes in the series feature plenty of neon, glitter, pink, and purple, and these are the aesthetics your venue needs.
Your venue needs to evoke the East Highland vibe by balancing the colors with the sparkly metallic elements. For the ambiance, you need purple LED light strips, a galaxy projector, strobe lights, and more.
In addition, you will need neon decorations and lights in different colors, shapes, and words to set the right mood. You can go the extra mile by adding neon photo props.
Balloons are a must-have for your backdrop as they create the perfect picture stand. While choosing balloons, go for deep purples, hot pink, baby blue, metallic silver, and red.
Be sure to have the balloons blown in different sizes to recreate a similar look from the series. You will also need a magical entryway with light and airy chiffon curtains for guests to pose for their pictures and videos.
"Euphoria"-themed parties are not complete without a disco ball to add that metallic sparkle. In addition, you need a lot of glitters that you can sprinkle on every surface, and your guests can also play around with them.
The venue also needs metallic fringe curtains to adorn the walls and serve as backdrops for pictures and glittery star cut-outs hanging from the ceiling.
While the series did not focus on the food at these parties, remember that teenagers eat a lot and rely on quick, simple, and fast foods.
For the party, you need mini-burgers or sliders, pizza, chicken wings, meatballs, soft pretzels, skewered foods, hot dogs, sandwiches, quesadillas, and more.
Choosing to dress like your favorite character might make finding the right outfits much more effortless.
There is no party without drinks. Your guests need mocktails to get them going. To stay with the theme, choose colored mocktails like the virgin Mary, virgin margaritas, and piña colada. These drinks are best with citrus strips or vegetables.
Music Is an Important Detail for a 'Euphoria' Party
Music is also a vital element of the series, so the songs from their soundtrack should play in the background. Fans will undoubtedly be delighted.
The good news is that the show has a playlist of all its soundtracks on Spotify, which is about 17 hours long. The playlist covers the soundtracks for both seasons and has over 340 songs.
Get the party started with the show's official song, "All For Us" by Labrinth and Zendaya, and then move on to songs like Beyoncé's "Hold Up" and Bonnie Tyler's "Holding Out For A Hero."
The series is known for its emotional songs, which include Andy Williams' "Can't Get Used to Losing You," Billie Eilish's "You Should See Me In A Crown," Lorde's "Liability," Orville Peck's "Dead of Night," Labrinth's "I'm Tired," and more.
Choose Clothes in the 'Euphoria' Characters' Style
A big focus of the series is the outfits worn by the characters, and you sure want to dress right for the party. "Euphoria" inspired outfits will feature color, print, and teenage sophistication.
Choosing to dress like your favorite character might make finding the right outfits much more effortless. Maddy's black slip dress for her birthday in season 2 is one of the show's most iconic looks and could be recreated.
Cassie's Oklahoma look is one worthy of emulation. A wardrobe with blue and baby pink hues will channel your inner Cassie. The Oklahoma look featured a floral dress, a gingham poplin top, and a pair of lace-up boots.
A mini vinyl skirt paired with an animal-printed top or sheer mesh top, chokers, harness, and any fabulous pair of shoes will have you doing Kat proud.
Details of the 'Euphoria' Style Look
Since its premiere, the series has served fans with endless makeup inspiration. For a party, it's best to start with a clean-face beat and let the focus be on your eyes.
You can opt for a smokey look, graphic eyeliner, embellishments, colored eyeliners, and more. Finish off your look with your favorite lip gloss or lip stain.
You should include your nails in the party preparations, as there is plenty of nail art inspiration in the series. A simple look like the princess-pink oval nails with rhinestones or the gold chrome nails would suffice.
However, if you prefer elaborately designed nails, then the mermaid net nails, malachite French tips, neon-green gingham, or caged nail art should inspire you.
The show did not leave fans wanting hairstyle inspiration. They showed hairstyles that included bedazzling, loose waves set in a bun, beach waves, color extensions and accessories, braids, bobs, and more.
Now that you have everything you need to create your "Euphoria"-themed party right down to your nails, you need the perfect invitation to send out to your friends. All you need to make that happen is your computer and design skills.