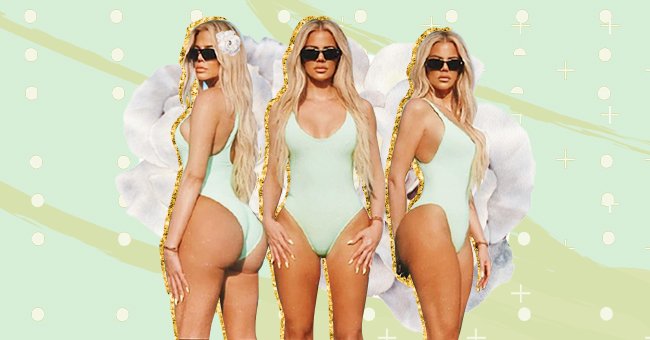 One-Piece Swimsuits Make A Comeback In Hollywood
Bikinis have certainly had their run in Hollywood over the years. But it's looking more is more might be creeping its way back in.
We're noticing more and more of the who's who stepping out onto the pools and braces in one-piece bathing suits. And while this may be a resurgence of the one-piece trend, can we ever really consider the classic one-piece swim-suits out of style?
And now that we're making our way to Spring, here are some celebrities who have sported one-piece swimsuits over the past year for a little swimsuit inspiration.
Khloé Kardashian
The Kardashian are no strangers to swimsuits of all kinds, rocking some of the tiniest two-pieces to some amazing one-piece swimsuits.
Kourtney Kardashian
Kourtney Kardashian posted a picture of herself poolside skating (or posed skating rather) in a green one-piece costume.
Chrissy Teigan
The radiant Chrissy Teigan shared a video of herself hanging out in a brown one-piece swimsuit and appreciating some music from Sia.
Jordyn Woods
In a series of stunning bathing suit pictures that Jordyn Woods shared while on vacation last year, among them was this stunner.
Rebel Wilson
Rebel Wilson, the Australian actress, and comedian stepped out in Mexico in a green swimsuit from luxury swimwear brand, Magicsuit.
Lo Bosworth
The actor posted a picture of herself in a pool in a navy blue one-piece bathing suit just before Christmas. In the caption, she asked what people wanted from Santa.
Vanessa Hudgens
Vanessa Hudgens clearly loves to rock a swimsuit in questionable weather. In January 2020, she posted a picture wearing a black swimsuit with the snow visible in the background. The video above she posted in August 2020, wearing a chic animal printed one-piece and looking free and happy in the rain.