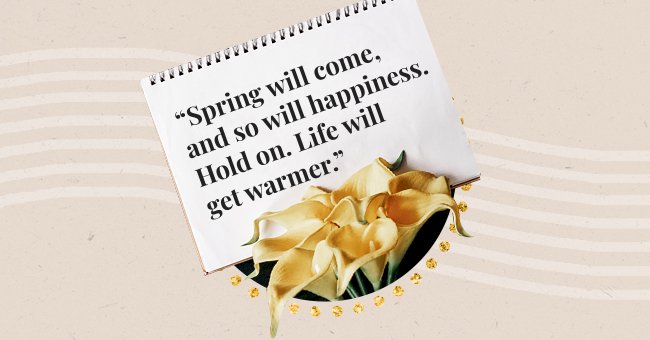 Our Pick: 10 Beautiful Quotes To Welcome The Spring Season
Nearly every year, the onset of March inspires a newfound hope in our gloomy hearts and makes way for new beginnings. While the winter wonderland is all about snuggling in the cozy feels, spring is a time to step outside and marvel at nature's beauty.
Seasonal shifts have long been known for impacting our moods, and when combined with astrology, they can help decipher our personality traits. In poetry, winters correlate with wistfulness and intense emotions, while spring is associated with colors, vibrance, and liveliness.
As you count down days to usher in the floral season, surround yourself with some positive word gram to uplift your disheveled spirits. And to make your job easier, here are ten beautiful quotes that will help you transition smoothly from winter to spring.
1. It's Spring Again
Spring has long been connected with birds chirping and flowers blooming and everything covered in sheer beauty. It's the perfect time to fall in love.
"It's spring again. I can hear the birds sing again. See the flowers start to bud. See young people fall in love."
2.Get Out And Breathe The Air
You cannot enjoy the springtime weather while staying indoors. Even if you're stepping out in your garden or a nearby park, feel the gust of fresh air.
"Spring won't let me stay in this house any longer! I must get out and breathe the air deeply again."
3.Spring Will Come And So Will Happiness
Brand new beginnings are only a spring away sometimes, and all we need to do is be patient. And because all good things take time, your life is always one step away from becoming epic.
"Spring will come, and so will happiness. Hold on. Life will get warmer."
4.The Beautiful Spring Came
The cold frosty weather can linger on, making us feel like spring will never come. Find comfort in knowing that nothing lasts forever, and soon the snow will clear out, and flowers will bloom.
"The beautiful spring came, and when nature resumes her loveliness, the human soul is apt to revive also."
5.The Wind Of Change
Change is the only constant, and embracing it instead of running in the opposite direction can work in our favor. When you feel bogged down, let the changing winds navigate you.
"Sometimes we can only find our true direction when we let the wind of change carry us."
6.Summer In The Light & Winter In The Shade
Only Charles Dickens could have summed up the springtime March days aptly. Almost every year, I experience this awe-inspiring phenomenon, and it baffles me how even the slightest shifts in weather can inspire timeless poetry pieces.
"It was one of those March days when the sun shines hot, and the wind blows cold when it is summer in the light and winter in the shade."
7.You Cannot Keep Spring From Coming
The arrival of spring is inevitable, and nothing can stop making the flowers bloom. So rejoice knowing that after every freezing winter season, nature prepares for its revival.
"You can cut all the flowers, but you cannot keep spring from coming."
8.When Spring Came
Take it from Hemingway; it's best to steer clear of toxic people because they can ruin your upbeat mood. If you want to rein in the spring season, surround yourself with people who are as beautiful as spring.
"When spring came, even the false spring, there were no problems except where to be happiest. The only thing that could spoil a day was people, and if you keep from making engagements, each day had no limits. People were always the limiters of happiness except for the very few that were as good as spring itself."
9.Believing In Tomorrow
Sometimes, we spend an eternity waiting for spring to arrive, when all we need is to get rid of the wintry vibes holding us captive. Believe in the possibility of a happier tomorrow, and every day will feel like spring.
"To plant a garden is to believe in tomorrow."
10.Spring Fever
Spring has the power to leave you enchanted with its potent love spell. And for the ones who have felt it, there indeed is no way you can recover from the intoxicating spring fever.