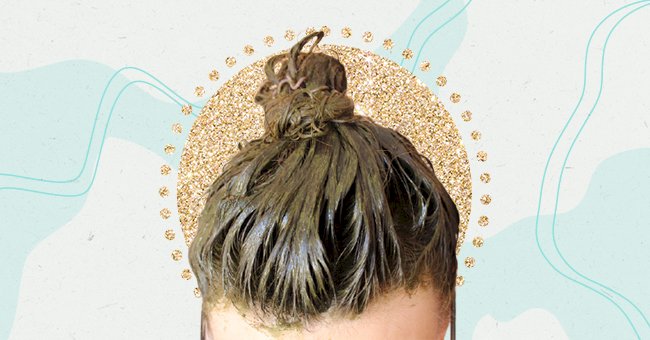 Our Pick: 10 DIY Natural Masks For Damaged Hair
Hair tied up, straighteners, blow dryers, smog, wind, and prolonged exposure to the sun can damage the hair by weakening and weakening it. One of the consequences is that the hair becomes dull and lifeless.
To maintain or regain the health and beauty of your hair, it is essential to take care of it with natural products and masks that can strengthen it with precious nutrients to have healthy and strong hair.
Here's how to have perfect hair by making beauty masks and wraps for stressed and damaged hair based on natural ingredients helpful in moisturizing, nourishing, and making hair soft and shiny for a long time.
1. Bay Leaf Tea And Henna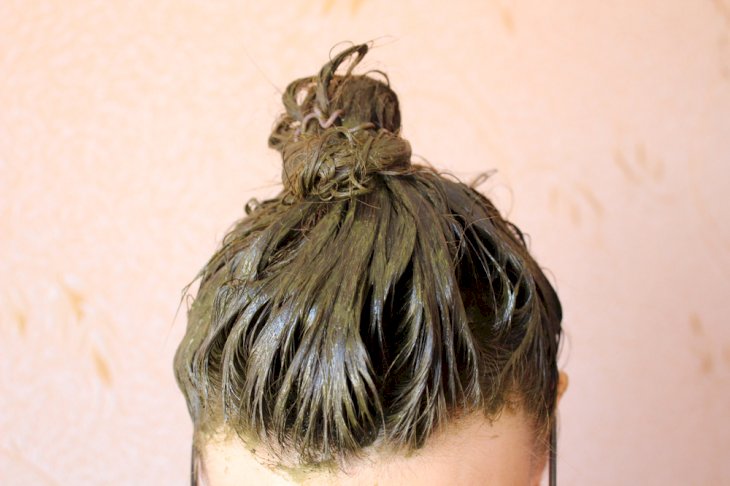 Shutterstock
Boil five bay leaves for five minutes; once it is cold, filter and add six tablespoons of neutral henna, one tablespoon of extra virgin olive oil, and one tablespoon of linseed oil. Mask your hair for one hour, then rinse with the remaining bay leaf tea.
2. Shea Butter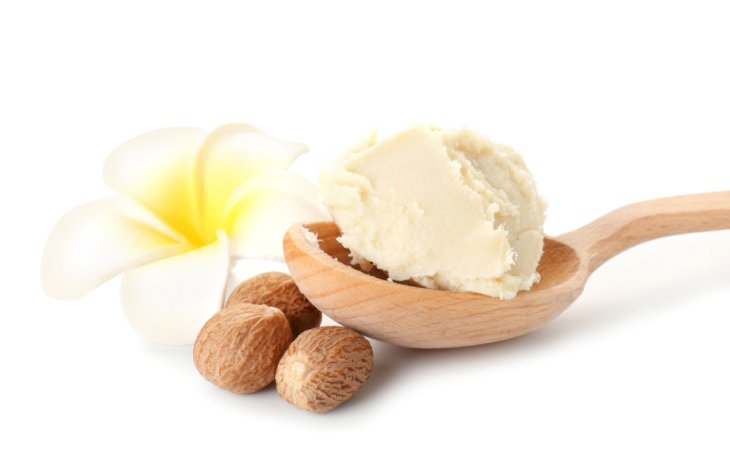 Shutterstock
To 40g of shea butter, add 25g of linseed oil for restructuring and nourishing, or coconut oil, nourishing and polishing. Mix everything with an electric whisk for a few minutes until you get a creamy and homogeneous mixture without lumps.
Apply this pack to the skin and hair moistened with water and leave it to act for an hour. Then proceed with the regular washing using organic shampoo.
3. Olive Oil And Rosemary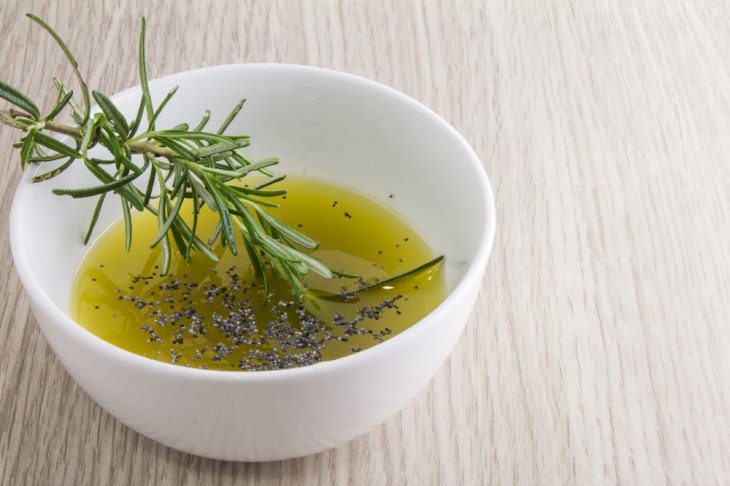 Shutterstock
This natural pack will help to eliminate frizz and excessive dryness. The olive oil is rich in nutrients beneficial to stressed and damaged hair, and the essential oil of rosemary, reinforcing and remineralizing. In addition, this remedy will leave your hair feeling soft and shiny.
To 30ml of extra virgin olive oil, add ten drops of rosemary essential oil. Mix well and distribute the liquid mixture evenly on damp or wet scalp and hair. At this point, let it act for at least an hour and then proceed with the regular washing with water and delicate organic shampoo. You can repeat this treatment once a week.
4. Yogurt And Olive Oil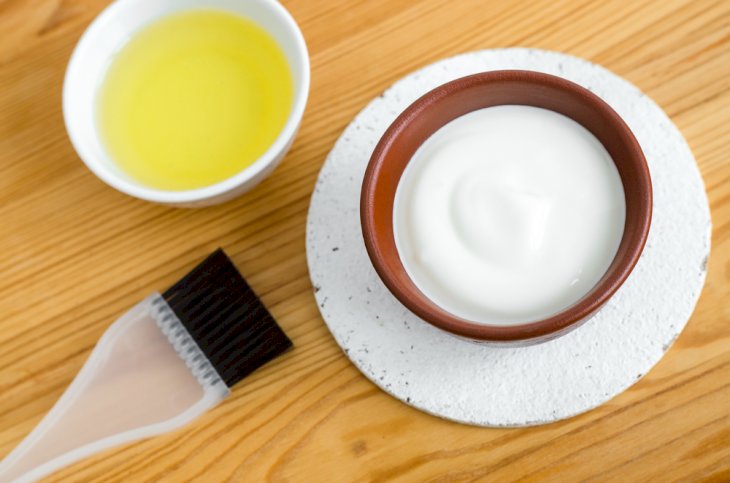 Shutterstock
Yogurt and olive oil has the function of soothing the skin, moisturizing, and giving brightness to stressed and damaged hair. Just take a jar of plain yogurt, a food rich in fatty acids with a moisturizing and softening action, add it to one or two tablespoons of olive oil, and mix.
You can enrich this mask by adding a few drops of ylang-ylang essential oil with an antiseptic and calming action. Spread the mixture evenly on the hair, leave it on for at least one hour, and rinse off thoroughly. Repeat once a week.
5. Coconut Oil, Flaxseed, And Almond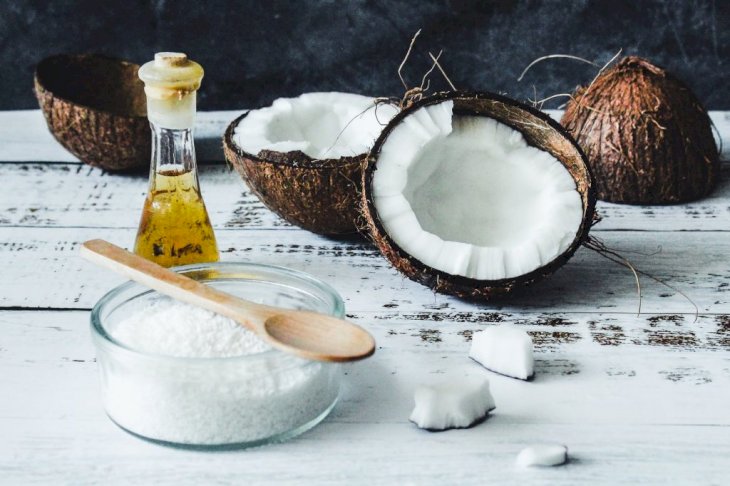 Shutterstock
In a dark glass bottle, combine 20ml of coconut oil, which polishes and detangles the hair, 20ml of sweet almond oil, which nourishes deeply, and 20ml of flaxseed oil, which restructures and protects the hair.
Apply this mask to damp hair for one hour. Then, proceed to wash hair with a neutral shampoo. Thanks to this mask, your hair will be full-bodied and shiny.
6. Banana Mask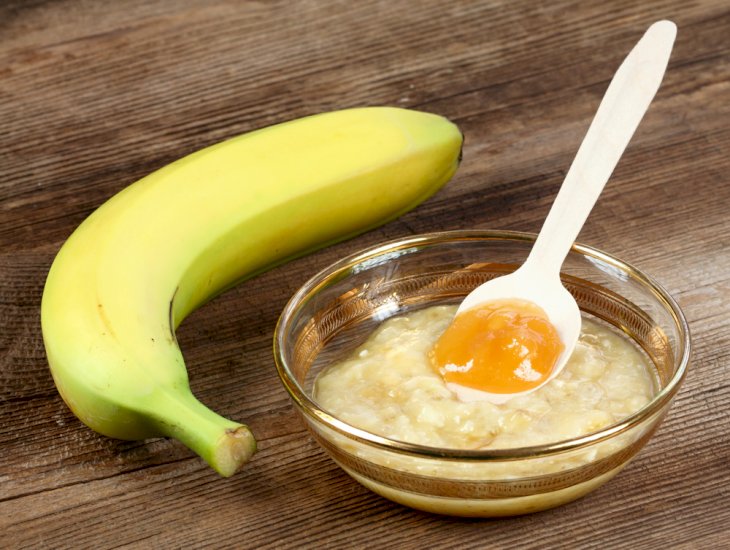 Shutterstock
Using fresh fruit, such as banana, to prepare a mask for damaged hair will allow you to benefit from vitamins and mineral salts that will regenerate the hair fiber, making it stronger. After having washed, peeled, and cut a banana into pieces, put it in a bowl and obtain a puree, mashing it with the help of a fork or blending it.
Apply the natural mask evenly on the hair and leave it on for 20 minutes. Rinse thoroughly with a mild shampoo. At this point, just add two tablespoons of olive oil to nourish and make the hair soft and intensely silky, and a few drops of lavender essential oil, a good help against brittle and lifeless hair.
7. Sage And Basil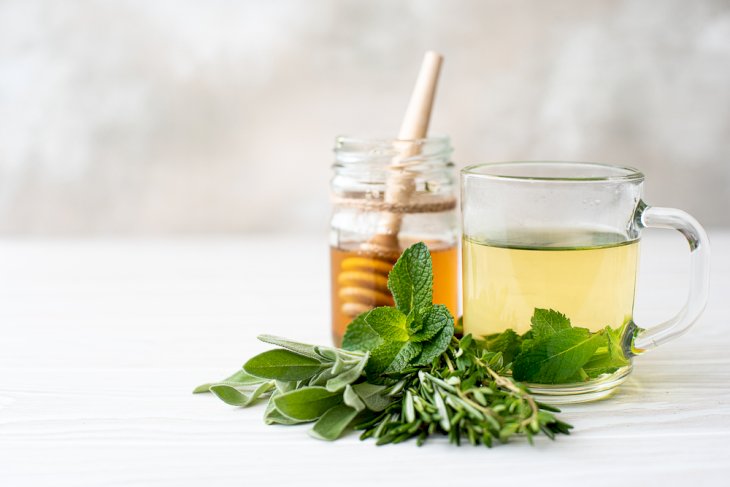 Shutterstock
Blend a cup of basil leaves, a tablespoon of jojoba oil, and three drops of rosemary essential oil. Then mix with 100g of neutral henna and sage infusion. Leave on for two hours and then rinse with the remaining sage tea.
8. Castor Oil
Combine three tablespoons of white clay with two tablespoons of castor oil, two tablespoons of shea butter, and three tablespoons of honey. Leave on for thirty minutes and rinse with green tea.
9. Arnica Hair Mask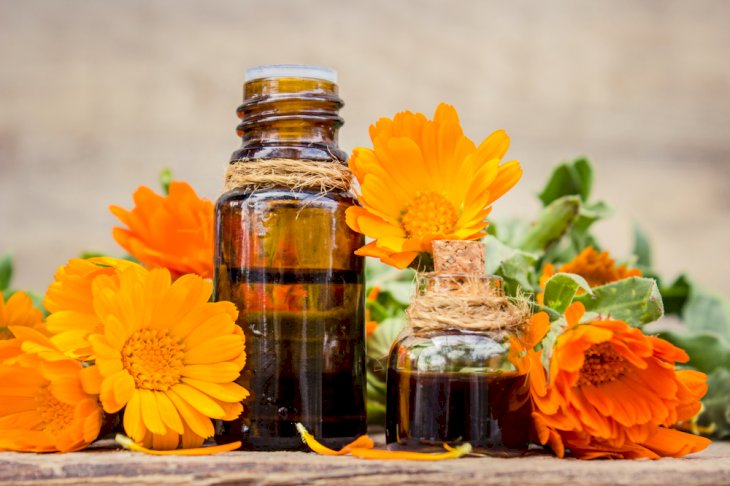 Shutterstock
Mix an egg yolk with three tablespoons of honey, three drops of arnica essential oil, and two tablespoons of extra virgin olive oil. Mix with 100g of neutral henna. Leave it on for two hours and then rinse with black tea.
10. Egg, Honey, And Yogurt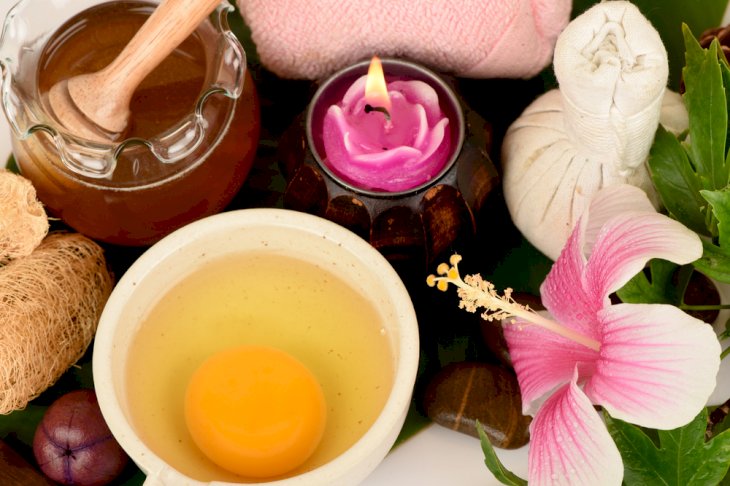 Shutterstock
Put one egg, four tablespoons of plain yogurt, and three tablespoons of honey in a container. Mix with a wooden spoon and apply to the hair by wrapping it in kitchen film. Apply it to your hair for a few minutes, and then proceed with shampooing.