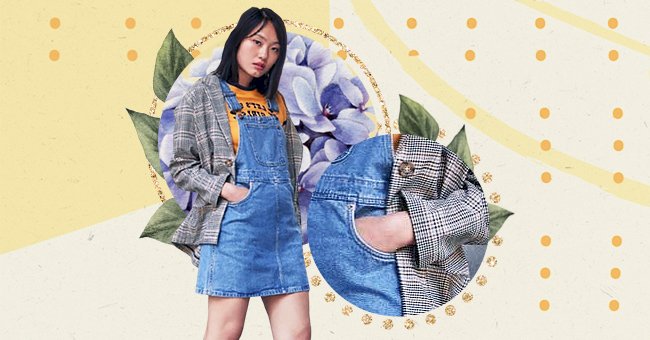 Our Pick: 10 Dresses With Pockets Worth Buying
It's got pockets! The phrase itself is enough to make our hearts sing. Why? Sometimes there is nothing more annoying than carrying your bag everywhere when you just want to move around freely.
Thus, the concept of a dress with pockets is perfect. You don't have to worry about searching for lip balm like crazy in your tote. In fact, with pockets in a dress, you can simply pack in your faves and walk out of your house.
Pocket dresses also do not have to be a casual affair. You can find them in special occasion dresses, which is a win in our book. Therefore, we have compiled ten dresses with pockets you can buy right now.
Committed To Fit Dress
Good American know how to name an outfit. Stuff your lipgloss in its pockets in this all-white piece is a summer dress with a utilitarian touch. Moreover, it features a flattering waist tie as the front and some serious leg for those who want to make a statement.
Jaxtyn Mini Dress
This flowy dress is perfect for all seasons. It features a high waistline that is super forgiving and some deep pockets you cannot help but slip your hands in. Also, the deep plunging neckline adds a sexy addition.
Loose Fit Short-Sleeve Shift Dress with Pockets
This gorgeous dress has an enviable honor of being the girl that can do both. It is loose and comfy - who wants to get out their comfortable t-shirt? Also, it has pockets, so it's safe to say we might not leave this one.
Lara Tunic
This blush pink dress is pretty relaxed. However, it is quite stylish, making it a pretty effortless choice for a date or a brunch with the girls. The tunic design will give you freedom, but the deep v-neck adds a modern, feminine touch.
Casual Loose Pocket Long Dress
Want another t-shirt dress? How about an uber long one. You can tie it at the bottom for ease of movement if you wish. It also has a slit on the side, so you will not feel too boxed into the dress.
Monki Denim Pocket Detail Denim Dress
Go for denim with this red mini dress. It is perfect for summer or just a trip to the store. However, the front pockets make it an easy place to store your fave lip balms, keys, or even small wallets.
V-Back Cover-Up Maxi Dress
This maxi dress is the perfect errand dress or picnic dress, whichever you wish. It has delicate straps and a deep v-neck that you can cover if you're looking for something more modest.
Multi-Color Block Cord Pocket Front Oversized Shirt Dress
This color block shirt dress is on-trend and super chill. You can slip on some cool kicks and a backpack for a relaxed vibe. Also, it has some nice pockets, too, if you want to opt-out of the backpack.
All in One Dress
This dress deserves its all-in-one name. It's stylish and utilitarian and seems to transition from day to night seamlessly. Furthermore, it also features a long button-down which you adjust depending on your desired look.
Serena GREAT Kayla Plaid Blazer Dress
You can dress this up as an oversized blazer over a slip dress or as a dress on its own. It comes with a monogrammed tie for a cool, city-chic look. No handbag? The pockets will allow you to store your faves.