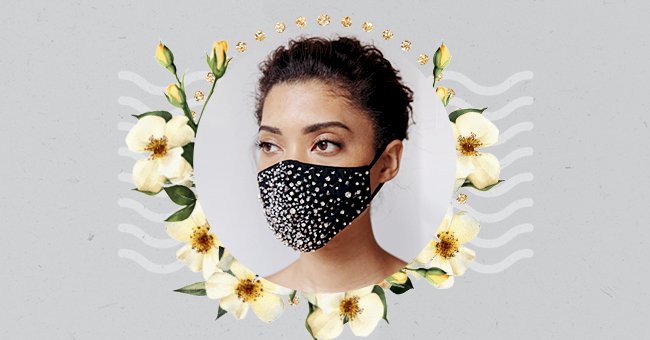 Our Pick: 10 Masks Made For Wedding Season
If you're planning to host or attend an in-person wedding celebration, you might be considering a chic mask to go with your outfit.
An increased number of people are coming out again, and wedding season is about to be in full effect soon. However, it's important to note that the Centers for Disease Control and Prevention (CDC) still advise against large gatherings.
With that, if you're having a (small) wedding celebration, chances are you're looking for a face mask to fit the occasion. Bride, groom, or guest, here are ten masks that we think will go perfect for a wedding.
Demestik The Sculpted Mask
These structured masks are built for protection and looks. They're fully filtered and functional for protection with an out layer featuring bold, colorful prints.
Ava Reign Creations Mr. and Mrs. Face Masks
Customizing your masks can turn them from a purely functional accessory to a sentimental piece you'll keep as a special memento. These Mr. and Mrs. Face Masks are customizable, and you can add your wedding date and even change the text, font, and color.
David's Bridal Satin Adjustable Loop Fashion Face Mask
Satin is touted for how easy it is on the skin, making it a comfortable fabric for people prone to maskne. Also, it has adjustable earloops and a nose wire for an extra comfortable fit.
Lele Sadoughi Reusable Face Masks In Pastel Multi
Price: $40 for a set of 3
This pretty pack of three face masks includes one mask with embroidered flowers, one with chic pearl embellishments, and another with gold stars.
LTCoutureAtelier Wedding Mask
If you're wearing all-over lace for your wedding dress, why not commit to the lace movement with a French lace mask to match. This mask comes in white, ivory, and champagne.
ForYourParty Individually Wrapped Personalized Face Masks
For cute wedding party favors, there are these disposable, personalized face masks. Get your names printed on with the date of your special day printed on.
Claire Pettibone Ivory Butterfly Mask
This mask has a touch of boho, romanticness with the butterfly detailing. The butterfly actually has a symbolic meaning for Claire Pettibone, who says it "represents rebirth, renewal, and transformation."
Katie May Disco Ball Face Mask
Everyone has their preferences when it comes to masks, and if you're more of a strap around the head instead of loops around the ears type, you're covered with this glitzy face mask.
Jennifer Behr Floral-Embroidered Face Mask
If you're looking to splurge a little on a fancy face mask for the occasion, this is embroidered mask doubles as a gorgeous accessory.
Kikijade Silk Mask & Scrunchie Set
The luxurious silk mask comes with a matching scrunchie. It will go perfect for a bride or a pretty addition for the bridesmaids.