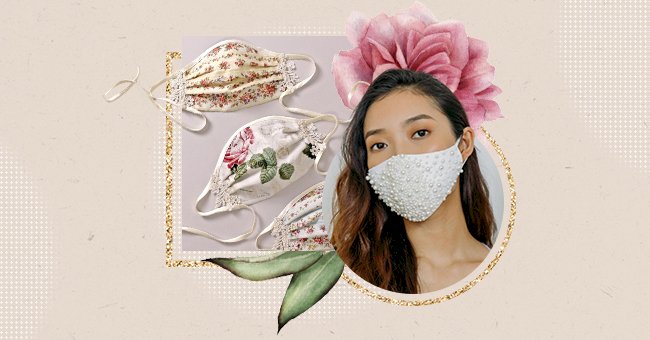 Our Pick: 10 Masks That Are Perfect For Wedding Season
Getting married amid the global pandemic is an act of courage and love. We must give up many things to make it happen. However, there is an accessory that you must not forget on the day of the big yes. That accessory is the face mask for the wedding dress.
The mask has now become an essential accessory for brides. Protecting yourself from COVID-19 is necessary. For this, you need to have imagination and creativity and give this not-so-usual accessory a touch of style. What will yours be?
It is essential that the mask completely covers the nose and chin. For this reason, you will have to rely on the size of your face to choose the most appropriate shape, remembering that it is an essential element for your safety. Please enjoy your day and wear your mask.
1. Black Embellished Mask
Be a stand-out bride and not go for the regular. Who said you had to wear only white? Dare to stand out in a black chic beaded mask and grab the attention of your families and friends. This would also look amazing in your pictures.
2. Lacy And Chic
Price: $42
Lace is undoubtedly one of the most emblematic fabrics of wedding dresses. Together with tulle and silk, and so it has also become for the production of bridal masks.
For obvious reasons, do not use lace as the only protective fabric Lace must always be combined with linen/cotton or non-woven polypropylene.
3. Side Embroidered
Price: $78
A universal rule also valid for the face mask is the right combination of fabrics, colors, and style. It is essential always to find the right balance between the elements of your bridal look so as not to overload your image or, on the contrary, make it too bare. Floral embroidered lace adds dimension and delight to this protective covering.
4. Prints
Price: $78
This mask is designed for women and children to cover the nose and mouth without excess bulk. The silk ties are adjustable around the ears and tie at the neck's base, allowing the mask to fit snugly and comfortably.
5. Edgy Finish
Price: $45
Another idea is that masks decorated with elaborate trimming at the edges will be the best option for your bridal look. This is a no-frills idea for minimal brides to make a choice.
6. Luxe Satin Or Silk
Price: $28
Promote safe social practices and show off your style with this unadorned satin fashion face mask. The mask offers beauty and elegance in its simplicity. Satin is a staple for evening gowns and wedding dresses because of its beautiful drape and lustrous feel.
7. Sequins
Price: $110
The most glamorous and sparkling option for your mask will be the one with applications of precious stones and rhinestones, perfect for a look that highlights your makeup. The advice is to choose a well-defined eye make-up with touches of color but above all waterproof.
While the purpose is to protect, please understand that this mask is not a replacement for medical-grade Personal Protective Equipment and continue to follow the CDC's social distancing and health-related guidelines.
8. Glitters
Price: $68
This handmade mask comes with no filter pocket, and as such, it is recommended that you add one for maximum protection. You can wear it over a recommended facial mask for double protection.
9. Lace And Beads
Price: $35
Besides lace, adding beads gives a glamorous look that enhances the bridal makeup with the mask. Be sure to make your eyes pop with color or opt for a smoky feel.
This mask is embellished with stunning Swarovski crystals, perfect for any bride looking for a little bit of sparkle. Perfect to wear to your bridal appointments and make the experience way more enjoyable!
10. Floral And Clear
Price: $24
You can never go wrong with florals for spring! These reusable fabric masks would be heavenly at an outdoor, spring garden wedding. The clear section prevents your lipstick from getting smudged. The mask was entirely made for the deaf and hard of hearing in mind.