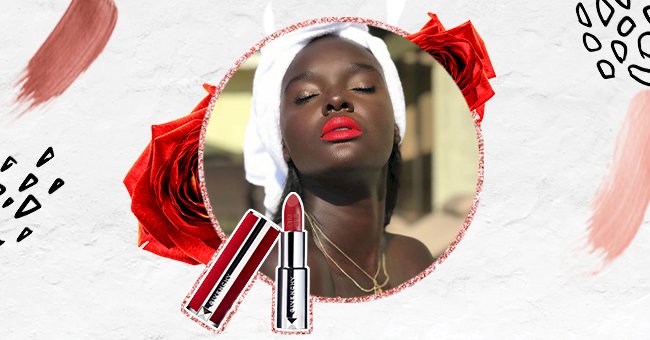 Our Pick: 10 Red Lipsticks Perfect For Darker Skintones
Choosing the right red lipstick is essential for enhancing the face, as it gives harmony to the woman's features and completes the makeup with a touch of color. Red - with its charm - remains the classic and timeless color, especially for darker skin tones!
Some find it hard to wear it because they think it is too flashy and bold, while some cannot give it up and use it on every occasion. When applying red lipstick, there are two fundamental rules: avoid excessive eye makeup and care for the skin, as red lipstick gives its best when the complexion is uniform.
Red lipstick is a bit like the little black dress of makeup. The eternal basic that matches all outfits and all circumstances. When shopping for the perfect red lipstick, remember that colors that contrast with your undertone will accentuate facial imperfections. In contrast, those in harmony with your undertone will conceal blemishes and give extra brightness to the face.
1. Maybelline New York Color Sensational Made for All Lipstick in Ruby for Me
Dubbed Best Classic Red Lipstick Shade of 2020 in the Allure Best of Beauty Awards, this lipstick features specially selected and obsessively tested pigments that make it look sensational on all complexions.
This takes the guesswork out of your lipstick shopping experience. The lipstick features the brand's trusted satin and matte formulas with honey nectar for a smooth and comfortable feel.
2. Givenchy Le Rouge Deep Velvet in Rouge Grainé
Le Rouge Deep Velvet embodies the chic and sensorial attributes of the Givenchy Maison. Covered in a sumptuous red velvet case echoing its powdery matte finish, it is the ultimate couture signature to your look.
Comforting, soft, and lightweight, the generous powdery texture glides effortlessly on the lip, delivering an ultra-matte color from the very first stroke with a super-thin film.​ It has a comfortable and long-wearing formula that makes it last for twelve hours; it preserves the lips' hydration for six hours and ensures an intense makeup result.​
3. Fenty Beauty Stunna Lip Paint Uncensored
This one hundred percent cruelty-free lip paint is weightless, long-wear liquid lipstick with a soft matte finish that looks incredible on all skin tones. Stunna Lip Paint's hyper-intense pigment performs best when activated, so shake before use!
The long-lasting matte pigment is so weightless; you might even forget you're wearing it. The lip-defining precision wand makes it easier than ever to define and fill your pout in one stroke. Stunna Lip Paint has no immediate feathering, staying kissably smooth.
4. NARS' Studio 54 Audacious Lipstick in Mona
The Nars Audacious Lipstick in Mona features a smooth formula, applying a satin-like feel to the lips. Imparting richly pigmented color, it provides long-lasting performance without smudging or feathering. A range of hydrating lipid spheres keeps the lips feeling supple, while portulaca extract supports a plumper look.
The lipstick has a creamy, smooth texture that is comfortable applying and wearing as it glides effortlessly across the lips. It delivers even coverage that doesn't emphasize the lip texture or sink into lip lines noticeably and lasts well for five and a half hours while moisturizing over time.
5. MAC Love Me Maison Rouge
This is a weightless argan oil-infused lipstick that delivers an instant hit of powerful color and all-day moisture in a luxurious satin-soft finish. It provides an instant hit of powerful color and all-day moisture.
The True-Colour Gelled System of ultra-refined pure pigments evenly disperses bright, smooth color for a high-impact one-swipe payoff. A combination of lightweight oils and specialized waxes makes this lipstick feel luxurious, super-silky, and barely there.
6. L'Oréal Paris Infallible Matte Crayon, Brulee Everyday, 113
The ultra-skinny format creates the perfect pout use after use without sharpening. Simultaneously, the slanted tip helps to follow the lips' natural shape for mistake-proof application.
It is enriched with Jojoba Oil and Vitamin E for a comfortable, lasting feel and saturated matte color. From early morning coffee runs to an afternoon cupcake, this smudge-proof formula won't let you down.
7. Pat McGrath Labs MatteTrance Lipstick in Elson 013
A revolutionary lipstick so luxurious and richly pigmented, it drenches lips in a lightweight veil of opaque color while delivering a mesmerizingly modern matte finish. Sensually creamy and brilliant in texture, this lipstick evokes the femme fatale siren with every application.
Color and finish so sinful, your pout will speak volumes without ever whispering a word. The innovative formulation combines a strong matte finish with highly saturated pigmentation. The vivid and vibrant collection of colors leave lips feeling luscious and smooth, with a supple, cushiony feel.
8. Mac Retro Matte Dance With Me
Dance With Me promises a big splash of color in a liquid-suede finish that lingers, virtually impossible to forget. It's a deepened, dark, pinky-red with cool undertones that is semi-opaque and not sheer.
It takes about forty-five seconds to dry down and lasts well for eight hours with fairly even fading. This makes it one of the most wearable reds - ever, thus making it one of their best sellers.
9. MAC Viva Glam I
This is a moderately warm-toned, dark red permanent lipstick with a matte finish. There's a hint of brown to it, which gives it a slightly retro vibe. The lipstick feels smooth, lightly creamy as it glides across the lips and delivers even, opaque pigmentation in a single stroke.
This shade wears well for six hours, leaves a faint stain behind, and is non-drying. It's such a beautiful, flattering shade that makes you feel so confident.
10. Glossier Generation G Poppy Red
This is a lip color that gives the look and finish of just-blotted lipstick without the blot. The dialed-down pigment adapts to your natural lip color and gives a casual look that appears a little different on everyone.
It's the lipstick of choice for cool fashion girls that has even been spotted on the red carpet. Glossier describes generation G as a "sheer matte lipstick"—and that's precisely what it is.