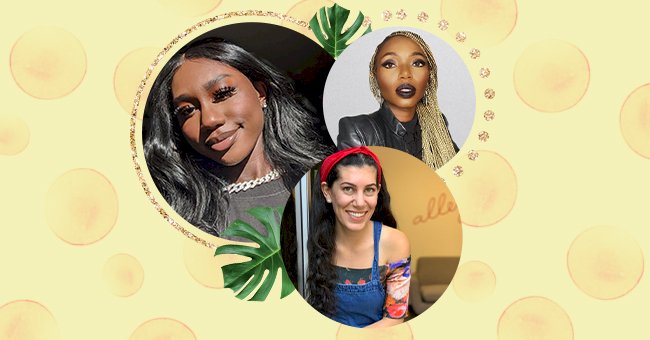 Our Pick: 10 Women Health & Wellness Influencers That Inspire Us
We live in times far from easy. Even if it is almost inconceivable to disconnect from social networks, we can also admit that these are involved in the problem in various ways. But at the same time, they can be part of the solution. This is because mental health has an increasingly strong presence on social networks and other new media.
Indeed, the phenomenon of health and wellness influencers continues to grow, and that's good! Everyone concerned with wellness and mental health is now on Instagram, Facebook, YouTube, and various podcasts.
Health and wellness influencers choose to invest a portion of their time in this unpaid content. They do so to make themselves known. Also, to help as many people as possible, especially in assisting them daily, outside of formal sessions.
1. Sharon Chuter, Founder Of UOMA Beauty
WWD has listed Sharon as one of the fifty most forward-thinking executives shaping the beauty industry's future. The Nigerian-born founder is a rebel with a cause. She is on a mission to go off the well-beaten path to redefine the rules of inclusivity and diversity.
A visionary and seasoned beauty industry executive, Sharon has had a career that has spanned multiple continents. She has also worked with major multinational beauty and consumer brands. The companies she has worked with are Revlon, L'Oréal, PepsiCo, GSK, and most recently Benefit Cosmetics.
2. Ashley Graham, Model, And Entrepreneur
Over the past few years, Ashley Graham has conquered the modeling world and developed a reputation as a sharp entrepreneur. She is one of the most recognizable models in the business. Ashley has also gained attention for her striking looks and her work as a body diversity advocate.
She made history in 2016, becoming the first curvy model to appear on the cover of Sports Illustrated. It was a big year for Graham; just a month prior, Forbes had featured her on their annual "30 Under 30" list.
3. Zandra Cunningham, Founder Of Zandra Beauty
As a TEDx speaker and the Small Business Administration's Young Entrepreneur of the Year, Zandra became an international speaker before fifteen. Her fascination with entrepreneurship began when she was nine years old. It was a result of her dad's refusal to buy her a lip balm.
Her mission is to provide entrepreneurial education, experiences, mentorship, networking opportunities, and programming access. This will also enhance young people's lives so they can become change-makers within their families and community.
4. Koa Beck, Author, And Former Editor-in-Chief Of Jezebel
Koa Beck is the former editor-in-chief of Jezebel and co-host of "The #MeToo Memos" on WNYC's The Takeaway. Previously, she was the executive editor of Vogue.com and the senior features editor at MarieClaire.com. Her literary criticism and reporting have appeared in TheAtlantic.com, Out, TIME, TheGuardian.com, Esquire.com, Vogue.com, MarieClaire.com, among others.
Her short stories have been published in Slice, Kalyani Magazine, as well as on Apogee Journal. She has been nominated for the Pushcart Prize and serves on the board of directors of Nat Brut. She is also on the advisory board of GALECA: The Society of LGBTQ Entertainment Critics.
5. Alicia Scott, Founder of Range Beauty
Alicia started conceptualizing her brand in 2013 when she was working behind the scenes in the fashion industry. She did this while living in New York. She was allergic to certain ingredients commonly used in products. Specifically talc, fragrances, and dyes, so she decided to change things.
In 2014, Scott took it upon herself to do something about it. She decided to create a beauty brand that housed an extensive shade range. One that included undertones and had products free of toxic ingredients. In other words, products that she could use herself.
6. Roseline Lawrence, Model, And Influencer
A look at Roseline's Instagram page proves that the model is also very vocal in her beliefs. She advocates for justice for Black people as well as encourages her online community to vote.
She also balances her impressive work, which includes campaigns for Universal Standard and Parade, with ensuring her voice is heard. Roseline Lawrence also has a warmth that you can feel in her photos and see in her smile.
7. Jené Roestorf, Founder Of Luxe Botanics
Jené Roestorf is a South African biological scientist and global ingredient hunter who founded Luxe Botanics. The brand has a range of potent, high-performance skincare products formulated with the planet's most transformative botanicals.
Jené's deep comprehension of nature's healing abilities guides her philosophy of allowing nature to nurture. Jené blends her African roots, scientific proficiency, and passion for socially conscious innovation. She has used this to uncover the untapped benefits of botanical oils and explore the outer reaches of green chemistry.
8. Leila Kashani Manshoory, Founder Of Alleyoop
Leila believes that if we all rewire ourselves to stop making assumptions and look at what we do have instead of what we don't, we will manifest a world with a lot more peace. Leila founded Alleyoop after a pitch meeting when she realized her audience had been staring at her armpit.
In a rush to get to work, she'd only shaven one armpit. This was the birth of an idea: an on-the-go razor with built-in shaving cream. Since then, Alleyoop has expanded to other products for on-the-go women. Products such as body wipes if you need to freshen up quickly after a workout.
9. Kimmie Torgerson, Art Director At Youth To The People
Kimmie is submerged in a culture that believes wholeheartedly in putting sustainability at its forefront. Being in an environment that proactively cares about our planet has sparked her mission to change our mama earth needs.
Her curiosity around sustainability has evolved into empowering my community to do better for the earth we inhabit. She uses her Instagram as a platform to merge her love for design with educational sustainability tips.
10. Esi Eggleston Bracey, Chief Operating Officer, EVP Beauty & Personal Care At Unilever North America
Esi Eggleston Bracey is a transformational business executive with general management experience, brand building, and marketing leadership. She has a track record of success in creating, accelerating, and turning around business results. This she has done across branded product categories, sectors, and geographies through marketing and operational excellence.
Esi currently leads the multi-billion dollar Beauty & Personal Care portfolio for Unilever North America. This includes responsibility for the Hair, Skin Cleansing, Skincare, and Deodorant businesses. She has also worked with iconic brands like Dove, TRESemmé, Suave, Vaseline, Degree, Axe Shea Moisture. Also, with newer brands like Schmidt's Naturals and Love Beauty and Planet.