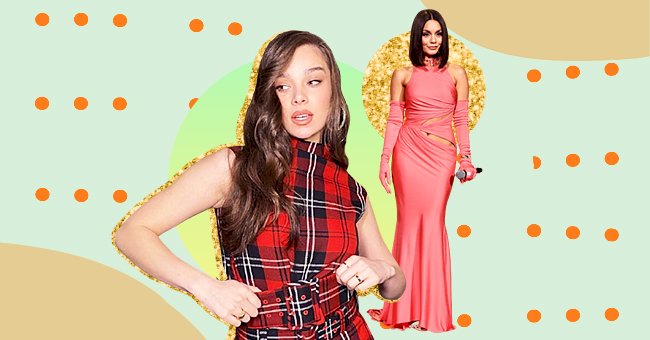 Our Pick: Best Dressed Celebs Of 2020
From Victoria Beckham stealing hearts in her shining red dress to Vanessa Hudgens pretty-ing in pink, and Hailee Steinfeld looking like a gorgeous Christmas dream, here are 2020's best-dressed celebrity moments.
A part of us is rejoicing that 2020 is over, merely because it put us through so much we thought we'd choke. Our routine throughout this catastrophic year looked pretty much the same, but our favorite celebrities were busy making their fashion statements in the same universe.
The pandemic-stricken year gave us incredible red carpet dressing goals, coupled with casual wear and festive style instances. Here are 2020 fashion fiesta glimpses in a review.
Hailee Steinfeld
Hailee Steinfeld pumped our festive spirit as she took to Instagram and shared her festive holiday update. She was stunned in her Marc Jacob crimson outfit as she posed with a black handbag and her cute puppy, and a pine wreath in the background.
Julianne Hough
The Dancing With The Stars jury member Julianne Hough wore a one-shoulder gold-pleated Altuzarra dress for Disney's Christmas Day Parade Celebration. We were all shocked by her magical festive look.
Kylie Jenner
Kylie Jenner stunned in her Bottega Veneta red dress as she posed next to her festive decor. She also paired it with Jimmy Choo heels and a red mini bag and looked lovely as "mrs.claus."
Mandy Moore
A Walk To Remember star, Mandy Moore's pick for the holiday season was an elegant Cara Cara Maidstone dotted dress. She paired it with black heels and looked every bit like a dreamy, gorgeous princess.
Justin Bieber & Hailey Bieber
And the Biebers stole the show with their love going strong as they casually posed on the beachside. Hailey's Bottega Veneta coat and Justin's Helmut Lang x Saintwoods' hoodie and sweatpants particularly stood out.
Lily Collins
The Emily In Paris actress Lily Collins picked a latex black Saint Laurent dress for her appearance at the MTV Movie Awards event 2020. She wore her hair back in a ponytail and paired her dress with ribbon-tie matching heels.
Vanessa Hudgens
Vanessa hosted the MTV Movie Awards 2020 in a Tony Ward salmon-pink colored gown. She wore long length matching pink gloves and a ring on top to complete her goddess look.
Lady Gaga
Lady Gaga has always made her unique style statements with her evolving choice of outfits. She tried different creative looks for the MTV VMAs in 2020, including helmets and masks that complemented her innovative attire.
Maisie Williams
Maisie Williams is fond of her distinct take on fashion, be it a designer dress or a casual top and pants. She picked a Christian Dior loose-fitting hoodie jacket and boots at the Paris Fashion Week 2021.
Victoria Beckham
Victoria Beckham never fails to amaze us, and that's precisely what she did when she wore a bright red dress for an appearance at her Dover Street store in London. The classy dress was her creation, and she paired it with pink heels.