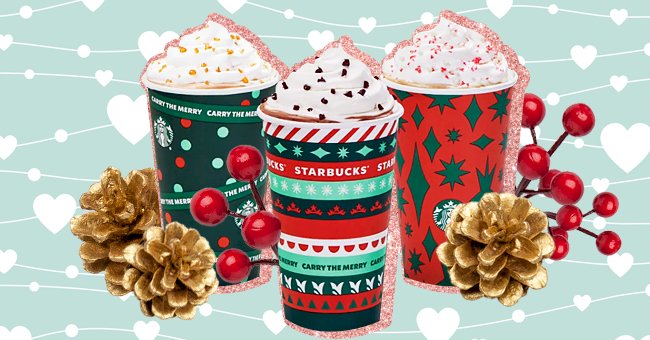 Our Pick: Starbucks Holiday Drinks We Recommend Trying In 2020
Now that we've wrapped up Halloween, it's goodbye Jack-O-Lanterns and hello Starbucks holiday drinks. Not to mention the festive reusable cups are back!
Have you ever tasted the actual flavor of 'wow'? Starbucks just brought back everyone's festive favorites. Before you pop from the excitement, there's more good news. The reusable red cups are back too! Okay, you can pop now.
However, if you're not one for specialty drinks, you can still get into the spirit of the season with this year's festive cups when you place your order for your chai latte or straight-up black coffee. There's something for everyone. Oh, how we love the most wonderful time of the year.
Peppermint Mocha
The popular drink is back for an eighteenth holiday season with its espresso, steamed milk, sweet mocha sauce, peppermint-flavored syrup. The drink comes topped with whipped cream and dark chocolate sprinkles.
Toasted White Chocolate Mocha
This is one decadent order, but you deserve every little bit of its chocolatey goodness. This drink is flavored with caramelized white chocolate mocha sauce, espresso, and steamed milk. Then it's finished off with whipped cream, sugar sparkles, and white pearls.
Caramel Brûlée Latte
If your ears just perked up at the mention of caramel, this is your drink for the festive. Espresso, steamed milk, and caramel brûlée sauce—topped with whipped cream and a caramel brûlée topping, these are the ingredients of a delicious drink.
Eggnog Latte
This is another Starbucks holiday classic made with the perfect combo of steamed eggnog and espresso. Of course, you can't forget the nutmeg on top.
Chestnut Praline Latte
This drink is a mix of espresso, steamed milk, and the flavors of caramelized chestnuts and spices. Add some whipped cream and spiced praline crumbs on top.
More festive drinks
Hot Chocolate, Peppermint Hot Chocolate, Pumpkin Cream Cold Brew, Pumpkin Cream Nitro Cold Brew, Pumpkin Spice Latte, Salted Caramel Cream Cold Brew, Salted Caramel Hot Chocolate, Salted Caramel Mocha, and Toasted White Chocolate Mocha.
You can order your drink hot, iced, or blended as a Frappuccino. Whatever you're in the mood for, Starbuck's holiday drinks have got you.