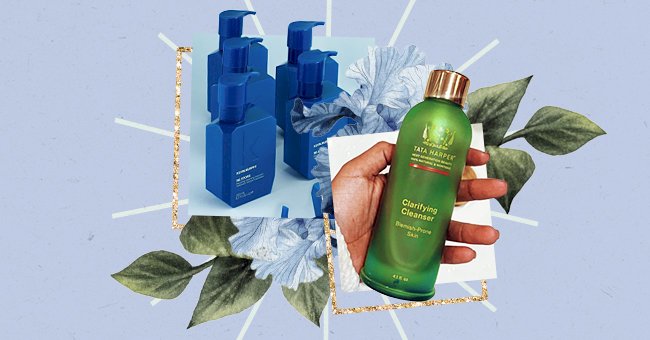 Our Pick: The Best Eco Skincare Products
It has never been a better time to go clean with beauty. As more and more consumers make eco-conscious decisions on their beauty products, brands are listening and adapting. This means that you can enhance your beauty routine while maintaining the earth's beauty.
We are seeing a move to less plastic packaging, ethically sourced ingredients, toxin-free products, and synthetics. The list is endless, but it means that brands are dedicated to going green. However, it is essential that despite the bells and whistles these products need to work.
The following products combine the power of clean beauty and essential vitamins, botanicals, and minerals. From cleansers to exfoliators, acne-fighting serums, to face mists, here is our pick of ten of the best eco-skincare products on the market.
Kevin Murphy Repair.Me.Rinse
The ingredients on the hair repair mask are all sustainably sourced from renewable sources and feature natural ingredients. Moreover, the packaging is recyclable. Aside from this, the hair mask will give you quick results that will leave your hair super glossy. Goodbye, damaged ends.
Tata Harper Clarifying Cleanser
Go toxin-free with this powerful cleanser from Tata Harper. The clarifying power of this cleanser will reduce the appearance of blemishes and fight grease, dirt, and leftover makeup. This makes it perfect for those with oily skin.
Dr. Hauschka Quince Day Cream
If you are in the market for an effective moisturizer, look no further. The Dr. Hauschka Day Cream contains all naturally derived ingredients that seek to plum your skin and tone it simultaneously. Moreover, it is lightweight and smells incredible.
Juice Beauty Bamboo Pore Refining Mask
The products in Juice Beauty's line are naturally derived and are vegan due to being plant-derived. This pore-refining mask is no different. It is hydrating as well as detoxing. Moreover, it contains PHA's that exfoliate for a soft and smooth complexion. Furthermore, you can recycle the packaging.
OSEA Sea Vitamin Boost
The eco-friendly aspect of OSEA are many, but the stand out is the sustainably sourced seaweed. The mixture of the seaweed and their naturally derived ingredients make them super nourishing. Our pick is the Sea Vitamin Boost. It will drench your skin in moisture, tone it and fight fine lines.
Herbivore Botanicals Bakuchiol Serum
Herbivore uses natural, cold-pressed, and steam oils in their products. They are also devoid of toxins. We love the bakuchiol serum, for it is a much gentler alternative to retinol. However, it is just as effective for it battles fine lines and dullness for glowing silky soft skin.
Klur Gentle Matter
This American-made gentle gel cleanser is free of fragrances and dyes or phthalates, so if you have sensitive skin, you might want to try this. It will gently lift dirt off your pores without stripping or leaving your skin dry.
Ayond Metamorph Cleansing Balm
This packaging is focused on being compostable. However, they also use a cocktail of unique ingredients that work as a cleansing balm. You can use them with facial tools for a more excellent sensory experience. Plus, the balm will swipe off makeup easily and will soften and hydrate your skin.
Farmacy Deep Sweep 2% BHA Pore Cleaning Toner
The Farmacy Deep Sweep Toner boasts sustainable packaging, vegan ingredients, and is cruelty-free. The BHA in this toner exfoliates the skin, unclogs the pores, and controls oil, making it the perfect pick-me-up for oily skin.
Peach & Lily Glass Skin Mist
Last but not least is this Peach and Lily Glass skin mist. Glass skin is the desired result we all wish for; however, it is not the be-all and end-all. We wish for a dewy, healthy glow, and this Peach and Lily Mist is perfect for that. It includes plant-based ingredients that will nourish, hydrate and balance while leaving you with a glassy luster.