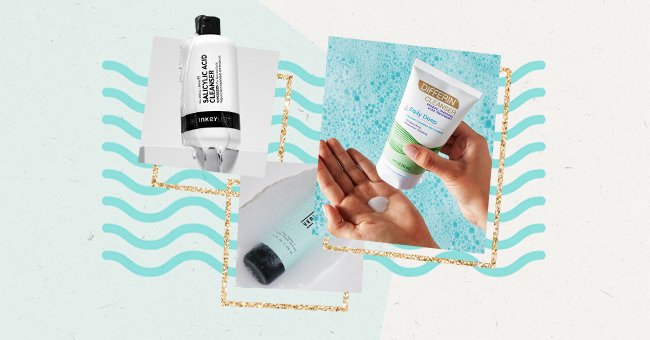 Our Pick: The Best Face Cleansers For Acne-Prone Skin
Facial cleansing is considered an integral part of the everyday skin-care routine. However, people with acne-prone skin should look for formulas that unclog pores, wash away dead cells and gently exfoliate without stripping away moisture.
We're all aware of the remarkable benefits of incorporating cleansing, especially double cleansing, in our skin-care regime. Dermatologists suggest choosing gentle cleansers instead of soaps as the latter contains harsh and skin-irritating ingredients that can exacerbate acne and breakouts.
When selecting facial cleansers, it's best to keep an eye out for salicylic acid, benzoyl peroxide, tea tree oil, and green tea extracts. Explore the best face cleansing formulas that are super-effective for sensitive and acne-immune skin.
Differin Daily Deep Cleanser
Differin Daily Deep Cleanser contains benzoyl peroxide that curbs inflammation and combats acne-causing bacteria. This dual-action acne treatment removes excess oil, unclogs pores, and deeply hydrates the skin for a healthy, youthful look.
Paula's Choice Pore Normalizing Cleanser
Paula's Choice Pore Normalizing Cleanser is a non-irritating, skin-soothing formula that clarifies the skin without causing dryness. It helps remove excess oil and debris and unclogs pores to reduce the production of breakouts.
EltaMD Foaming Facial Cleanser
EltaMD Foaming Facial Cleanser is a gentle, pH-balanced cleanser that deeply hydrates the skin to prevent overdrying. It contains enzyme and amino acid blends that wash away makeup, excess oil, and impurities and unclogs pores to reveal clarified skin.
SkinCeuticals LHA Cleansing Gel
SkinCeuticals LHA Cleansing gel is a targeted exfoliant infused with glycerin, glycolic, salicylic, and lipo-hydroxy acids that remove buildup and unclog pores. It is a potent, anti-aging formula that reduces breakouts and blemishes to reveal smooth and radiant skin.
Versed Keep the Peace Acne Calming Cleanser
Versed Keep The Peace Acne Calming Cleanser is a gentle foaming formula enriched with salicylic acids to reduce breakouts and clarify the skin. It contains apple fruit extracts that gently remove buildup and provide a soothing effect.
Tata Harper Regenerating Cleanser
Tata Harper Regenerating Cleanser is an acne-fighting and anti-aging formula that clarifies the skin without causing dryness. It is a gentle detoxifying treatment containing white willow bark and kaolin clay that make the skin supple and radiant while also boosting the natural moisture content.
Glytone Acne Clearing Cleanser
Glytone Acne Clearing Cleanser is a gentle cleansing foam enriched with salicylic and glycolic acids to exfoliate the skin thoroughly. It penetrates deep within the skin to unclog pores, remove impurities and reveal the skin's inner glow.
The INKEY List Salicylic Acid Acne + Pore Cleanser
The Inkey List Salicylic Acid Cleanser is a lightweight foaming treatment that removes dirt, makeup, and excess oil. It contains zinc compounds and allantoin that reduce sebum production and calm irritated skin to restore its healthy appearance.