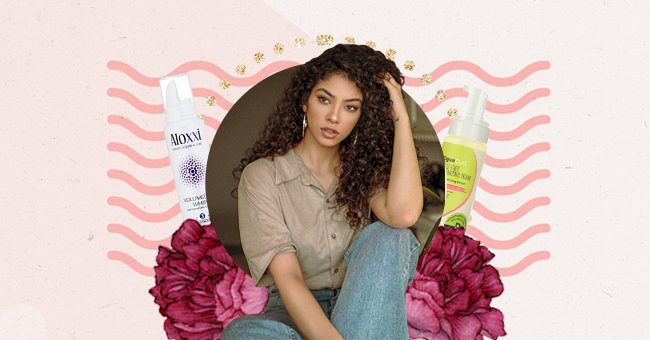 Our Pick: The Best Foams & Mousses for Curly Hair
Back in the day, mousses and foaming gels lost their seemingly popular touch because of an unpleasant sticky after-feeling, clumping the hair strands together rather than holding them in place. But the modern-day formulas are super-hydrating and may even promise you the best hair of your life.
"It's important you first identify your curl type then find out what products are meant for you. This is so important because you could be using a product that's either too light or heavy for your curls which could either cause frizz, leave build-up, or leave your strands limp."

said hairstylist Irinel de León.
Curly hair folks have probably never had it easy, and nearly every day turns into a bad hair day. However, life can become rosy again if you know your hair type and needs and the right mix of products that can turn your hair from drab to fab. Scroll down to find the best mousses and foams for curly hair.
Aloxxi Volumizing Whip
Aloxxi Volumizing Whip is a lightweight hair mousse that nourishes the hair while adding body and definition and controlling tangles. It is particularly suitable for people falling in curly hair types 2A, 2B, and 2C.
The rich conditioning formula smooths out frizz and helps define your curls and waves without crunching. It contains built-in UV blockers that shield your natural hair color from fading and provide heat resistance.
DevaCurl Frizz-Free Volumizing Foam
DevaCurl Frizz-Free Volumizing Foam provides volume to the hair while also managing frizz and tangles. This volume-boosting foam is a nourishing formula that helps define the curls, making them soft and bouncy. It works well for people with 3A, 3B, and 3C curly hair types.
Carol's Daughter Hair Milk Styling Foam
Carol's Daughter Hair Milk Styling Foam is a creamy, lightweight formula that manages your waves, curls, and coils without crunching or feeling greasy. It is a deeply nourishing foaming solution that hydrates the hair, leaving it feeling soft and silky.
It contains agave nectar, cocoa butter, and shea butter which help give a velvety-smooth texture to your curls. This hair styling foam can be used by people with 4A, 4B, and 4C curly hair.
L'Oréal Professionnel Tecni Art Transformer Texture Gel To Foam
Loreal Professional Tecni Art Transformer Texture Gel To Foam is a styling formula that works best for people with 3A, 3B, 3C, and 4A, 4B, and 4C curls. It provides a volume and hydration boost, helps control frizz, and adds definition to the waves and curls.
Oribe Curl Shaping Mousse
Oribe Curl Shaping Mousse is a hair-nourishing formula that moisturizes the dry curls and locks in moisture, making them feel soft, smooth, and manageable. It also controls frizz and tangles and reduces hair damage and breakage.
This curl-defining mousse is a lightweight product suitable for people with 2A, 2B, and 2C hair. It also adds body, volume, and shine to your curls, so you're ready to rock your curly rocks all day and all night long.