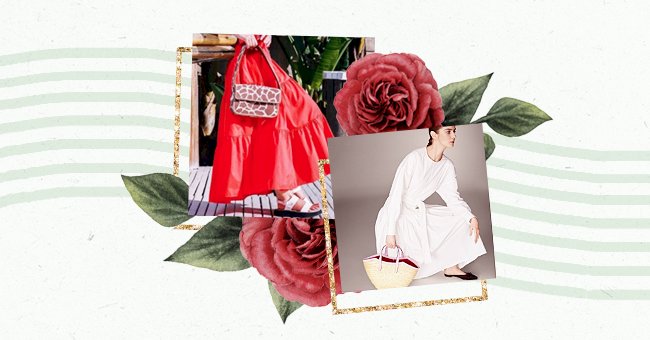 Our Pick: The Best Handbags To Buy This Summer
We're nearly done with April, which means it's officially that time of the year again when we start preparing for summer. Next to upgrading our closet with sundresses, floral skirts, comfy sandals, and sun hats, having an on-trend handbag to go along makes everything perfect.
When the temperatures rise around us, all we want to do is sip our favorite cocktail and chill around in lighter fabrics and flowing breezy silhouettes. And believe it or not, no other season inspires us to accessorize as much as the hot weather (we forgot to mention chic sunglasses).
Whether you're a fan of unique designs and textures, vibrant colors, lighter tones, or the classic chain-link options, we have everything to please your summer-loving heart. Have a look at our selection of the chicest summer bags to welcome the hot season in style.
Mark Cross Madeline Straw and Leather Basket Bag
This Madeline Straw Basket Bag is large enough to fit all your summertime essentials. Its unique woven structure and leather finish make it a trendy option for the hot weather. The leather shoulder straps and bell-shaped basket balance comfort and luxury like nothing else.
Staud Bean Bag
Scrunchie bags have become a classy summer option over time, and they deserve all the praise and love. This soft bean bag features a relaxed, slouchy silhouette and offers the best of both handbag and convertible clutch style.
Staud Tommy Beaded Bag
Who says summer has to be boring and only about lighter hues and pastel tones? If you're done walking around in minimal fashion, explore the wild side with this classic animal print beaded bag by Staud. We love the giraffe pattern and the perfect color combination!
Wandler Amber Mini Heavy Chain Carly Bag
If you feel overwhelmed by the multitude of options at your disposal, take a deep breath and put a chain on it. Chain handbags have always been in vogue for a reason, and their timeless appeal isn't going anywhere anytime soon.
Rosantica Follie Crystal-Fringed Satin Bag
When in need of some glitz and glamour, look no further than this dazzling satin bag by Rosantica. This handcrafted blush-pink Follie bag features crystal strand fringes that cascade over the front and back, coupled with a sleek gold chain strap.
Longchamp Top Handle Bag Le Pliage Filet
This net bag comes in six exciting colors (ecru, black, khaki, blue, orange, and powder). The straps allow the bag to be carried on the shoulder and can even be hidden inside the bag. The brown Russian leather trim makes it a durable option.
By Far Mini Bag
Mini bags are glamorous, chic, and that much-need summer accessory we can't do without. This cross-embossed fuchsia-colored bag features a structured silhouette and a magnetic flap closure and will help you slay in your bold summery style.