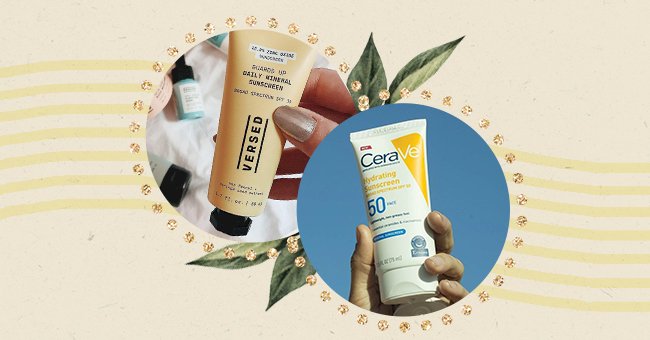 Our Pick: The Best Mineral Sunscreens Worth Trying
To get your skin summer-ready and enjoy the sunny days without worrying, here are the best and most effective mineral sunscreens to add to your skincare repertoire. Bonus: they are safe to use even for people with sensitive skin.
Generally speaking, there are two major categories that sunscreens fall into: physical and chemical. Physical or mineral sunscreens stay on the skin's surface and form a physical shield to block harmful UV rays, blue light, and infra-red rays.
On the contrary, chemical sunscreens get absorbed into your skin rather than staying on the surface. According to dermatologists, mineral sunscreens are safer options, offer more protection, and have no side effects because they don't penetrate the skin. Take a look at the best mineral sunscreens worth trying this summer season and beyond.
VERSED SKIN GUARDS UP DAILY MINERAL BROAD SPECTRUM SPF 35
Versed Skin Guards Up Daily Mineral Broad Spectrum SPF 35 Sunscreen is a lightweight formula that provides three-way protection. It shields the skin from environmental stressors, blue light, and UV rays.
This zinc oxide sunscreen has an oil-free, creamy texture that doesn't feel cakey or heavy and is just right for everyday use. Its 360 protection is best for people with mature and aging skin.
ELEVEN BY VENUS UNRIVALED SUN SERUM SPF 35
If you want to learn a thing or two about facing the sun with complete prep and zero fear, it's best to heed the advice of a sports star. The tennis player Venus Williams collaborated with Credo Beauty to create this brilliant sun serum, which shields from the harmful UV rays, with a silky matte finish that's just right for your skin.
ELTA MD UV CLEAR BROAD-SPECTRUM SPF 40
One primary concern that deters people from reaching out for sunscreens is their acne-prone and breakout-ridden skin. If you have sensitive skin that cannot handle heavy or oily SPF formulas, ELTA MD is here to help.
The ELTA MD UV Clear Broad-Spectrum SPF 40 is carefully designed for people with acne and hyperpigmentation. It is non-comedogenic and contains hyaluronic acid, lactic acid, and niacinamide which make the skin plump, unclog the pores and give a soothing effect - all the while shielding your skin from the sun.
SUNTEGRITY SKINCARE NATURAL MINERAL BODY SUNSCREEN SPF 30
Your skin might be receiving all the care, but your body needs to be shielded from the harmful UVA and UVB rays as well. Suntegrity's Skincare Natural Mineral Body Sunscreen comes with SPF 30 and contains skin-soothing ingredients like green tea, aloe vera, and cucumber extracts which hydrate and calm the skin.
CERAVE HYDRATING MINERAL SUNSCREEN SPF 50
We're already a fan of CeraVe's hydrating and skin-soothing cleansing gels and facial formulas, and this list would have been incomplete without including their highly effective mineral sunscreen.
CeraVe Hydrating Mineral Sunscreen is a broad-spectrum SPF 50 formulation that offers protection against UVA and UVB rays. It is suitable for people with sensitive skin and contains ceramides and niacinamide that help strengthen the skin's natural barrier layer.