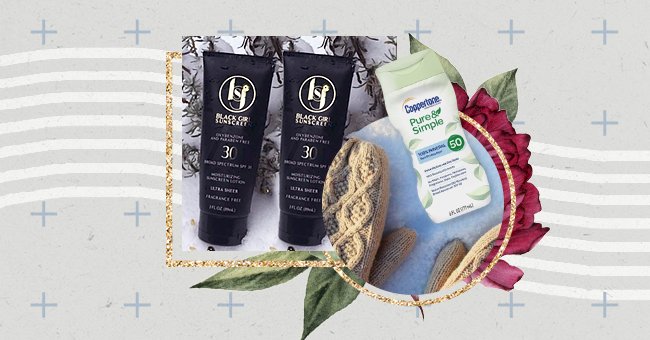 Our Pick: Top 10 Sunscreens For Sensitive Skin
We are not all the same under the sun. There are different phototypes. Some skins have a particular sensitivity that requires specific protection in case of sun exposure. These are skins with a tendency to redness, skins with imperfections, reactive or allergic skins, skins with marks or lesions, children's skins.
For all these, the sun can represent a worsening factor or even a danger, to a greater extent than other types of skin. Skin with imperfections must be protected from the sun with specific creams for oily or sensitive skin that allow the sebum to flow and smooth the skin texture to prevent more damage.
Spending time regularly in the sun increases your risk of skin cancer and early skin aging. You can decrease this risk when you use sunscreen with a Broad Spectrum SPF value of 15 or higher regularly. Other sun protection measures include limit time spent in the sun, especially from 10 am to 2 pm. If you must spend time out, be appropriately covered up.
1. Dr. Jart+ Every Sun Day Mineral Sunscreen
Waterproof but weightless SPF, this waterproof formula is hypoallergenic, blocking UV rays while protecting sensitive skin. Besides SPF 50, this formula has Zinc Oxide that soothes and guards sensitive skin against UVA and UVB rays.
Also made for sensitive skin, the porous powder absorbs sebum and oil to deliver a lightweight powder finish. After applying your sunscreen, a mineral sunscreen filter forms a thin film that protects the skin's surface to reflect and scatter UV rays.
2. Black Girl Sunscreen SPF 30
The Black Girl Sunscreen is made by women of color for people of color. The sunscreen dries completely clear, so it's perfect to use before any outdoor activity or even under your favorite makeup products.
This is a sunscreen for everyday use. It is filled with natural ingredients that will protect your skin from the sun and doubles as a moisturizing lotion. Being Oxybenzone and Octinoxate free means you won't have to worry about toxins disrupting your hormones and your sunscreen being environmentally friendly.
3. EltaMD UV Clear Broad-Spectrum SPF 46
EltaMD UV Clear is oil-free and helps calm and protect sensitive skin types prone to discoloration and breakouts associated with acne and rosacea. It also contains niacinamide (vitamin B3), hyaluronic acid, and lactic acid.
These are the ingredients that promote the appearance of healthy-looking skin. Being very lightweight and silky, it may be worn with makeup or worn alone for use every day.
4. La Roche-Posay Anthelios Ultra Light Sunscreen Fluid
This multi-award-winning facial sunscreen for sensitive skin provides advanced protection in a lightweight, matte finish fluid.
It also helps visibly reduce the appearance of sun damage and is said to be formulated with Cell-Ox Shield® technology: broad-spectrum UVA/UVB protection with antioxidants.
5. Neutrogena SheerZinc Dry-Touch Sunscreen Lotion
The dry-touch sunscreen lotion is free of fragrance, parabens, phthalates, dyes, and irritating chemicals, and it is mild on sensitive skin.
Formulated specifically for facial skin, this product also contains antioxidants and layers invisibly under makeup. The technology used ensures that this sunscreen dries with a non-greasy, light finish, and it's also easy to apply.
6. Vichy LiftActiv Sunscreen Peptide-C Face Moisturizer
This is an anti-aging daily moisturizer with broad-spectrum UVA and UVB protection. However, this dermatologist-tested formula of Phyto peptides, vitamin c, and 15 Mineral-Rich Vichy Volcanic Water with broad-spectrum protection improves the look of wrinkles. It also works on dark spots, dull and uneven skin tone, loss of definition, and firmness.
Apply in the morning alone on clean skin or after using a serum. In addition, be sure to avoid the eye area. If in contact with eyes, be sure to rinse them immediately and thoroughly. It also smoothens the look of skin and delivers 24-hr hydration just after first use.
7. Coppertone Pure & Simple SPF 50 Sunscreen Lotion
This is formulated for all skin types, even the most sensitive ones. This gentle sunscreen, with its hypoallergenic formula with carefully selected gentle ingredients, is also water-resistant.
Coppertone Pure and Simple Adult SPF 50 Lotion provides broad-spectrum SPF 50 protection for sensitive skin. It is, however, best to use it all over the body, including the face, because it does not clog pores.
8. Sun Bum Mineral SPF 30 Non-Tinted Sunscreen Face Lotion
Some of us like to go as naturally as possible, and the Sun Bum brand produced the Mineral SPF 30 Sunscreen Face Lotion for your lounging and earth-loving pleasure.
The non-tinted, lightweight, and silky sunscreen lotion is mineral-based and glides on like butter while also acting as a primer leaving a matte finish with Broad Spectrum SPF 30 protection.
9. MDSolarSciences Mineral Crème SPF 50 Face Sunscreen
This lightweight and silky-smooth crème blends seamlessly to help blur fine lines and wrinkles. Besides, this makes it a must-have for any daily beauty or grooming routine. Naturally derived and safer Eco-cert zinc oxide helps reduce the risk of photoaging and skin cancer.
It is a non-irritating and oil-free yet water-resistant sunscreen that won't clog pores. Also, it is gentle enough for even the most sensitive skin types and suitable for kids six months and older.
10. Bare Republic Mineral Face Sunscreen Lotion SPF 30
Face the day protected with this surprisingly-soft, non-greasy, mineral matte sunscreen. Also, this innovative cream-to-powder formulation goes on as a silky, feather-light lotion that gently melts into the skin.
However, it melts with a sheer, powdery finish, while an infusion of antioxidant-rich raspberry, grape, and carrot seed oils helps fight free radicals and promote youthful-looking skin year-round.