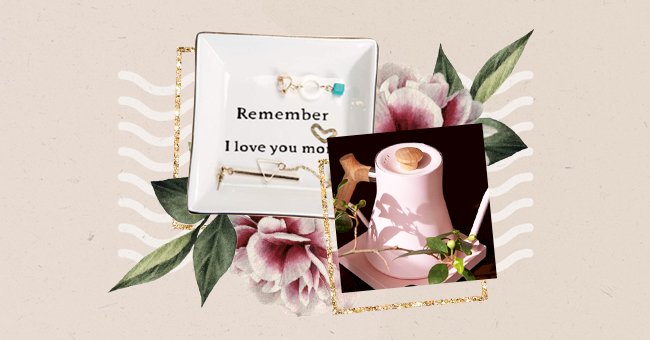 Our Pick: The Best Mother's Day Gifts To Buy On Amazon
With Mother's Day just around the corner, now is the time to start searching for the perfect gift options to brighten your mom's day. From moms who like to drink their tea and coffee hot to moms who like getting artsy in the kitchen, we've got you covered with the most brilliant gift ideas.
While it's good to pamper your mom a little extra on May 9, you can show her your love and care every single day. Mothers deserve to be celebrated, and the only way to make them feel special is by showering them with touching presents.
If you were planning on visiting your nearest mall or store before reading this article, we just saved you a trip. Sit back, get your notebooks ready and explore our selection of the best gifts you can buy on Amazon just in time for Mother's Day. You're welcome!
Ceramic Ring Dish
This ceramic ring dish will help your mom keep track of her jewelry items when working in the kitchen or washing hands. It's the perfect gift for mothers who often forget or lose their ornaments while doing house chores.
Exceptional Mom Cutting Board
If your mommy is big on cooking, she'll love this cutting board, which has a lovey-dovey inscription to keep her spirits going strong. You can lend her a helping hand in the kitchen with cutting veggies and perhaps, read her that sweet note to remind her of your love.
Tiny Gold Initial Heart Necklace
Jewelry items make for precious gifts, and this initial heart necklace will look lovely on your mom. Not only is this personalized heart necklace stunning, but it's also affordable, so you can even get one for yourself.
Briogeo Scalp Massager
Moms are superhumans, but even they can have days when all they want to do is relax with a soothing head massage. This top-rated scalp massager will give your mom a salon-like experience at home, helping her unwind after a long, tiring day.
What I Love About Mom
This fill-in-the-blank book contains 50 pages, which can be filled with the most heartfelt, adorable, and hilarious wishes from mom's favorite human beings - her children. And trust us, she will love you for this gift!
Prima Bath Gem
If your mom has been overworking herself and needs a little soaking bath experience, she'll love this Prima Bath Gem. It has a soft, enchanting fragrance and contains CBD, Epsom salt, and meadowfoam seed oil to help your mother relax and unwind.
Fellow Stagg EKG Electric Kettle
This pink pour-over electric kettle will make for an exciting gift for mothers who like to drink their tea and coffee hot. Its unique design and wooden maple handle will transform your brewing experience, giving you and your mom those rare, royal feels.
Farmacy Farmer's Market Skincare Gift Set
Mothers are selfless creatures who tend to be super forgetful and carefree when it comes to taking care of themselves. That is why you should get your mom this skincare gift set, which includes the Green Clean cleansing balm, Honey Potion face mask, Daily Greens moisturizer, and Very Cherry Bright vitamin C serum.