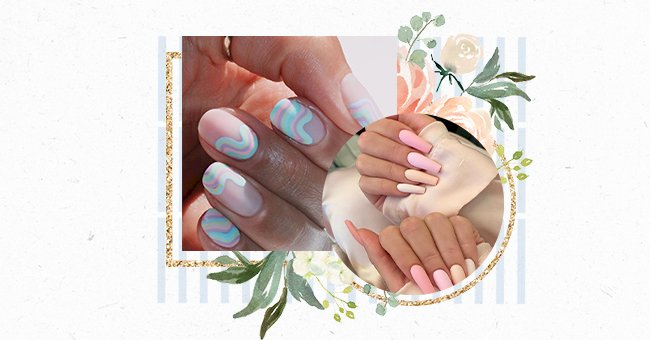 Our Pick: The Best Pastel Nail Designs For Spring
Maybe it's the cold of fall and winter, but nail color definitely gets darker, perhaps to match our cold dark hearts. We kid, but seriously seasons have a significant impact on our style choices. Therefore, it only makes sense that soft, pastel colors come out during the spring.
The blooms of spring and snow melting off our walkways signify newness and freshness and, even better, the promise of summer. However, they also bring up images of plain country club colors or baby blues to match the Easter season. However, pastel can do so much more.
From shimmer pastel to daisies and mint green, 2021 is lining up the most innovative pastel nail designs for spring. If you've got nothing but time this weekend, why not try some of the best nail designs below?
Rainbow Pastel Nail Design
Swap your intense red and blues for a pastel rainbow mani. It's perfect, especially if you cannot decide on which color you want. Plus, you can try out the freshest shades all at once. Make sure to tie the look together with matching pinky and thumbs.
Matte Pastel Nails
Another way to play around with fresh colors without going full rainbow is to choose colors in a similar shade family. Think pastel pinks. To finish your look with some attitude, go for a matte topcoat.
Wavy Pastel Nails
Start on fresh, clear nails as your base and use a couple of pastel colors to create 70s era funky waves. These statement nails are the perfect ways to end spring.
Pink Clouds
Tap into your dreamy side with an artsy pastel pink cloud manicure. The look is super Instagrammable and might be the reason your camera will be busy. However, make sure you finish your manicure with a glossy top coat for more of an impact.
Metallic Swirls
Even if you can't make it to the nail salon, this metallic ombre design is extremely easy to recreate at home. Choose your preferred color. Using a makeup sponge, dab a few different polish shades onto your sponge before pressing them on your nails.
Pastel Checkers
Checker nail art is back in a big way, and there is no better time than in spring with a lovely pastel polish. Create this pastel design on a clear nail polish base to make them stand out more.
Minty French
The French manicure is not going anywhere anytime soon. The look only undergoes newer versions year after year, and right now, we love the chicness of mint green tips over a nude or clear base. Make sure your topcoat is super shiny.
Pastel Stars
Bring out your playfulness with a cute burst of stars this spring. Moreover, amp up the playfulness of the look with pastel stars in a few different pastel shades rather than the classic metallics.
Daisy and Mint Spring Nails
Here's another mint for you, only this time it is coupled with florals. If you love florals in the spring, this style is for you—pair daisies over a mauve of nude shade with mint nails for a non-dull way to wear spring.
Swirly Sorbet Nail Polish
Finally, we have a look for the sweet tooth. If you found sorbets too cold to eat in the early spring or winter, you will love this. Using a nude base (alert: the nude base is a major trend) with groovy pastel swirls. Too bad you can't eat it.