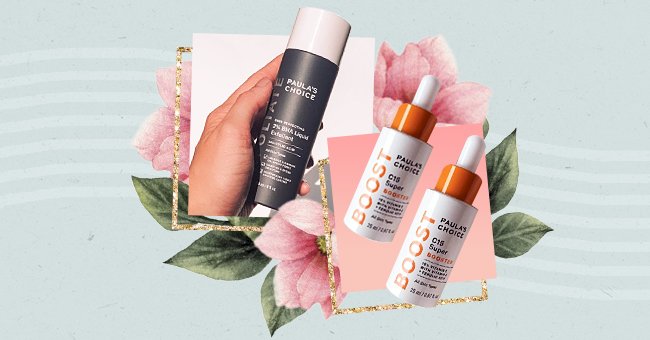 Our Pick: The Best Paula's Choice Products Worth Trying
From Skin Perfecting Liquid Exfoliant and Retinol Treatment to Pore Normalizing Cleanser and C15 Super Booster, Paula's Choice product lineup is all-inclusive, clean, and cruelty-free, catering to all skin types and concerns.
In the skincare-verse, Paula's Choice is a name that needs no introduction. The Seattle-based brand was founded in 1995 by Paula Begoun and happened to be one of the first beauty brands to sell products online.
The exciting and rather diverse skincare collections offered by the brand feature products that address specific skin needs and problems. They include skin balancing, skin recovery, calm, clear, and a PC4 collection for men. Please scroll down to find our pick of the best Paula's Choice products worth adding to your skincare arsenal.
Paula's Choice Skin Perfecting 2% BHA Liquid Exfoliant
The Skin Perfecting Liquid Exfoliant is a leave-on formulation that gently exfoliates skin to remove dead cells and unclog pores. It contains BHA or salicylic acid that boosts the exfoliation process and helps renew the skin's natural radiance and smooth texture.
Paula's Choice C15 Super Booster
C15 Super Booster is infused with vitamin C and a blend of antioxidants, including vitamin E, ferulic acid, and skin-smoothing peptides. It works wonders on the skin by brightening dull-looking skin, reducing visible signs of aging, and revealing smooth, firm skin from within.
Paula's Choice Clinical 1% Retinol Treatment
This potent Clinical 1% Retinol Solution is a lightweight and fast-absorbing lotion that deeply hydrates and brightens the skin tone, reducing the appearance of fine lines and wrinkles. It also contains licorice, oat extract, and skin-soothing ingredients to soothe redness and irritation.
Paula's Choice CLEAR Pore Normalising Cleanser
This CLEAR Pore Normalizing Cleanser is an acne-fighting formula that unclogs pores and removes excess oil and debris to clarify the skin. This non-irritating and skin-soothing gel provides a smooth cleansing experience to reveal a radiant complexion.
Paula's Choice Clinical Niacinamide 20% Treatment
This highly concentrated niacinamide (vitamin B3) serum is an innovative formula that makes the skin firm and reduces the appearance of rough bumps and stretched pores. It also helps normalize pore function and reveals dramatically smooth and youthful-looking skin.
Paula's Choice 10% Azelaic Acid Booster
This innovative formula contains a blend of azelaic and salicylic acids, along with plant-derived skin-brightening and soothing ingredients. The 10% Azelaic Acid Booster reduces blemishes, soothes redness, and helps improve the skin tone.
Paula's Choice Resist Advanced Replenishing Toner
This anti-aging skin toner is an ultra-hydrating formula infused with essential fatty acids and potent antioxidants that nourish and strengthen the skin's natural barrier layer. It also corrects sun damage and reduces the appearance of fine lines and wrinkles while enhancing the skin tone and texture.